You can find all sorts of cool watches for kids in 2021. No longer are there just analog and digital designs. There are now so many choices. Choose from a potty watch, a smartwatch, an activity tracker, a themed watch, or anything in between.
With this many options to choose from, it can be difficult to decipher which ones are going to be just perfect for your child. The wrong watch may be too advanced for your little one, while the simple and plain features of a younger child's watch may be too childish for an older kid. It's also important to match the watch's style to your kid's personality and hobbies.
For example, if you're looking for a watch to help your sports lover learn how to tell the time, the Kids Digital Sport Watch will give you the best value for your money. It is both digital and analog so your child can learn to tell time by comparing the two. It also includes a calendar, a stopwatch, and an alarm clock.
BEST VALUE: Kids Digital Sport Watch
Analog and digital face. Water resistant and shockproof. Soft environmental friendly silicone rubber strap. Durable rubber case. Stainless steel case back. EL back light display. Includes stopwatch, date, hour minute, calendar, alarm clock, and more. Original Japanese digital movement provides precise and accurate time display.
If you are looking for a first smartwatch, I recommend the Kids Game Smart Watch. It comes with many functions that an adult touch screen smartwatch comes with, but at a much more affordable price.
Discount: 18%
BEST FIRST SMARTWATCH: Kids Game Smart Watch
Features of the Kids Game Smartwatch include a music player, 7 games, two way calls (optional with purchase of a separate SIM card), 3 alarm clocks, a calculator, camera, photo album, and a call recorders. In case of emergencies, the child can press the SOS key, and the watch will call family numbers for help. Water-resistant. No app needed.
Below we'll take a look at additional best watches for kids in 2021, so you can feel confident in choosing the perfect one for your kids. You don't want to have to spend big money on a watch with minimal features and functions when, if you go in with a plan, you can find great deals on kids' watches with all the bells and whistles.
The best watches for kids not only help your child learn how to tell the time but also help your child to know when it's time to brush their teeth or go to bed, have apps and games associated with them, are water-resistant, and some of them even have a GPS system and SOS features as well as activity trackers and touch screens. Older children may be looking for something with a camera, a GPS, a calculator, or music functions. Kids will love learning to tell the time with their new watch.
What Should I Look for in a Kids Watch?
When choosing the best watches for kids, there are a few items you'll want to keep in the back of your mind while shopping. Because not all watches are created equal, looking at things like its recommended ages, functions and capabilities, battery life, reviews, and more will help you decide if the watch your considering is the right fit for your kid. Keep the criteria listed below in mind before making your final purchase. This will save you a headache in the long run.
Criteria #1: Is the watch age-appropriate?
Age is important when deciding on the perfect watch. Does your child know their numbers? Can they tell the difference between the hour and minute on an analog watch? Is a digital watch going to seem beneath them? Does your older kid want some cool features? These are all important questions to ask yourself before making your buy, since you don't want to buy a watch that your kid is going to hate or, worse yet, not be able to use.
Criteria #2: Does it have all of the functions you're looking for?
While simple, easy to read watches are going to be perfect for younger kids, older kids may want all the features of a sports watch, a smartwatch with a GPS tracker, or one with a camera function. You can even find watches that allow your kids to make phone calls, send text messages, or plays music. Make sure the kids' watch you're looking for has all (or most) of the functions your kid wants.
Criteria #3: Is the watch made with high-quality materials?
Find a watch that is made with high-quality materials. You certainly don't want a watch that is going to fall apart easily. A silicone strap is great for little wrists, while older kids may prefer a leather band. Skin allergies are also a consideration, as certain materials might irritate an already irritating situation.
Criteria #4: Does it have good battery life?
Long battery life is important in a watch because it can be a pain to switch out a battery. You may need a special tool while some may even require a professional, so look for a watch with a good battery in it, or one that comes with a USB charger that'll plug directly into your computer or smartphone.
Criteria #5: Does the watch have good reviews?
I've said it before and I'll keep saying it. Reviews are the best way to tell you about the quality and performance of any product, and watches are no exception. Parents and grandparents are quick to jump on the internet and let you know straight away if there are any problems with a product or if it doesn't live up to expectations as promised.
Criteria #6: Is it water-resistant?
Not all kids think about what they are doing or wearing when they're at the local pool or hanging out with friends around a Slip 'N Slide. If your kid is one of these and forgets they have a watch on their wrist, it could mean life or death for that watch. That's why it's going to be important to look for a water-resistant watch. While most watches can handle simple hand washing and splashing, others can't handle the depths of a pool or a cannonball off the high dive.
Here's How We've Determined the Best Watch for Kids
First of all, because I practice what I preach, I determined the best watches for kids by reading reviews. I compared the pros and cons of what other consumers had to say about the products and looked for complaints. If there were a lot of complaints, I looked to see what, if anything, the company did to remedy the situation. I also compared the features to the prices, because who wants to overpay for a watch?
Our Top Picks for the Best Kids Watch of 2023
Age Recommendation: 5 to 16 years old
If you're looking for a watch to help your sports lover learn how to tell the time, this is a perfect watch for them. This digital sport watch is designed for boys and girls who are learning the good habits of valuing their time.
Our editor Rachel bought this watch as a holiday gift for her 10 year old and he loves it. It has a lot of functions and of course he immediately figured out how to use them all 🙂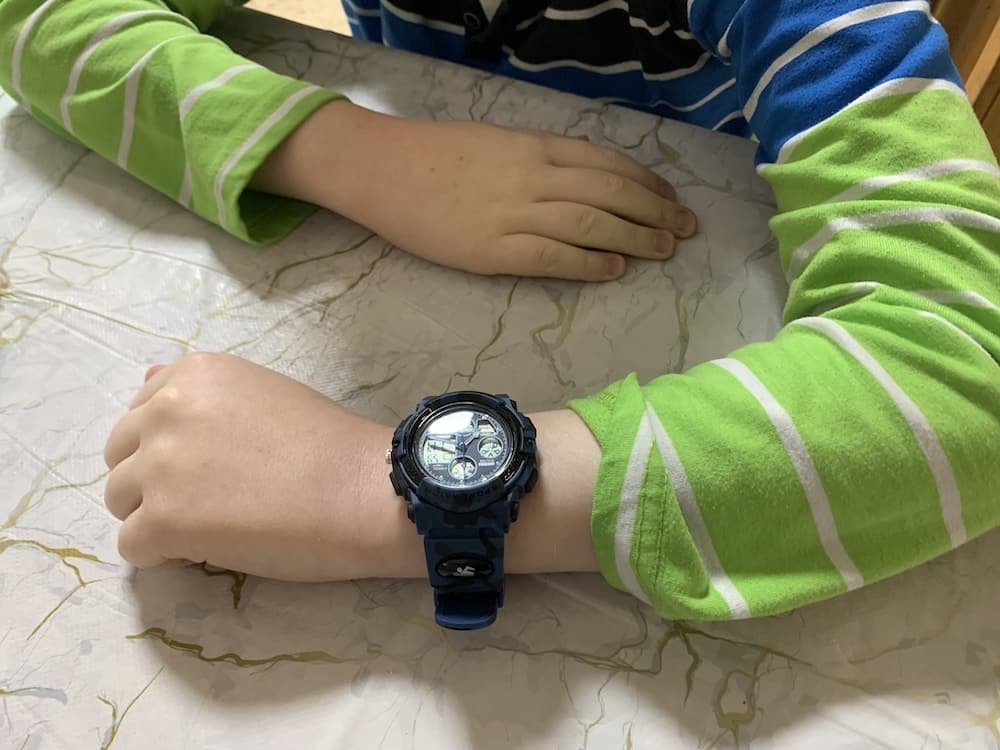 Both Analog and Digital
The Kids Digital Sport Watch comes with a digital watch with an analog dial on its watch face and also has an original Japanese quartz movement. This watch will have your child reading a watch in no time.
Shockproof
Made with a soft, environmentally-friendly silicone rubber strap and a durable rubber case with a stainless steel case back, this watch is comfortable for wearing all day long. The watch is water-resistant and perfectly safe to wear during handwashing and even light swimming. Your kids are going to love this watch.
Multi-Functional
This watch comes with a calendar, a stopwatch, and an alarm clock. Not only will your kids be learning how to tell the time, but they'll also become more independent by learning how to set their own schedules and routines. A win-win for any parent.
Reviews
Parents agree that this is a good watch for the price. Their kids love it and it's easy to set up, which is a huge plus.
---
Age Recommendation: 4 to 12 years old
This easy to use Kids Game Smart Watch is the perfect first smartwatch for kids. It comes with all the functions that an adult touch screen smartwatch comes with, but at a much more affordable price. You're welcome.
Lots of Functions
Like the Kids Digital Sport Watch, this one comes with lots of functions. However, this watch has even more options. Your child will have everything they need at the touch of a button with this smartwatch. It has a music player, three alarm clocks, a calculator, a photo album, a call recorder, and a camera function. The watch is water-resistant, so you don't have to worry about it being ruined by simple handwashing or splashing.
Makes Calls
What better way to make sure you can keep in communication with your child than with their watch? With the purchase of a 2g Micro SIM card, your child can even make calls from their new kids' smartwatch. If you don't want to opt for the SIM card, no problem. The watch will still function as normal, just without the calling function.
Has Games
With games like Coming 2048, Basketball Shoot Master, Bee War, Pinball Hit Bricks, and more, your child will have a blast using their watch to play.
SOS Key
You won't need to worry about your child being in distress with the Kids Game Smart Watch because it comes with an SOS key. If your child presses the SOS key, the watch circularly calls family numbers for help, making it great for emergencies.
Reviews
The reviews for this watch are awesome. Consumers say this is a great and affordable option for kids. In particular, they like that it's a standalone watch, so no app is needed.
---
Age Recommendation: 1 to 10 years old
If you're looking for a watch for a younger kid or even a toddler, look no further. The 3D Cartoon Kid Watch is a perfect match. Your child will always be wanting to tell the time to anybody and everybody that'll listen.
Unique Design
If you liked the Venhoo Kids Watches, you're going to love this one just as much. That's because your children are going to love the 3D designs of their favorite characters on the silicone strap. There's even a picture of the character on the watch face for even more cuteness.
Durable and Shock-Resistant
While this watch isn't waterproof, it's durable and shock-resistant. Each watch is sealed with metal steel, and the glass of the watch face is made of high-quality clear resin, making it extremely hard and pressure-tolerant. Great news if your toddler plays hard.
Powerful Battery
This analog watch uses the powerful Japanese quartz movement, so it keeps precise and accurate timekeeping. This also ensures you won't have to worry about buying replacement watch batteries for quite some time.
Reviews
Parents and grandparents give this watch five stars. They agree that it's perfect for toddlers and young children. Kids love the bright 3D features, different color options, and learning how to tell the time with their new watch.
---
Age recommendation: All ages
This teacher-approved watch will have your child reading a watch in no time. It's perfect for children of any age range.
Easy to Read Dial
With the colorful dial with easy to read numbers and a Japanese quartz movement on a 1.3-inch analog face, your child will have fun learning to tell the time.
Washable Band
Perfect for little ones, the watch comes with a washable nylon band. A huge plus for kids who can't seem to stay clean. It's also adjustable for any wrist size.
Reviews
People who've bought this product say it's great at teaching time to their little ones. They love the design. It seems there have been a few problems with broken watch faces, but the company remedied the situation on time and the consumers were thrilled with their product once again.
---
Age Recommendation: 4 years old and up
The VTech KidiZoom Smartwatch is one of the best smartwatches for kids that like to take a lot of pictures and videos. Your kid is going to be a selfie-pro in no time.
Photo and Video Capabilities
This kids' smartwatch is user-friendly and easy to use. It has the capabilities to take quality videos, pictures, and, of course, selfies, and then your child can customize these videos and photos with funny filters. They can even turn their creations into watch faces. Parents can safely upload these photos and videos to a computer.
Stylish
The stylish touchscreen watch with silicone band is perfectly sized for a kid's wrist and comes with color options every kid will love.
Games
The VTech KidiZoom Smartwatch comes with the Monster Detector game that creates an amazing AR experience in which your child gets to capture monsters in the real world.
Micro-USB Cable Charger
This watch comes with its own Micro-USB cable charger. Just connect it to your computer and let it charge. They do say, however, it's important to not use a third-party charging adapter with this product.
Has Both Digital and Analog Faces
Another great feature about this watch is that, just like the Kids Game Smart Watch, this one has both digital and analog displays, making it easy for kids to learn to tell the time.
Reviews
The reviews for this watch are great. Parents love that it has games, and their kids love the photos and filter options. One consumer said they even bought one for themselves. Definitely a good buy.
---
Age Recommendation: 4-9 years old
Garmin is well-known for their activity trackers. This kids' watch with a digital display is no different. It has some of the same features as the adult versions but is geared toward younger kids to help them get off the couch and moving.
Chore Management Tool
Comparable to the VTech KidiZoom Smartwatch that we just looked at, the Garmin Vivofit Jr. is also an activity tracker for kids. However, this has a function that any parent will love: a chore tracker! Yes, folks, you heard me right. This has a chore management tool that allows your kids to complete chores and earn coins to be redeemed for rewards managed by you.
One-Piece Band
Unlike any of the other watches on this list, the Garmin Vivofit Jr. is a perfect fit for your kid's small hands and wrists. That's because the one-piece silicone band stretches over their hands and fits comfortably on their wrist. And, better yet, it won't stain their skin.
Tracking
Also just like the VTech KidiZoom Smartwatch, this watch has an activity tracker. The tracker lets your kids track their sleep, steps, and ensures they get at least 60 minutes of their daily recommended activity time.
Compatible App
The compatible mobile app allows you to keep track of your child's chores while allowing your kids to have fun playing the mobile adventure park game.
Long Battery Life
Save yourself the struggle of batteries and charging because this watch's one-year battery life won't need to be recharged.
Reviews
Customers say this is a must-have for little ones. With a great design and wonderful functions, this kids' watch is a big hit.
---
Age Recommendation: 6 years old and up
Fitbit Ace 2 is one of the best kids' smartwatches with a fitness tracker. With an easy to use menu, the watch is simple to navigate and perfect for kids who are looking to get and stay moving for a more active and healthy way of living.
Promotes Health
This smartwatch encourages a healthy lifestyle with a fitness tracker. Your kids will be able to keep track of their steps and active minutes as well as when they skip, jump, or dance. With action challenges, they won't want to stop moving.
Earn Badges
The activity tracker for kids allows your child to get excited about moving as they earn virtual badges and on-screen celebrations each time they reach a goal.
Water-Resistant
This silicone strap smartwatch will fit your child's wrist nicely. They'll love showing it off at pool parties because it's actually swimming proof. This means your children can take it into the water up to 164 feet. And how many children actually go that deep? So no worries there.
Long Battery Life
The watch comes with a long battery life that can last up to five days without charging, so your children can spend more time moving and playing and less time waiting on their watch to charge. Keep in mind, however, that some features, like animated watch faces, may require more frequent charging.
Sleep Tracking
Your child can finally get the sleep they need with bedtime reminders, sleep tracking, and silent alarms. So, no more bedtime battles. Well, we can hope anyway, right?
Has an App
Fitbit Ace 2 can be paired with the Fitbit app so your children can challenge their friends to competitions, send them messages, or just cheer them on for even more fun.
Reviews
Parents say this watch is a great motivation for their children to get active. One of the best selling points is its water-resistant feature.
---
Age Recommendation: All ages
Disney is, of course, going to make the list because just about every boy out there loves Cars. What better way to get them interested in learning to tell time than with a watch they'll love? Especially with Lightning McQueen and Mater helping them out.
Comes with a Booklet
This cute Disney kids' analog watch comes with an interactive booklet providing a new and exciting way for your kids to learn how to tell time. It comes with clock face parts to assemble, including the hour, minute, and second hands.
Labeled Hands
Similar to the Venhoo Kids Watches, this Disney kids' watch also comes with different colored hands that are labeled so your kids can easily tell the difference between the hour and minute hands. The large numbers also make it easy to read.
High-Quality Materials
This kids' watch for boys is made with a polished and matte steel finish and a high-quality plastic band and face that even the toughest toddler won't be able to easily destroy.
Manufacturer Warranty
This watch also comes with a one-year manufacturer's warranty, so you don't have to worry about it breaking anytime soon. And, in the off-chance it does, you'll know that it can easily be replaced.
Reviews
Reviews say this is a good watch. The Disney kids' watch is always a hit and little boys enjoy the Cars characters.
---
Age Recommendation: 4 years and up
This official JoJo Siwa digital watch touch screen smartwatch is every girl's dream come true. Made famous by her bows and Yorkie, Nickelodeon's JoJo Siwa is an instant hit among little girls everywhere.
Selfie-Cam and Video
What little girl doesn't love taking selfies and videos of themselves and their friends these days? Not many. This watch comes with a fun selfie-cam and records videos that can be downloaded safely and securely.
Multi-Functional
Not only does it have the selfie-cam, but it also has a voice recorder, games, a pedometer for fitness tracking, an alarm, a stopwatch, and a calculator for all the functions your kid needs with an easy to read kids smartwatch.
Long-Lasting Battery
The long-lasting battery ensures your kid will have fun throughout the day and night without charging interruptions. The USB cable is also included.
Reviews
People who've bought this touch screen smartwatch say it's the best kids watch for girls. They all say the same thing: their daughters and granddaughters love it. It's an awesome deal at a great price.
---
Age Recommendation: 3 to 10 years old
This watch may be under $13, but don't let that fool you. This is a great starter watch for younger kids. They will love the design while your pocketbook will love the price.
Easy to Read
Similar to the EasyRead Time Teacher Analog Learn the Time Children's Watch, this one has a big round dial window that allows your child to easily read the numbers on the watch face. For those kids that are old enough to read, the minute and hour hands are labeled. And, if they aren't quite reading yet, the hands are different colors, making it even easier to learn to tell the time.
3D Cartoon Design
Your children are going to absolutely love the 3D cartoon design. Each cartoon character is different and interesting. They were designed by professional designers with kids in mind.
Durable Materials
The high-quality silicone strap with a metal steel case and stainless steel case back makes this a tough and durable watch. The watch face is made of high-quality resin, so you won't have to worry about it cracking or scratching easily. While your child can't exactly take it swimming with them, the watch is water-resistant enough that you don't have to worry about it getting ruined when they splash or wash their hands.
High-Quality Battery
The high-quality battery provides long-lasting use, and the Japanese quartz movement provides precise and accurate time.
Reviews
The reviews say this is a great watch for teaching children to tell the time. While it's not water-resistant, consumers agree that it's a five-star watch.
---
At What Age Should a Child Get a Watch
Typically, the best age range for kids to get their first watches is between six years old and 14 years old. We all know kids learn at different rates; it's a pretty well-known fact. Learning to tell the time is no exception. It comes down to their capabilities. Do your kids know their numbers? Do they know the difference between hours and minutes? Can they read an analog clock, or is a digital clock better for them? These are all questions that should cross your mind when determining if your kids are old enough to get a watch.
You also want to consider their responsibility level. No parent wants to go out and spend money on something that will likely get lost or forgotten soon. While most new watches are pretty durable, there are still some cheap ones out on the market. If you accidentally get one of these, a younger kid might destroy it pretty easily.
Again, only you can answer these questions about your kids. Make sure they're ready to take on the responsibility of owning a watch, regardless of whether it's a digital or analog watch or a smartwatch.
Should I Get My Child a Smartwatch, Digital, or Analog Watch?
This is also going to depend on your child and their individual needs. The answer to this will vary from family to family and child to child. If your child knows their numbers but is having a hard time deciphering the hour and minute hands, probably the best watch for them would be either a digital watch. Look for something with a simple design and easy to read numbers.
Otherwise, if your child has the hang of their numbers and is learning about the hour and minute hands, an analog watch could help them get the hang of telling time a little faster. Just like with a digital watch, you can also find analog watches with easy to read large numbers.
Smartwatches tend to have both analog and digital display options, so this could be a good choice for just about any kid out there, regardless of their capabilities. Smartwatches also obviously have more functions, such as alarms and calculators. As we've seen with the VTech KidiZoom Smartwatch and Kids Game Smart Watch, they may even be able to take pictures or make calls.
What it boils down to is your child's ability to read a watch and your preference of options.
Could I Just Give My Kid One of My Old Watches?
Yes, you could always give your kid one of your old watches. The problem with this is that the battery might not last very long, or the band or watch face may have scratches or cracks. It may be outdated or, quite simply, your kid really may just not want your old watch.
Another thing to consider is if your kids are particular about secondhand things. I don't know about your kids, but my kids are pretty picky about hand-me-downs. Mostly because they don't think anything I own is cool. So they want something new and exciting. Also, newer watches have newer features. Your old watch might be outdated and possibly even boring, especially if you're giving it to an older kid. They tend to like new and shiny things.
Watches for kids aren't that expensive. You can easily find them for well under $100. Most kids' watches cost around $30-$40 on average. So splurge a little and get your kid a new watch. They'll thank you for it. Heck, if you're lucky, you might even get them to take on some extra chores around the house to earn a bit of money to help with the new purchase. That's a win all day long in my book.
What Materials Might Irritate My Kid's Wrist?
If your kids are anything like mine, they might have an allergy or two. Mine seems to be allergic to everything, including nickel. So we have to watch what types of clothing we buy, as well as jewelry and watches for him. So remember that there are some materials in certain watches that might irritate your kid's wrists. This includes some metals (like nickel), certain leather dyes, and rubber accelerants.
If your child has any allergies, be sure you verify what materials the watch is made of before purchasing. If you're shopping on a site like Amazon, there is typically a section dedicated to the product's specifications. This is where you're likely to find that information. If not, you can check the manufacturer's website or call their customer service line for more details.
Verdict: Your Best Watch for Kids
If you didn't read the entire blog, that's okay. I've made a cheat sheet version designed just for you, along with the best selling points about the watches mentioned.
If you want the best value for your money, pick the Kids Digital Sport Watch. This watch has both analog and digital features on its face, helping your child to learn to tell the time quickly.
If you're looking for a premium smartwatch for kids, choose the Fitbit Ace 2. Get your kids active and moving with this fun and easy to read activity tracker.
If you need a good learning watch, pick the EasyRead Time Teacher Analog Learn The Time Childrens Watch. Your little one will quickly catch on to telling time with this learning watch.
If you want to keep the price tag under $13, pick the Venhoo Kids Watches. This quality watch has a great price tag every parent and grandparent will love.
If you're looking for the best for toddlers' watch, choose the 3D Cartoon Kid Watch. Your children are going to have a blast learning to tell the time with characters that pop on this watch.
If you want the best for pictures, choose the VTech KidiZoom Smartwatch DX2. Your budding photographer will enjoy spending hours taking photos and videos on their new smartwatch.
If you want the best beginner's smartwatch, pick the Kids Game Smart Watch. Your kids will love not only learning to tell time with this watch but also playing games and making calls. It also has an SOS feature, so you can feel safe knowing help is a button away in case of an emergency.
If you want some help with chores, pick the Garmin Vívofit Jr. This watch not only gets your kids moving, but it helps keep track of their chores and rewards them once they're completed.
If you're shopping for a boy, pick the DISNEY Boys Cars Analog-Quartz Watch. The boys in your life will love learning to tell time with the help of Lightning McQueen and Mater on their wrists.
If you're looking for a girl, choose the JoJo Siwa Touchscreen. This watch is the perfect smartwatch for your future pop star.
When deciding to purchase a kids' watch for your little one, take into consideration their age and comprehension level. Look for the features your kids want and need, like GPS tracking or camera functions. Determine if they should have a digital display or an analog clock. The materials the watch is made from is also important. Choose stainless steel over nickel, especially if your children have any type of skin allergies.
Weigh the pros and cons of the different clock faces and whether an analog clock, a digital clock, or a smartwatch that has both capabilities is right for your children. Depending on your children, you might want to find a watch that is water-resistant, so you won't have to worry if they forget they're wearing it when they jump off the diving board.