Black Friday Roomba deals are here early!
Roomba Deals Available Today
If you're looking for a discount, you have 2 options:
Option #1: Get a discount at Amazon
Deals we recommend, last updated on Thursday September 28, 2am PDT:
Click here for more deals on roomba at Amazon
---
Option #2: Get Financing at the iRobot Store
Click Here to See if You Qualify for Financing with Low Monthly Payments
Want more information?
Read on:
More about the Roomba Robot Vacuum
iRobot, the manufacturer behind the successful Roomba, was started in 1990 by three MIT roboticists. They had the vision of making practical robots a reality, and are now the leading consumer robot company.
They introduced the first Roomba vacuuming robot in 2002, this was one of their first products  destined for the home, since they used to focus more on robots for disaster response and life-saving missions. The Roomba, nevertheless, quickly became the flagship of the company.
Clearly, iRobot have never stopped improving upon the Roomba, and they've been perfecting the concept for more than 15 years now. The 980, which is the top of the line so far, was introduced to the market in 2015. As mentioned before, the new 690 and 890 were released earlier this year.
What are the differences between Roomba models?
The main differences between all currently-available Roomba's are within air power, and the features related to the app that lets you control your Roomba, such as scheduling, reports and custom cleaning preferences.
Roomba 614
All available Roombas work on all floor types, they feature iRobot's patented 3-stage cleaning (meaning that they loosen, lift and then suction dirt), run for at least 60 minutes, detect dirt and charge themselves.
The basic Roomba 614 has all of these. All models start to include extra features from there.
Roomba 690
The new 690 features scheduling and is the cheapest model with Wi-Fi connection.
Roomba 890
The 890 has all the features that the 690 has, but also includes tangle-free rollers (picks up hair, fur and debris without getting tangled) and a high-efficiency filter.
Roomba 650 and 690 Vs Roomba 870 and 880
So what's the difference between the 650, 870 and 880 that have now been replaced? (and that are likely to see major discounts as a result…)
If you make a side by side comparison between, say, the 650 and the 690, or the 879/880 and the 890, you'll notice that they have more or less the same features.
The difference is merely in the technology within. Past models made use of AeroVac and AeroForce technology for cleaning. Newer models have simply replaced this with newer versions of the same technology, all while adding other improvements in such things as sensors, dirt detection and app-integration.
Roomba 960
First there's the 960. It runs for up to 75 minutes and features 5x the air power. But the most significant features that separate it from the 800 series such as the 860 are multi-room cleaning (a navigation system that maps its surrounding to clean an entire level within a home), recharge and resume technology (so it won't stop cleaning until it's done), clean map reports and custom cleaning preferences (lets you tweak the power settings, number of passes, etc.)
Roomba 980
Finally, the 980, which features 10x the air power, runs up to 120 minutes and features everything mentioned so far. The only other addition is that it automatically increases cleaning power on carpets.
How to choose the right Roomba for you
All the previous talk about features between the different models is bound to give you a headache if you're in the midst of Cyber Monday or Black Friday insanity and need to choose a model right there.
So it helps to know which Roomba is for you before you even set foot in a physical store. In order to do that, the people at iRobot have been nice enough to put together the chart below that compares all features between the current models: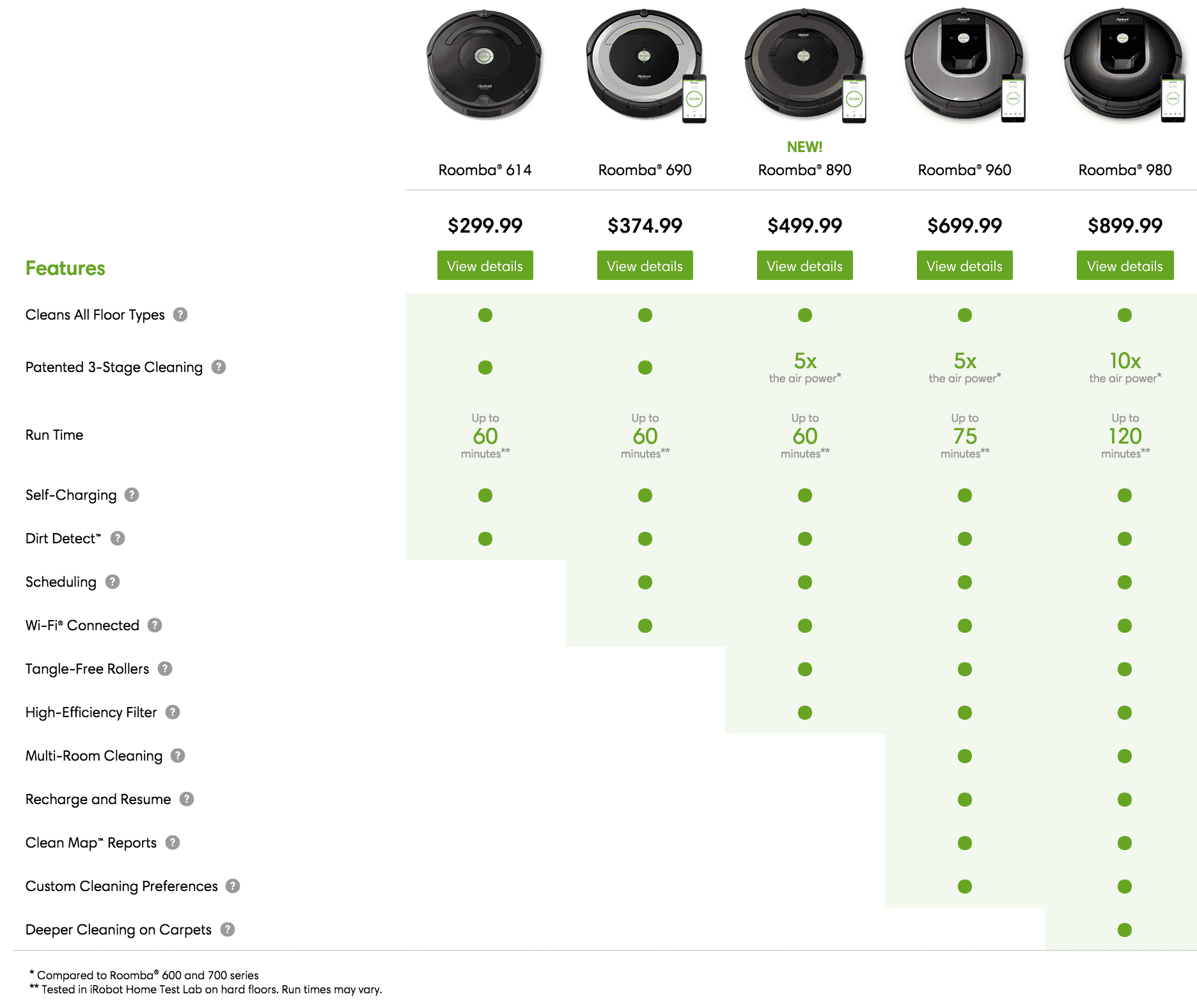 While that may help, be sure to ask yourself questions like what surfaces you need cleaning, whether you really need scheduling (great if you want your Roomba to vacuum while you're gone) and if the size of the area you need cleaning really demands "clean map reports" and customized cleaning preferences.
Also important to consider are the ability to pick up pet hair (if you have any), the variety of surfaces in your home or office, and of course… prices.
What To Expect in Deals This Year?
The history of the Roomba on Black Friday has shown us that it's both popular and likely to see great deals moving forward.
Deals from 2016
To give you a general idea of what kind of deals you're likely to see in the Roomba on Black Friday and Cyber Monday or 2017, here are some remarkable deals that took place in 2016:
Target had the iRobot Roomba 650 as low as $274.99, making it $100.00 cheaper than its original list price of $374.99. At the same time, all robotic vacuums were at least 20% off during last year's Black Friday.
Best Buy also had a $100 discount on some Roomba's, but they went with some of the higher-end models. The 980, for example went from $899.99 to $799.99. Likewise, the 880 went from $599.99 to $479.99.
Kohl's, for their part, had the 620 on sale for $299.99 (down $120 from $419.99). They also gave you an extra $75.00 Kohl's Cash upon purchase.
And of course, there's iRobot's Direct Store. Last year they were offering up to $100 off on certain models, as well as free shipping. This was not only on Black Friday, but from that date on to December 3, 2016 for U.S. customers. Among the models that saw that deal were the high end 980 and 960, as well as the Braava 380t and Braava Jet. It's important to note that this same offer was repeated on this year's Cyber Monday.
It always helps to take a look at some of the offers that went down throughout the year as well.
For example, according to the site "Smart Robotic Home" the top of the line Roomba 980 saw discounts of at least $100 off on Mother's Day Father's Day and Labor day of 2017.
So, all things considered, any Roomba that's anywhere near $100 off should be considered a decent deal for Black Friday or Cyber Monday. Anything above that should be a no-brainer (if you really want a vacuuming robot).
How About Black Friday 2017-18?
Last year we predicted great deals on the Roomba during black Friday and the hottest new consumer event delivered beautifully. 15 years after initial release, the little vacuum robot has finally established itself as a high-quality product and refined from those early terminator-style days when it would try to eat your cat.
The 651 saw huge deals during this time. The Roomba 651 is the mid-tier model and during the black Friday sale of 2017 it saw increased discounts and popularity, with carriers trimming $100-150 off of the RRP. This is a big deal on a product whose RRP is around $300-400. This marks a discount of around 25-35%.
If you're getting 1/3 off the list price, it's a great sale. This is especially true with the top-line models such as the i7+ and 960 starting to become more affordable: a few hundred dollars here can make it a far more reasonable purchase for those of us who don't have $700+ for a robo-vacuum.
And 2019…
This is always the hard part, but we expect great things once again. The trend of sales on the Roomba continue to be positive, with 2016 and 2017 showing consistently great deals on the mid-range products. This is always great, since the "mid-range" continues to get better year-on-year as new models are released and the quality of the whole line inches upwards.
The thing we're looking for this year is a simple reduction in-line with the trend we've seen so far. If 2016 saw $100 reductions and 2017 was all about Roomba sales between $100-150, we're hoping they consolidate these discounts with a regular $150 sale on the majority of upper-tier products.
What we are really hoping to see, however, is a premium Roomba for $500 or less. This might be optimistic, but the 960 line has been out-moded by the i7+ and now could be the perfect time for iRobot to sell thousands of units by dropping the price. A $500 roomba is a lot more reasonable than $700 and will just feel so much easier to buy!
If you're looking to beat the bustle on Black Friday, be willing to shop around before the date itself and keep tabs on anything that might be pre-reduced. Pre-black Friday sales are common and, with the commotion Friday itself brings, sales before and after the event might be a little less stressful!
The Cyber Monday deals will be a great place to look for extra discounts if you hold out.
As a consumer electronic, we're expecting some great deals on the Roomba this year – and perhaps especially so on the upper lines/during the Cyber Monday sale. Keep your eyes on Amazon and other online stores, as well as the big brick-and-mortar stores.
We all know that shopping online is getting more popular and this is a great product that could showcase that during 2018's Black Friday sale. We're hoping to see some stiff competition between these mega-retailers this year. We all know that, when businesses compete to drop prices, the consumer wins!
Overall, the Roomba is a great piece of kit for keeping your home in great shape without the effort of busting your butt hoovering every day. This can be a great help if you're on a tight schedule or you have kids/pets that only un-tidy it every time you vacuum. This might be the year that the future arrives in your home for less than $500.
Hopefully you'll find yourself a great deal on the Roomba you've got in mind this November!