My boys have been playing with different kinds of blocks and building toys for as long as I can remember. As they have grown, their skills have changed, and they have tried all sorts of toys at this point. Still, they always go back to their blocks. No matter how old they get, they love to build and create.
Building toys are great toys for children of all ages. They help to develop their fine motor skills as well as promote communication and sharing with others. You will notice that there are building toys and building blocks that are age-specific, and they cater to the needs of the child within that specific age range. So today I will walk you through some of our favorites by age group, so you can easily find the right product for your child.
Carry on reading or jump straight to our number #1 pick here.
What Should I Look for in a Building or Construction Toy?
When you are first shopping around for building and construction toys, it is important to know what is age-appropriate for your little one. You want to make sure that whatever you choose is something a young child will understand or is advanced enough for an older child. Below you will find a list of features you will want to look out for.
Small Parts
This goes hand in hand with age. Small parts are never a good idea when you are looking to buy a building toy for a toddler, so make sure you read the description of the product thoroughly.
Durability
Be sure that you are choosing a building set that is going to stand up to a lot of use. Kids are often not gentle, which is how they learn. The building toys should be able to stand up to some rough play, especially with younger kids.
Engagement
Does the box show you what the result should look like? Or are they building blocks that are big enough to build something fun like a castle? Or are they instruction-free to promote imaginative play? Think about what would keep your child's attention best.
Here's How I've Determined the Best Building and Construction Toys
To put this list together, I thought about my own experiences. This includes what we have purchased that my kids have loved, along with building toys that ended up not working out. I compared these experiences to reviews from others to pinpoint the best of the best. So you can rest easy that you will find something here that is both within your budget and made of high-quality materials.
Our Top Picks for the Best Building and Construction Toys of 2023
Best for Toddlers
Recommended age: Birth-24 months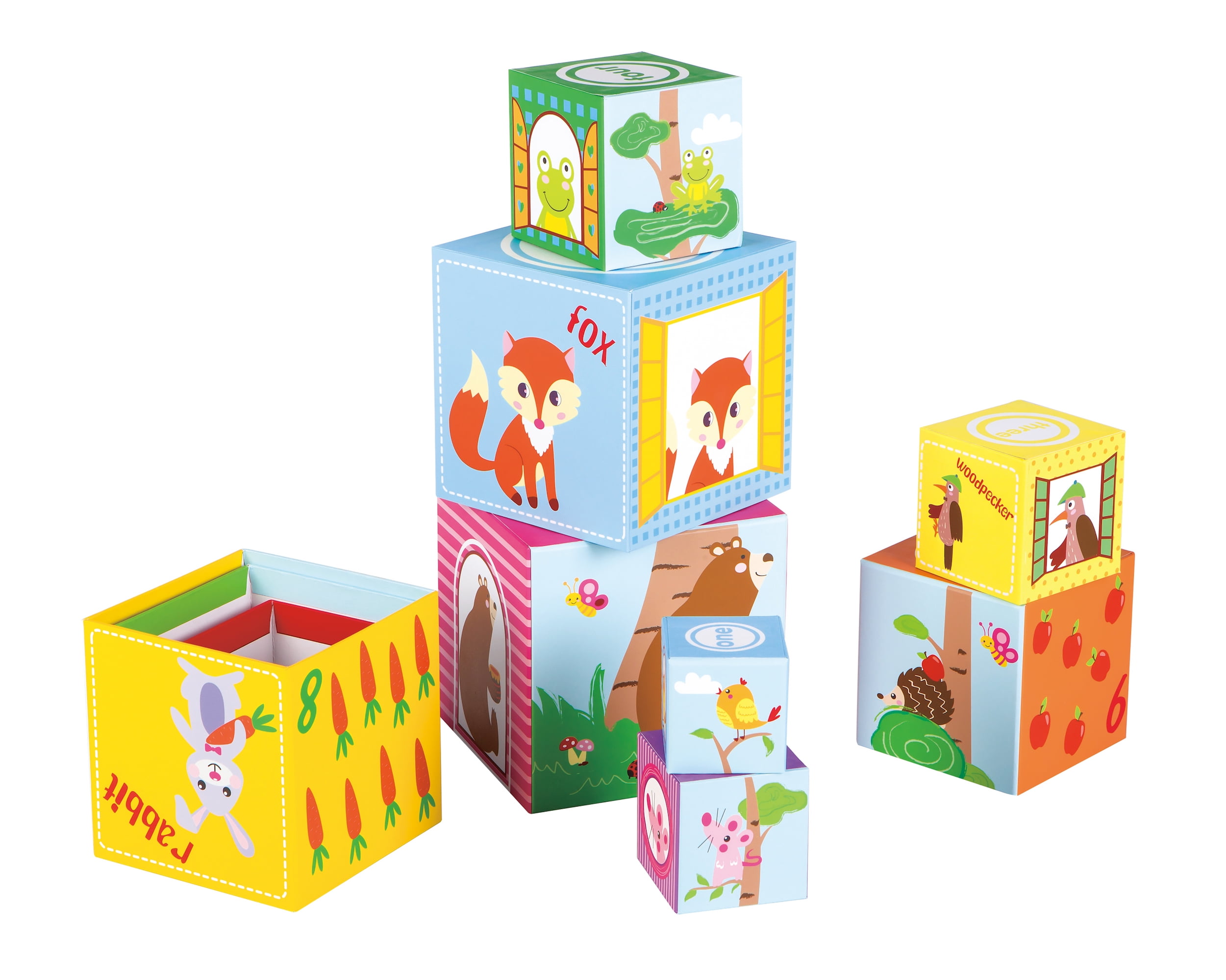 Get the Fat Brain Toys Woodland Friends Stacking Cubes at Walmart
These Fat Brain Toys stacking cubes are a great building set for a toddler. They are so easy to use and are so much fun. My boys loved these types of building blocks when they were really little. Read on to see the main reasons why this particular set is our top pick for toddlers.
They have pictures and numbers on them
Even though children at this age aren't able to read yet, it is never too early to teach them animal names and numbers. Some little ones pick up those things very early. This makes these cubes educational and fun, in addition to helping their motor skills.
They are safe for oral toddlers
You probably know that sometimes toddlers like to "test" things out by putting them in their mouths. Luckily, these building blocks are BPA-free and non-toxic, so if your little ones do this, they won't get sick. Plus, they are made of heavy-duty cardboard that is built to last.
Why else should you choose this building toy set?
It's affordable (great price for the product you are getting)
Each cube is a different size
They are open like boxes to be nested inside each other
Fat Brain Toys is a great company that offers so many different types of toys for all age ranges. Moms and dads love this brand and so do I because of their quality and how much kids love them. Especially these cubes in particular. They are so easy for toddlers to play with and also so much fun.
---
Recommended age: 1-5 years
Once my kids started showing an interest in building and creating, they were able to move up to new building toys to play with. Their grandmother purchased this table as a Christmas gift a year ago, and this is one of their favorite toys to play with . . . ever. They still ask at least once a week to get their Mega Blok table out to build cities and tall towers. Take a look at why this made the list as the best splurge.
It comes with a table that doubles as a storage bin
This is probably my favorite feature of this building block set. My boys can build on the top, and there is even a small car track. When they are finished, the blocks go right inside the table for quick and easy clean-up. Plus, it locks to keep anything from falling out.
It's easy to store
If you are dealing with limited space in your children's play area, this could be a great choice for you. The legs of the table fold up for easy storage. Since it locks, you can slide it under a bed or even behind a door without having to worry about a mess.
Here are some other features of this building block set.
Many different ways to build
It's portable
It's lightweight
Set comes with plenty of blocks to get you started
This building set comes in at just under $50, which can seem a bit pricey for blocks. However, if you have it in your budget, I promise it is money well spent. I highly recommend it as one of the best building toys for kids.
---
Recommended age: 2-5 years
Melissa & Doug is such a great company, and we absolutely love it in our house. So much so, that we have many of their products. This block cart is a great learning toy, and it's inexpensive for a tight budget. Let's talk about some of the best features of this kids' building toy.
The blocks aren't just for building
These wooden blocks have letters, numbers, and pictures on them, which allow your child to learn to identify them. You can create games with them that involve sorting or matching colors. It is a great way to encourage your little one to learn.
It takes up almost no space
This building toy is very small, and the cart that it comes with is very easy for your child to move around. It can be stored on a shelf when not in use, giving you some space back. This can be especially helpful if you live in a small home or an apartment.
What are some other reasons you should purchase this set of wooden blocks?
They are durable
They encourage interaction
Set includes 30 blocks
Makes a great gift
Other sets with even more blocks are available
The bottom line is that this is one of the most simple building toys that we have included, but it provides endless fun and educational activities. Melissa & Doug prides itself on being a brand that promotes interactive play, and the quality of their products reflects that.
---
Best for School-Aged Children
Recommended age: 4 years and up
I'll admit, I don't have a lot of experience with this building set, but my son does. He goes to pre-kindergarten and Marble Run is his favorite toy. So of course, I looked into it. There are many ramps and inclines that you build together. Then you just let gravity do the work and watch the marbles race down the track. Even though we don't have it in our house, I think it will make a wonderful surprise birthday gift this summer. Read on to see some of the stand-out features of this building set.
You get a free app for your smartphone
We are living in the age of technology, and this can be helpful to parents like me who need a bit of help setting up intricate building sets like this one. The app offers 9 different projects, 12 challenges, and 4 skill levels.
Compatible with other marble run sets
For even more fun, you can purchase other sets and accessories for a limitless way to create. Kids love when they can play with a toy in all different ways. It is a great way to keep them engaged and encourage them to work on their problem-solving skills.
Here are some more features of this marble run building set.
Helps with hand-eye coordination
Solid plastic bases for maximum stability
See-through, so you can watch where the marble goes
150 pieces
This is a very unique set compared to all of the others, and you get so much value for the price. It is not terribly expensive, but you are definitely getting your money's worth. Kids love playing with marbles. Just remember the age range, as the small pieces would be a choking hazard for toddlers.
---
Recommended age: 3 years and up
STEM stands for science, technology, engineering, and mathematics, in case you didn't already know. These toys help to make a connection between school and the real world. Building is part of STEM and can be very helpful in your child's development. Magna Tiles are great for this! Here are some reasons why you should choose these building tiles if you want one of the best STEM building sets.
They're great for sparking creativity
These clear tiles are also magnetic, so there are endless possibilities when it comes to building with them. Not only do these STEM toys incorporate things like the development of spatial and tactile skills, but they also encourage imaginative play. Imagination is so important, even for older children.
The Magna Tiles are 100% non-toxic and safe
These building tiles are designed to be completely safe to use for a 3-year-old. First, the magnets are welded in, preventing them from coming out and becoming a choking hazard. Plus, they are made of food-grade plastic. This means they aren't made with harmful chemicals. I find this to be extremely important and something I look for as a parent.
What else makes these STEM toys a great choice?
Useful for math and science activities
Stainless steel rivets for strength and corrosion prevention
Open-ended possibilities
Can create flat or 3D structures
32 pieces
If you are looking for a high-quality toy that can be used for many years, then this STEM set may be your perfect match. This is especially true if you are in the market for building tiles that spark imagination and creativity as well.
---
Recommended age: 3 years and up
It's no secret that kids love trains, mine included. This is one of the most versatile train sets that I've found. It is compatible with other train accessories and sets, including ones made by other major brands. My boys love to play with their train set with each other, just like their other building toys. Here are some reasons this could be the best choice for your child.
Multiple layouts
There are 9 different layouts that can be used with this train track. This sets up your children with so many different scenarios. Additionally, they can create their own town or village if they choose. It includes 52 pieces and so many options!
Dual-use wooden box
You will notice that there is a village tunnel that is included with this building set. The best part is that it isn't just a tunnel; it doubles as a large storage box. Just flip it over when it is time to clean up, and the pieces fit neatly inside.
Why else should you choose this set?
Made with durable solid wood
Compatible with Thomas the Train and Chuggington
It's lightweight
It is very easy to put together
The reality is that this is a perfect option for an engineering set. It is great for creation and learning to work as a team. I love toys that encourage my children to play with each other, and this is no exception.
---
Recommended age: 5 years and up
This is another STEM set that a lot of parents love because it's unique and very inexpensive. It makes a great gift for your budding engineer. Let's dive in and take a look at this set and why it made it into our top picks.
It's great for electronic education
If you have curious children who are always trying to figure out how things work, then this could be the best gift for them. It is designed to create many different circuits and includes easy-to-follow instructions. You can even join in on the fun, too.
This kit is an introduction to circuits
This is the most basic of the snap circuits that you can buy, which is perfect for just starting out. You can always purchase additional upgrades to increase the variety once your child has mastered it.
Here are more features of this set.
2 AA batteries required
No soldering needed; all of the pieces snap together
Set includes over 100 projects
Set includes over 30 electronic pieces
As you can tell, this building set is very different compared to the rest, as it is all about electricity. It is one of those building toys that promotes learning by doing.
---
Recommended age: 3 years and up
Brain Flakes are so cool and unique, and they appeal to kids of multiple ages. If your toddler or young child acts as a sidekick to your teen, this could be something that they can play with together. The set is designed to bring families together by promoting new ideas and fine-tuning motor skills.
They are an alternative to blocks
The first thing you will notice is that Brain Flakes boasts of being an alternative to building blocks. They improve coordination while providing hours of fun and problem-solving. These round discs have grooves that interlock, making them completely different than most blocks.
They are safe and non-toxic
Brain Flakes are made without lead, phthalates, and heavy metals. Kids as young as three can play with this 500 piece set without any issues or safety concerns.
Here are more mentionable features.
Set includes clear plastic jar for storage
90-day manufacturer warranty
Step-by-step instruction manual
These inexpensive toys are perfect for building different structures or towers. Like I already mentioned, they help build up motor skills and creative ideas.
---
Best for Teens
Recommended age: 16 years and up
Legos are arguably the most popular building toys out there, so of course a set had to be included in our list. These little blocks are very intricate and challenging, which makes them perfect for teenagers or even adults. Read on to see why this is our top pick for teens.
It's great for space fans
Do you have kids who aspire to be astronauts? Why not purchase this affordable set of building blocks, so they can construct their very own space station?
It has authentic details
Lego designed this set after the actual International Space Station, including adjustable solar panels, the Canadarm2, and a mini space shuttle with a docking station.
So why this one?
It is relaxing and fun to build
It has 864 pieces
It looks great on display when it's finished
I have always enjoyed putting together Lego sets myself, and I consider them to be some of the best building toys out there if you are just looking to have fun. They are also great for helping your kids with thinking skills and following directions.
---
Recommended age: 10 years and up
When I came across this kit, I was thoroughly impressed. Robotics is so fascinating that I was almost sold on purchasing this for myself. It is pricey, but that is why it's one of the more luxurious items. Keep in mind that it is definitely not for youngsters, so you may want to look in one of the other categories for something that is more age-appropriate if your kids are little.
There are different sensors and motors included
This shows you that you are constructing an actual robot out of these building materials. There are 10 projects, all with easy-to-follow instructions with color illustrations.
It is Bluetooth-operated through a tablet or smartphone
There is an app you can download that allows you to control your robot creation in real-time, right from your smart device. Also, the app includes information on programming in order to have your robot perform different commands. Cool, right?
What are other things does this set offer?
Customer service to troubleshoot problems
USB connection available to your PC
64-page manual
306 pieces
Even though this is expensive, if you have kids in your household that are showing an interest in robotics, this could make an awesome gift for them. It provides hours of play as well. However, it is recommended for kids and teens above age 10, so keep that in mind.
---
Verdict: Your Best Building and Construction Toys
Here is a quick recap . . .
Toddlers
If you want the best value, pick Fat Brain Toys Woodland Friends Stacking Cubes. They are the best overall for the littlest master builders because of how easy they are to use.
If you have a larger budget, pick Mega Bloks First Builders Build n Learn Table. If you have a little bit more to spend, a block table can be a great addition to your play area.
If you want to spend under $15, pick Melissa & Doug ABC Block Cart. These inexpensive wooden blocks are great for building and learning letters and colors.
School-age
If you want the best value, pick Marble Genius Marble Run Super Set. Marble run is becoming more popular among young children and can help with problem-solving skills.
If you want the best STEM set, pick Magna Tiles 32 Piece Clear Colors Set. These tiles are very versatile and promote an open-ended way to have fun.
If you are looking for the best train set, pick Orbrium Toys 52 piece Deluxe Wooden Train Set. The tracks are very easy to put together and is a great beginner set that can be added on to.
If you want to spend under $25, pick Elenco Snap Circuits Jr. It is a great starter set for learning more about electricity and circuits.
Teens
If you want the best value, pick Lego Ideas International Space Station Building Kit. It is perfect for the space-loving teen in your life.
If you want a luxury set, pick Thames and Kosmos Robotic Workshop Model Building and Science Experiment Kit. There is no better way to learn about robotics than by building a robot.
If you want a set for multiple ages, pick Brain Flakes 500 Piece Interlocking Plastic Disc Set. Your teen and their little sidekick can have some open-ended fun.
There you have it. You will find something on this list for every age, interest, and skill level. Keep in mind which features are most important to you as well as your budget, and your kids will be building in no time.