We spend a lot of time outdoors. I love the fresh air and my garden. To keep my almost six-year-old busy while I was tending the garden when she was younger, I got her a kids' outdoor playhouse. And it's kind of taken off from there.
First of all, my daughter loves her outdoor playhouses. In fact, all the kids in our neighborhood love my daughter's outdoor playhouses. Even when she's inside our house, the neighbor kids are outside playing with her playhouses.
Second of all, we don't have one or two; we have three plastic playhouses plus a wooden one and several fabric ones. Why? Because I love these things, and so does my daughter. Also, I was bored and decided to try and create a little playhouse town for Lil Miss when she was between two and three years old. I wanted all the houses. Unfortunately, my backyard isn't big enough for much more, and my husband gets tired of moving them all around when he's mowing the grass.
Not only are these totally cute to look at, but they have other benefits as well. They are functional and fun for toddlers and younger children and can even be educational. The age recommendation for an outdoor playhouse is typically anywhere between 18 months to eight years old. This means your child can let their imagination run wild while they're cooking something on the grill like daddy or tending to the flowers in the window sill while Mommy is pulling weeds, or engaging in another type of role play. Some come with a mail slot so your child can get pretend mail, or some let them have their own pretend restaurant or some other store. The possibilities are endless. Most of these houses come with accessories, or you can separately purchase exactly the items your kids want. No matter what, your children are going to have a blast playing with their friends in their very own outdoor playhouse.
Just think, how cute are your children and their friends going to be playing in style with their little playhouse? Set it up next to a picnic table or close to (but safely apart from) your picket fence for that authentic house look. They'll have their own space to play while you're enjoying some family outdoor time.
From here, you can carry on reading or jump straight to our number #1 pick here.
What Should I Look for in a Playhouse?
There is a variety of outdoor playhouses in the world today. Start by looking for a playhouse in your price range. Look on the website for information regarding the size and material used before buying. Also, make sure it has all of the options you and your child are looking for. For example, if you want a playhouse with workable window options with a view, or one that comes with a foldable kitchen seat, or maybe you're looking for a playhouse that comes with all of the accessories included, you'll want to consider these factors before making your purchase. You can determine if the playhouse is a piece set and the number of pieces it comes with as well. All of this information can be found on their website page.
But, if you still need help narrowing down your search, you should take into consideration the following factors to help get you on your way:
Criteria #1: Size of the playhouse
There are various sizes of outdoor playhouses. The picture on the box isn't always a good representation; therefore, try to preview your desired playhouse already put together. This will give you a better idea of the dimensions. You'll want to consider buying a slightly larger playhouse so that your child won't outgrow it too quickly, especially if they're going to be sharing it with other children.
Criteria #2: Materials of the playhouse
High-quality outdoor playhouses are typically made of wood, plastic, or fabric materials. Each has its own pros and cons. If you're okay with the most expensive, wood is where it's at. It's also safer for the environment. Plastic playhouses are slightly cheaper, easier to assemble, and portable. Fabric is another material choice. This is great for indoor/outdoor playhouses like tents and teepees. Regardless of the material you choose for your outdoor playhouse, I'm sure your child will love to play in it.
Criteria #3: Assembly of the playhouse
Definitely consider the assembly of the outdoor playhouse. This will obviously depend on the materials. Most wooden playhouses use nuts and bolts, while the plastic playhouses typically piece together. Regardless of the material type, it'll require adult assembly and maybe a few tools.
Here's How We've Determined the Best Playhouse
I've considered several factors when determining the best outdoor playhouse for your child in 2021. I looked at the price compared to the features, the materials used, dimensions, the reviews from the majority of parents and grandparents who've purchased a playhouse, as well as my own experience and those of friends who've bought a playhouse for their own kids, grandkids, nieces, and nephews. So, as you can see, I tried to cover all the bases when making my determinations.
Our Top Picks for the Best Outdoor Playhouse of 2021
Age Range: 18 months to 8 years old
Dimensions: 50.5 x 55 x 64.25 inches
Weight: 114 lbs.
The Step2 Naturally Playful Storybook Cottage has made the top of the list because of its amazing cottage design and interactive qualities for children of all ages. They'll have fun role-playing in their outdoor cottage. The playhouse is made of plastic materials to ensure that it'll hold up to most weather and stand the test of time.
Cottage Style Design
The playhouse features a cottage style design with realistic detailing. Your child will be transported into a fairytale setting with the molded-in stonework and thatched roof.
Kitchenette
The cottage playhouse has a kitchenette that showcases a molded-in sink with a faucet and a pretend stovetop with clickable knobs. Your child will be pretending to cook and clean the dishes in no time. It also features a kitchen table your kids can fold up when they aren't using it.
Included Accessories
Watch as your children learn to use their imaginations with the operational front door and window shutter set, the electric play phone, and the working doorbell that come with this playhouse.
Parents agree that this is an awesome playset for their children. It's large enough to fit adults inside, and it's sturdy enough to be outside or inside. Here are my two cents. We bought this one for my daughter. She loves it. She likes to pretend that she's working in a fairytale restaurant complete with unicorns and fairies. She pretends to make menus and cook me food. She even pretends like she's doing the dishes when she's done, which makes me happy.
---
Age Range: 18 months to 8 years old
Dimensions: 66 x 73 x 66 inches
Weight: 188 lbs.
If money is no object and you're looking for the best of the best outdoor playhouse, look no further than the Step2 Welcome Home Playhouse. Your child is all but guaranteed to have the time of their little life pretending to play in this high-quality house. It has all the amenities a child could ask for: a full kitchen and table along with a skylight, a Dutch door, and bay windows.
Heavier Than Its Competition
This plastic outdoor playhouse weighs considerably more than the other items on this list. The weight of the product ensures that it won't easily move in windy situations and is durable enough to stand up to the most rambunctious child.
Full Kitchen
This kids' playhouse features a full kitchen, complete with a molded-in sink and a stickered range. There's even enough storage for pretend cooking utensils and play food. Like the Step2 Naturally Playful Storybook Cottage playhouse, this playhouse for kids also features a fold-out table for hours of kitchen fun.
Skylight
The peaked roof has a skylight for that cute authentic look your child will love.
Handrail and Welcome Mat
There's even a handrail and welcome mat to complement the two large bay windows, Dutch door, and chiming doorbell on the playhouse.
Workable Shutters
The shutters can be opened or closed, which makes it fun for your young child to feel like they can have some privacy while they play in their playhouse.
Parents say this playhouse is big enough to fit at least three children inside at once. The large design is also perfect for a taller child to play in. This is an especially great quality if your children range in ages from toddler to seven or eight.
---
Age Range: 36 months and up
Dimensions: 4.5 x 45.2 x 52.5 inches
Weight: 5 lbs.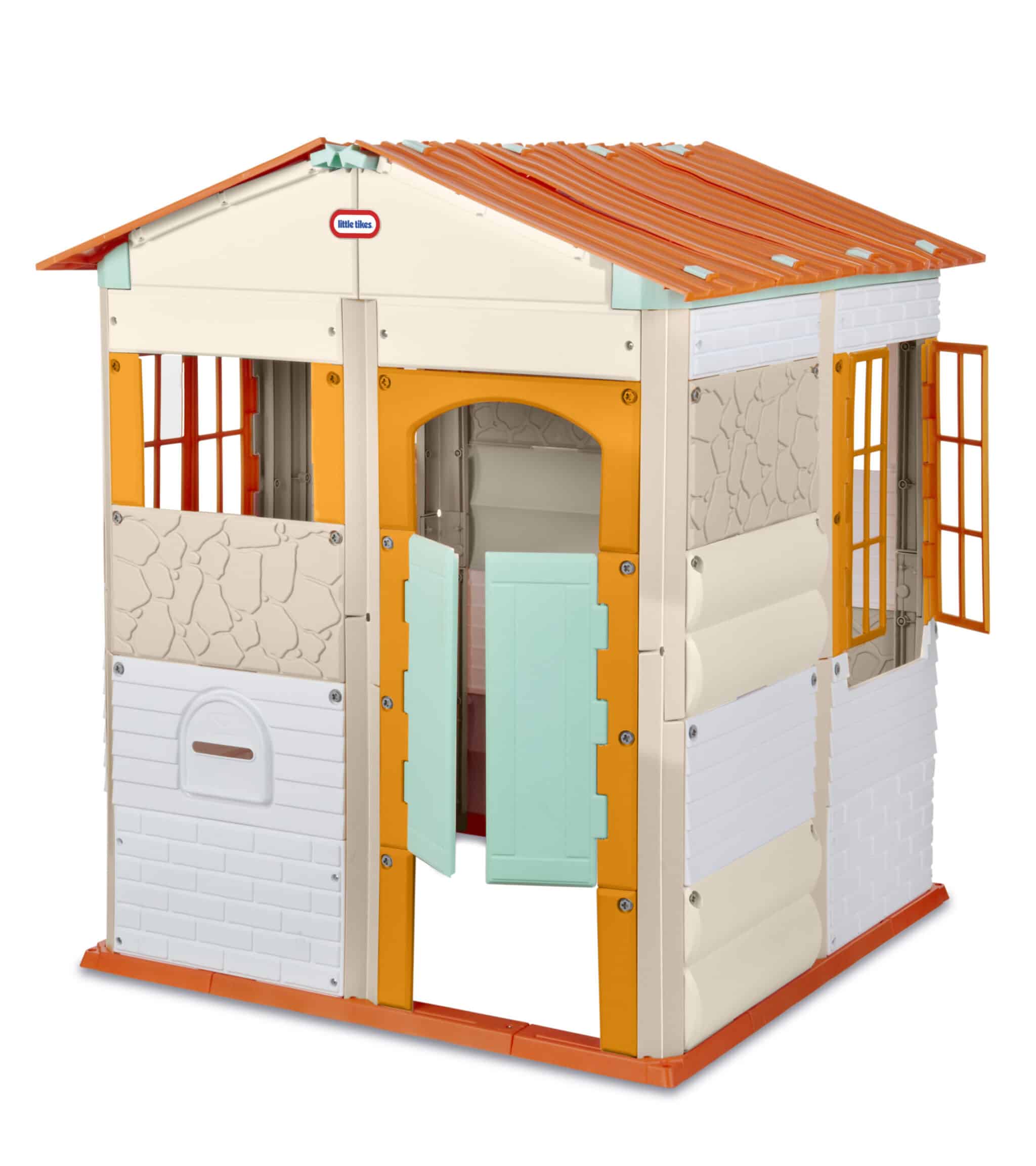 Get Little Tikes Build-A-House at Walmart
While there are a lot of Step2 playhouses on my list, Little Tikes is also known for its high-quality children's toys. Play inside or outdoors with this Little Tikes Build-a-House plastic playhouse. Your child is sure to have hours of fun with this playhouse.
Interchangeable Panels
This outdoor playhouse features all the primary colors with its interchangeable panels, complete with a kid-friendly drill and screwdriver. Watch your child become their own architects and construction workers as they come up with new designs with each use.
Customizable
Parents, you get to build the frame and roof and then watch as your child customizes the rest of their own Little Tikes Build-a-House over and over again.
Swinging Doors and Mailbox Panel
The doors of the playhouse swing open and closed for easy entering and exiting. There's a mail slot because even kids like to get mail.
Parents like how this outdoor playhouse encourages teamwork. I don't have this outdoor playhouse, but I can honestly say I'm planning on buying it for my two-year-old grandson. He loves tinkering with things, and this will allow him to build his imagination and work on his problem-solving skills. Once his younger brother gets a bit older, he'll be able to play with it as well.
---
Age Range: 24 months to 8 years old
Dimensions: 47.5 x 47.5 x 60 inches
Weight: 40 lbs.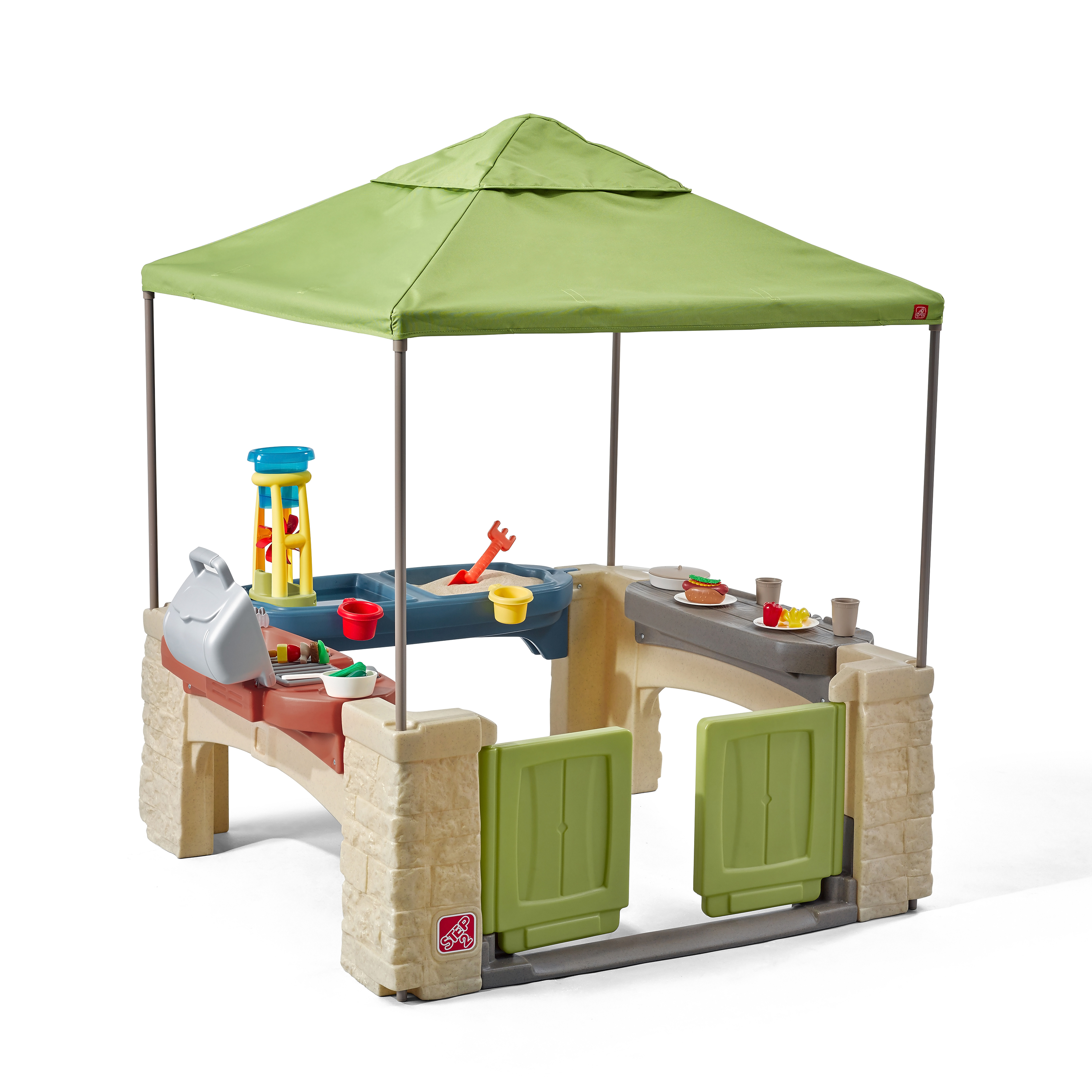 Get the Step2 All Around Playtime Patio with Canopy Playhouse at Walmart
Your child will have a blast with the Step2 All Around Playtime Patio with Canopy Playhouse. The best feature of this plastic playhouse for parents is that it's affordable and budget-friendly. Children will love getting ready for their very own pretend cookout.
Pavilion Style
The pavilion-style design of the playhouse will let your child and their friends host their own backyard barbeque. It's covered with an overhead canopy to keep them shaded while they're preparing for their pretend cookout.
Grill
Watch your child as they use their playhouse grill just like Dad and then use the molded-in play sink to wash the dishes once they're done. Your child can even enjoy their meals at the snack table.
Water and Sand Features
This playhouse comes with water and sand features for even more fun. It comes with a water tower, scoops, a double-sided shovel, and more. These all come in a mesh storage bag and a sand cover to keep the sand clean and dry.
This is another outdoor playhouse my daughter loves. When we grill out, she does the same. She has so much fun cooking like Daddy. The water and sand features keep her and the other children occupied while the real food is being prepared. It's a great choice for all-around family fun. According to the reviews, other parents feel the same. Their children love playing in and around this playhouse.
---
Age Range: 24 months to 5 years old
Dimensions: 63.5 x 84 x 58 inches
Weight: 105 lbs.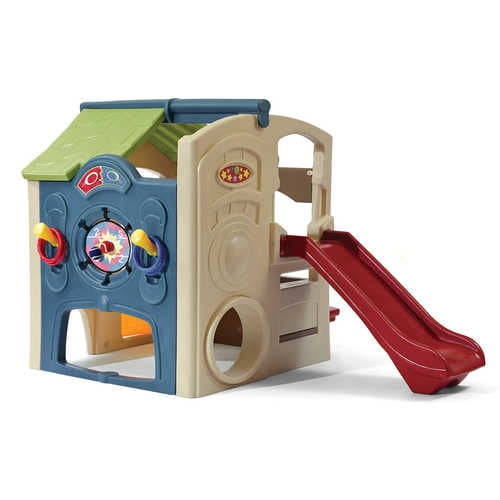 Get the Step2 Neighborhood Fun Center at Walmart
The Step2 Neighborhood Fun Center is exactly that. An outdoor playhouse that's fun for the whole neighborhood. Your child and their friends will have a blast with this playhouse and its slide and activity wall. The plastic materials will ensure that it weathers the various outdoors nicely.
Slide
What child doesn't like a slide? Your child and the other neighborhood children will have a blast taking turns on the four-foot long slide attached to this playhouse.
Activity Wall
When they're not sliding or playing inside the playhouse, your child will have all sorts of fun playing games with the activity wall. This wall includes ball and ring toss games to help improve hand-eye coordination and a little friendly competition between siblings or friends for some extra family fun.
Snack Table
Kids need their energy to play these games, right? Why not enjoy snack time at the snack table? This table features a built-in countertop with two bench seats. It's a perfect place for children to enjoy a healthy snack or just take a few minutes to catch their breath before they're off and playing again.
Parents and grandparents alike agree that this playhouse is amazing. It's interactive and fun for kids of all ages. It's durable and strong enough to handle all the kids.
---
Age Range: 18 months and up
Dimensions: 37.5 x 70.5 x 54 inches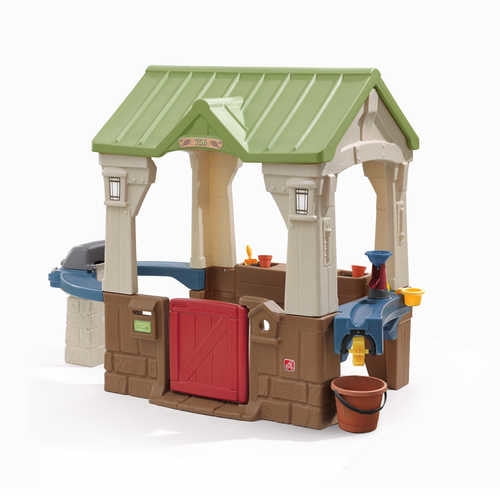 Get the Great Outdoors Playhouse at Walmart
Your child will have so much fun playing with this plastic outdoor toy. From the water feature to the grill and real flower box, this is a great playhouse option for toddlers and preschoolers.
High Ceiling
Toddlers and preschoolers will be able to stand tall inside their outdoor playhouse because of the high ceiling.
Water Feature
Similar to the Step2 All Around Playtime Patio with Canopy Playhouse, the Great Outdoors Playhouse also has a water feature. Your little one will have a great time with the working water pump with a paddle wheel and the included bucket.
Grill
Also similar to the Step2 All Around Playtime Patio with Canopy Playhouse, this features a grill with click-and-turn knobs and accessories. Your tot will love learning how to pretend grill with the accessory set.
Flower Box
The neat thing about this playhouse is the flower pot. It has a drain hole so your toddler can plant and grow real flowers in the plant pot holders. You can't honestly say that's not the coolest feature on this playhouse!
Crawl-Through Entrance
Not only does this playhouse have a Dutch door that opens and closes, there is also a crawl-through entrance near the grill area. Your children will love crawling in and out of the secret entrance.
Parents and grandparents agree that this outdoor playhouse provides hours of pretend play and creativity. They also love how big it is inside, with plenty of room for several kids to play in at a time.
---
Age Range: 2 years old and up
Dimensions: 42.8 x 35 x 49 inches
Weight:32 lbs.
The little girls in your life will fall in love with this fashionable and totally cute L.O.L. Surprise! Winter Disco Cottage Playhouse. Watch them as they recreate their favorite L.O.L. Surprise! Winter Disco scenes. Note to parents and grandparents of girls of all ages: this cute movie is likely to be a quick favorite. It's on our playlist, and my daughter plays it on repeat. In short, this is a great playhouse option for girls.
Light-Up Disco Ball
It comes with a functional electronic light-up disco ball that hangs inside of the playhouse. The kids can bring in their L.O.L. Surprise! doll toys to add to the fun.
Working Doors, Windows, and Shutters
The playhouse has two working doors along with functional windows and shutters, so kids can invite their friends over for playtime. Like the Little Tikes Build-a-House, there's a mail slot so your child can get pretend mail from their favorite L.O.L. characters.
Included Inflatable Chair
Your little girl will be comfy sitting on the included matching inflatable chair.
Parents say this playhouse is adorable. It's definitely kid-approved. As a matter of fact, I'm going to be purchasing this for my two-year-old granddaughter as a Christmas present this year.
---
Age Range: 2 to 6 years old
Dimensions: 30 x 54 x 56 inches
Weight: 40 lbs.
Little boys all over will love sailing in their very own ship in these playhouses for kids. Watch them as they pretend to fish or weather the perfect storm, save the princess or fight off scary pirates. This playhouse will really get their imaginations flowing.
Bright Colors
Set sail in this playhouse boat of many colors. The pretend damsel in distress will know they're being saved when they see this fun boat coming to save them. The bad pirates will tremble with fear when they see your little sailors coming for them.
Nautical Theme
The nautical-themed pirate ship includes a cabin with windows, rear stairs that lead to the bridge, and a rotating ship's steering wheel. Your boy will love sailing the high seas and defending his ships against the enemies with this plastic playhouse.
Fade-Resistant Construction
You won't have to worry about the colors fading with the fade-resistant construction of the boat.
This is a fun playhouse for boys because it lets toddlers and preschoolers use their imaginations.
---
Age Range: 3 to 10 years old
Dimensions: 6.16 x 5.58 x 5.41 feet
Weight:152 lbs.
Your boys and girls will be transported into a different time when they play inside their own Backyard Discovery Victorian Inn Wood Playhouse Kit.
Front Porch
Similar to the welcome mat of the Step2 Welcome Home Playhouse, this wood playhouse has a front porch and bay window. But this one also has flower pot holders, just like the Great Outdoors Playhouse.
Complete Kitchen
This outdoor wooden playhouse comes with a fully stocked kitchen set that includes a play phone and mounted sink with a burner, along with all the necessary cooking necessities including a plastic knife, a fruit and veggie basket, and velcro food. Your kids will have so much fun going back in time with this wooden playhouse.
All the reviews rave about how much kids love this house. A few even recommended painting the house with their kids to make it their very own, which is a great idea.
---
Age Range: 36 months to 8 years old
Dimensions:53.46 x 49.61 x 81.14 inches
Weight:89 lbs.
Frozen 2 lovers all over will be ecstatic with this high-quality outdoor playhouse. Made out of fabric, plastic, and wood, you'll constantly be asked by your children to play in it. Of course, your answer will be yes, because that's what parents do, am I right? Besides, who doesn't want to pretend to live in Arendelle? KidKraft has brought Arenedelle to your backyard with this playhouse.
Unique Double Door Design
The unique double door design is actually inspired by Elsa's bedroom door. Your little girls will love pretending to be Anna at the door asking Elsa if she wants to build a snowman in this playhouse.
Roof Spires Just Like The Arendelle Castle
The plastic roof spires on the KidKraft Disney's Frozen 2 Arendelle Playhouse are designed to look just like those on the Arendelle castle. Whether your girls are pretending to be Anna and Elsa or your boys are playing the role of Kristof and Olaf, they can rest easy finding the castle in time to save Anna's frozen heart.
Two Window Planters
Comparable to the Great Outdoors Playhouse and the Backyard Discovery Victorian Inn Wood Playhouse Kit, this castle comes with two window planters. Your children will love the option of growing their very own flowers and plants.
Ice Sculpted Windows
The custom ice sculpted windows ensure it's always cold in Arendelle.
Promotes Doll Play
This playhouse promotes doll play for hours and hours of fun for your children. Let them bring out their Frozen toys to add to the fun.
Parents like that this playhouse is fun for children to play in. It's made with good, quality materials, so it should be able to stand the test of time . . . and kids.
---
Age Range: 3 to 6 years old
Dimensions: 29 x 43 x 43 inches
Weight: 13 lbs..
If you're looking for something like the Little Tikes Build-a-House that can be used indoors or outdoors, look no further than the Zoomie Kids Wadena Butterfly 43″x29″ Playhouse. This playhouse is made of fabric and can easily be moved when you're ready. Little boys and girls will love this playhouse option.
Fabric
This adorable playhouse is made of 100% cotton with its soft lemon fabric and a lilac multi-stripe roof.
Open Windows and Door
The open windows feature lilac mini-gingham and white frilly cotton curtains edged with lilac pom-poms and multi-colored dots. This playhouse is just too cute to pass up.
Parents and grandparents agree that this is a great quality playhouse that is designed with attention to detail. It's easy to assemble and tons of fun for the little ones.
---
Verdict: Your Best Outdoor Playhouse for Kids
In case you missed it, here is the quick run-down of our top 11 outdoor playhouses for kids and toddlers in 2021.
If you want the best value for your money, choose the Step2 Naturally Playful Storybook Cottage.
If you're looking for the best of the best, pick the Step2 Welcome Home Playhouse.
If you want an indoor/outdoor option, pick the Little Tikes Build-a-House.
If you want to keep the spend under $200, choose the Step2 All Around Playtime Patio with Canopy Playhouse.
If you want to include the whole neighborhood, pick the Step2 Neighborhood Fun Center.
If you're looking for the best playhouse for toddlers, choose the Great Outdoors Playhouse.
If you're looking for a little girl, pick the L.O.L. Surprise! Winter Disco Cottage Playhouse.
If you want one for a little boy, choose the ECR4Kids Pirate Ship.
If you're looking for a wood playhouse, pick the Backyard Discovery Victorian Inn Wood Playhouse Kit.
If you're looking for a Disney theme, choose the .
If you want a fabric playhouse, choose the Zoomie Kids Wadena Butterfly 43″x29″ Playhouse.
As you can see, there are many different styles of these outdoor playhouses. You want something that is within your price range and that has all the options you're looking for. Weigh the pros and cons of the playhouse that is best suited for your child. Most of the playhouses on this list are made of plastic, but remember that you can find a playhouse made of wood or even fabric if that's what you'd prefer. Though, I will say, the fabric playhouses aren't good for long-term use outdoors. Some can be found with a floor, but most of the outdoor playhouses don't include a floor so that water doesn't build up and wear it down. Follow the manufacturer's directions and keep in mind that for most of these playhouses, if you need a replacement part or two, it can be just a simple email away.
Whatever playhouse you choose, your child is sure to be able to use their imagination and have a great time exploring their own world while they play. These outdoor products won't disappoint.