I have tried my fair share of double strollers. I will say that if you're looking for something very compact, the Summer Infant 3D Lite is a definite must, and if you need a stroller for two small kids, the Graco Ready2Grow is a winner.
But for those (like me) that love big, spacious, and almost luxurious strollers, the Evenflo Pivot Xplore is the absolute best choice.
I love that this stroller doubles as a wagon and a stroller, with an impressive amount of room for two small kids up to 55 pounds and 39 inches (each). I also adore how each child gets their own snack tray and impressive canopy.
And for me? The adjustable, extra-long handlebars were an instant "win," not to mention the supersized storage basket and ease of maneuverability.
If you're looking for a stroller wagon, I highly recommend the Evenflo Pivot Xplore – and this article is here to tell you why.
If you're bumping up from one to two kiddos or already have two adorable small kids to wrangle up, you need a double stroller. Double strollers will be lifesavers, whether you're toting your babes around Disneyland or simply going for a stroll through the neighborhood. Trust me; I get it – I have two awesome kids, and a top-notch double stroller means everything (kind of like that Friday night bubble bath!).
Detailed Description
The Evenflo Pivot Xplore is known for creating a "new kind of travel." It's a stroller that can transform from a traditional push stroller to a pull wagon in seconds, offering parents two types of riding styles. It's versatile, easy to maneuver, and has enough space for two small kids to enjoy the ride.
Is the Evenflo Pivot Xplore Stroller Wagon Safe?
The Evenflo Pivot Xplore is a safe option for your children, although I wouldn't recommend it for babies who cannot sit up on their own. That's simply because there's no support for brand new babes – unless you turn the wagon stroller into a travel system with an infant car seat adapter (you won't find another wagon stroller with this capability!).
Regarding security, each seat comes with a three-point harness system. Yes, it's not as secure as a five-point harness, but in my opinion, I prefer the ease of a three-point buckle. My kids have always been safe in three-point systems!
Last but not least, the wagon stroller comes with rear brakes for each wheel, which is pretty awesome.
Is the Evenflo Pivot Xplore Stroller Wagon Comfortable?
Let's talk about two things: comfort for kids and adults.
For kids, this wagon stroller is plenty comfortable. It comes with a decent amount of space. However, I would definitely follow the manufacturer's recommendations of 55 pounds and 39 inches maximum. Any child larger than that may find the child seats uncomfortable with no leg room.
For adults, the comfort level is superior. For one, it comes with an adjustable handlebar. I am 5″9, so it's imperative that I have a handlebar that won't be so low that I end the afternoon with an excruciating backache.
Secondly, the maneuverability is extremely impressive. It flows just as nicely as high-end options like Uppababy. And when you're toting two kids around, it is essential to have a smooth ride. And yes – the slick ride was somewhat surprising, considering this wagon stroller is on the large side.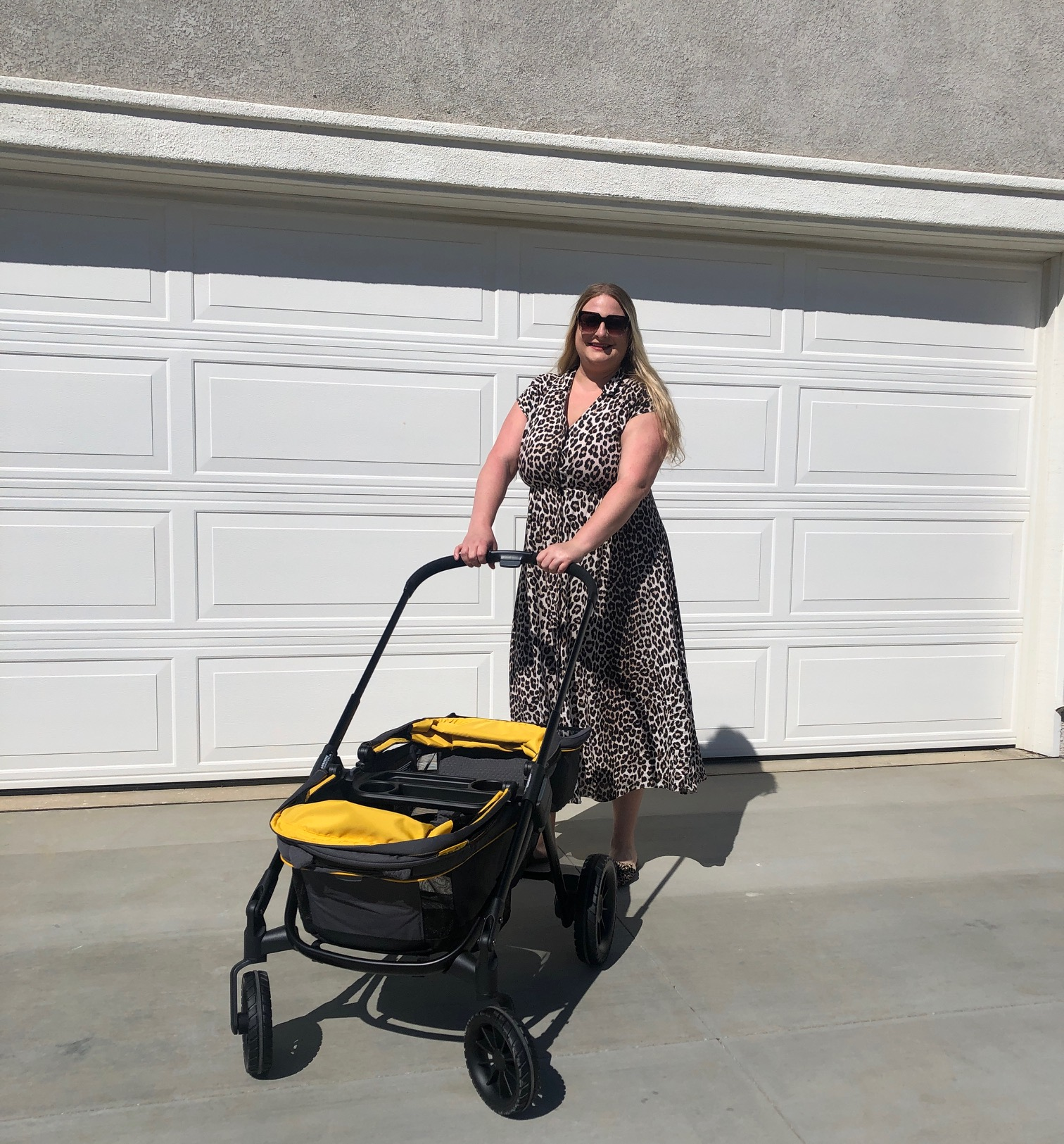 How Does it Drive?
I have traveled with many strollers, and I will be candid – some strollers are a huge pain to drive around. Even if they're lightweight and compact, they can still be a nuisance to get from point A to point B.
Well, the same isn't true for the Evenflo wagon. Although it's pretty substantial and weighs a lot (35 pounds), it glides as if it was hovering. No, seriously. I was completely and utterly shockedat how comfortable it was to maneuver this big boy around. I would say it stands up to even the priciest competitor strollers!
What Infant Car Seats are Compatible with the Evenflo Pivot Xplore?
If you want to tote your new baby in this wagon stroller, you'll need to purchase a car seat adapter. With a car seat adapter, you can transform the wagon into a baby-safe stroller. But which infant seat works with the Evenflo? You have three options:
Evenflo LiteMax
Evenflo SafeMax
Evenflo Gold SecureMax
The car seats are sold separately. So, if you need to travel with a tiny baby (under six months), you will need to purchase a car seat and adapter before you're able to use these stroller wagons.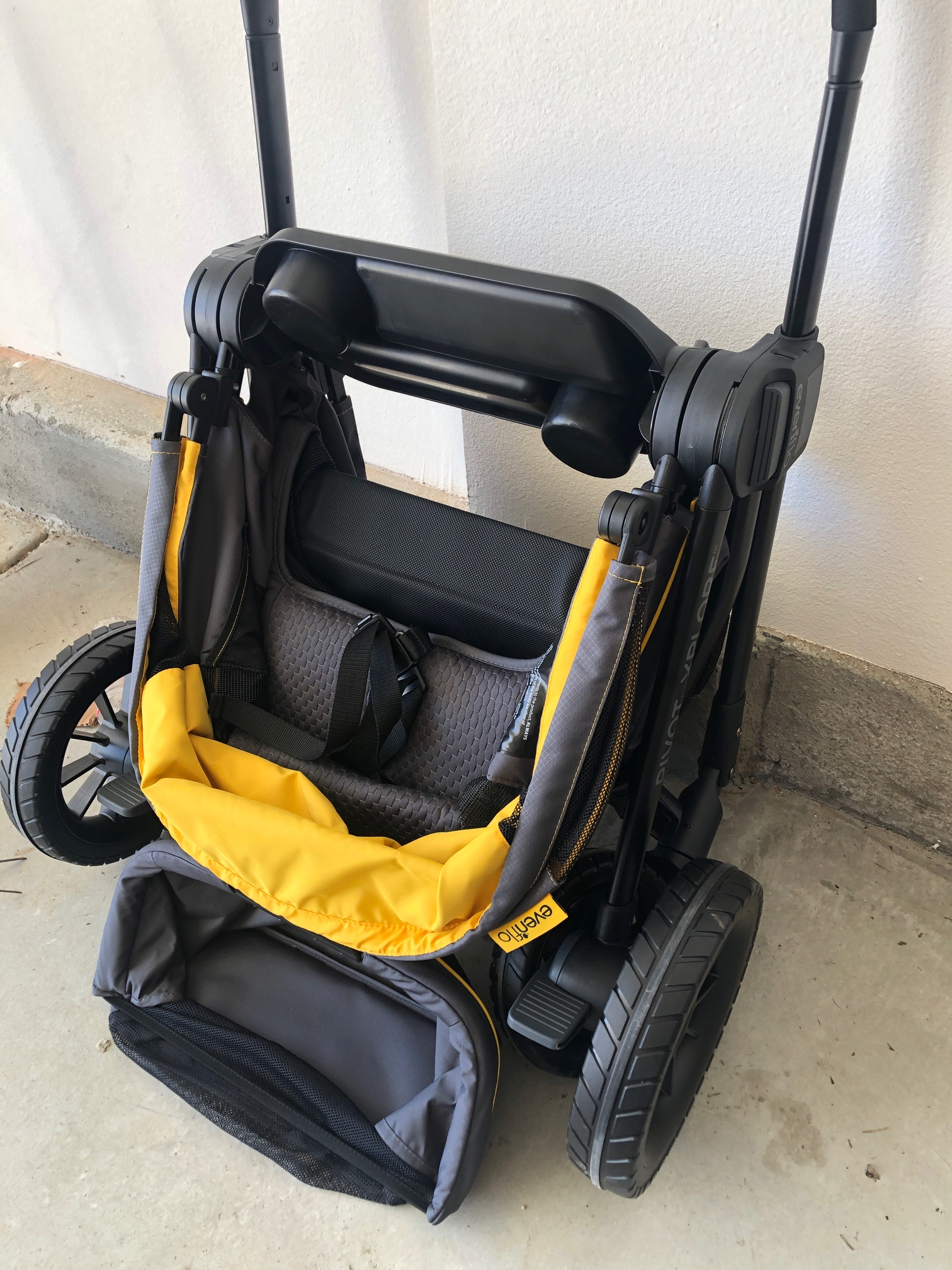 Is the Evenflo Pivot Xplore Stroller Wagon Easy to Fold and Unfold?
One of the things I noticed right off the bat was that this stroller is huge. I mean, it's long and relatively wide – although I have dealt with wider strollers and stroller wagons. With that in mind, I figured it would be an enormous pain to get it folded and unfolded.
But I was wrong.
Parents, this stroller is super easy to fold and unfold. All you have to do is push two buttons on either side of the stroller and push it down. Viola! (However, you can also take the extra steps to learn the front seat and fold the storage basket, but in my opinion, this isn't absolutely necessary.)
When folded, the stroller can sit in a "self-standing" position, which is nice. Yet, I always leave mine on the ground because I think this stroller takes up too much space – even when it's in "standing" mode.
Is the Evenflo Pivot Xplore Stroller Wagon Easy to Clean?
Kids are messy. And yes, while it can be a little annoying, watching them grow up is so much fun – am I right?
However, as a parent, I know how important it is to have a stroller that cleans up easily. And this stroller is definitely easy to clean!
For one, the removable middle snack tray is, well, removable. So, if you have a serious case of the spills and crumbs, you can take it out and wash it down in the sink. So simple! Smaller messes can be wiped clean with mild soap and water on a soft, damp cloth. In fact, you can do this on all of the metal and plastic parts. (No abrasive cleaners!)
Another perk is the mesh foot tray inside. This makes cleanup a cinch. And when the wheels get dirty, you can wipe them down, too. Basically, this is an all-around easy stroller to clean, whether your two children have made a huge mess or if they kept it to a minimum.
Is it Good for Travel?
Yes and no. Look, this stroller wagon is big. It isn't one of those strollers that you can fold up, plop in the back of your trunk or an overhead cabin, and be on your way. Although it's easy to collapse, you'll still need plenty of room to store it. Not only that, but it's super heavy, so I don't enjoy taking it in and out of the trunk unless I really have to.
However, if you can disregard the size and weight, it can also be an absolute dream for travel. For one, there's lots of space for kids, and I find the storage basket to be a definite perk. But what really makes this stroller a travel-friendly option is the wheels! The all-terrain wheels can easily glide over any terrain – including rough terrain -.
What I Like Best About the Evenflo Pivot Xplore
I know buying baby products can be tricky, and you want to ensure you're buying the perfect ones. Well, to help you choose whether or not to buy this Evenflo stroller, I've listed what I like (and later, what I don't like as much).
Two Seats for Two Kiddos!
First and foremost, I have to mention that this wagon comes with two child seats that can easily accommodate children into their late toddlerhood years. There's a decent amount of space, and my kids said it was plenty comfortable. (The seat holds up to 55 pounds and 39 inches, which is pretty great!)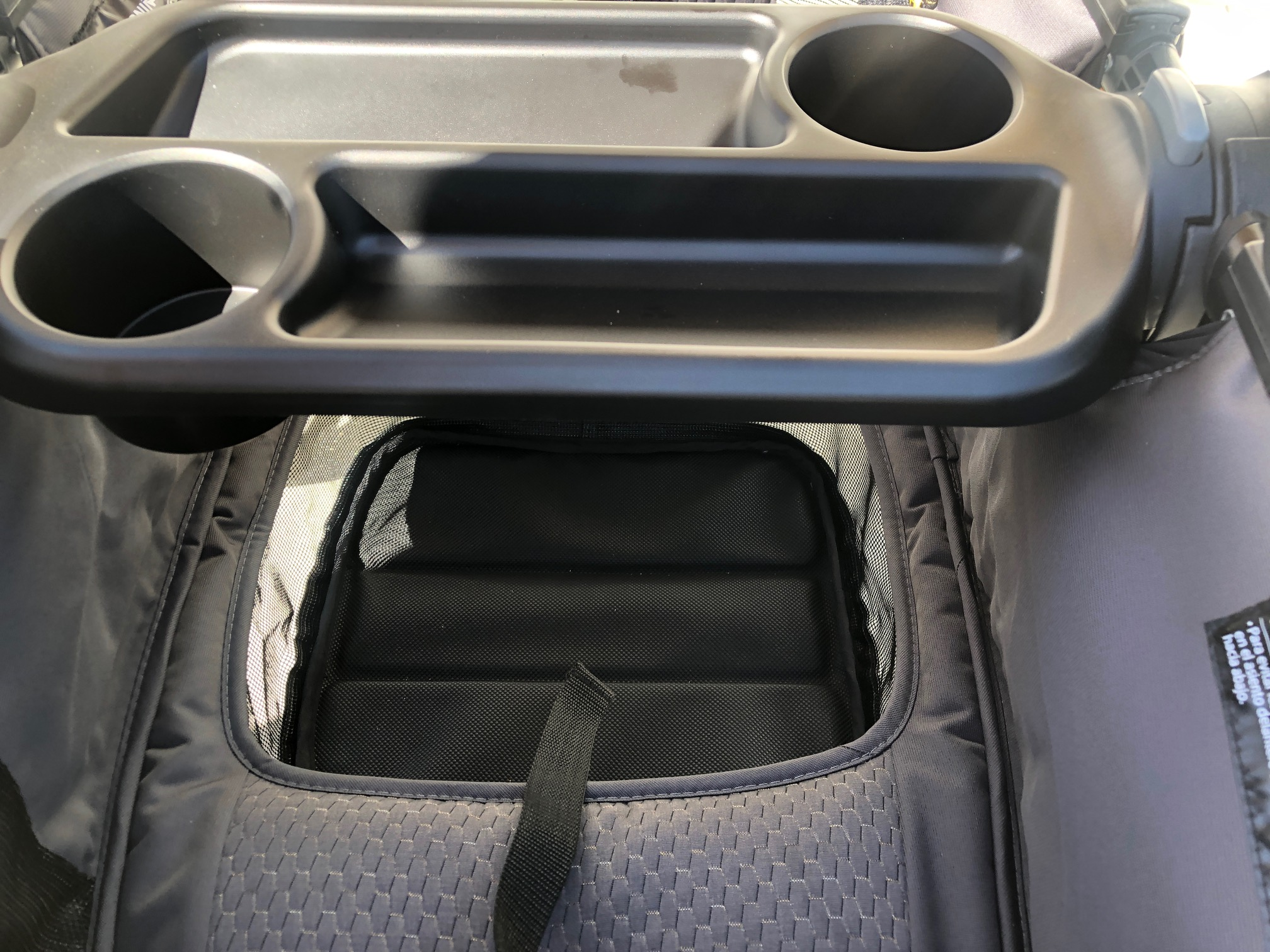 Two Snack Trays
I don't know about you, but my kids don't always like to share. They want to have their own space to get things done. Well, one of the biggest perks of this stroller is that the removable snack tray comes with two trays and two cup holders, so children don't have to share.
Two Impressive Sun Shades
When I'm buying a stroller, one thing I pay attention to is the sunshade. Some strollers have disappointing visors that hardly cover up your "precious cargo," leaving them exposed to the elements. I hate that!
But with this Evenflo stroller, those worries were gone for good. The sun visors are incredibly long and easily extend over kids. Plus, you can maneuver them in a way where the sun shades completely cover the stroller, ensuring kids stay safe.
Oh, and the sun visors are 100% reversible. Since I have a girl and a boy, I was happy they could have their own "colors." In my case, my boy loved the gray, and my girl loved the yellow.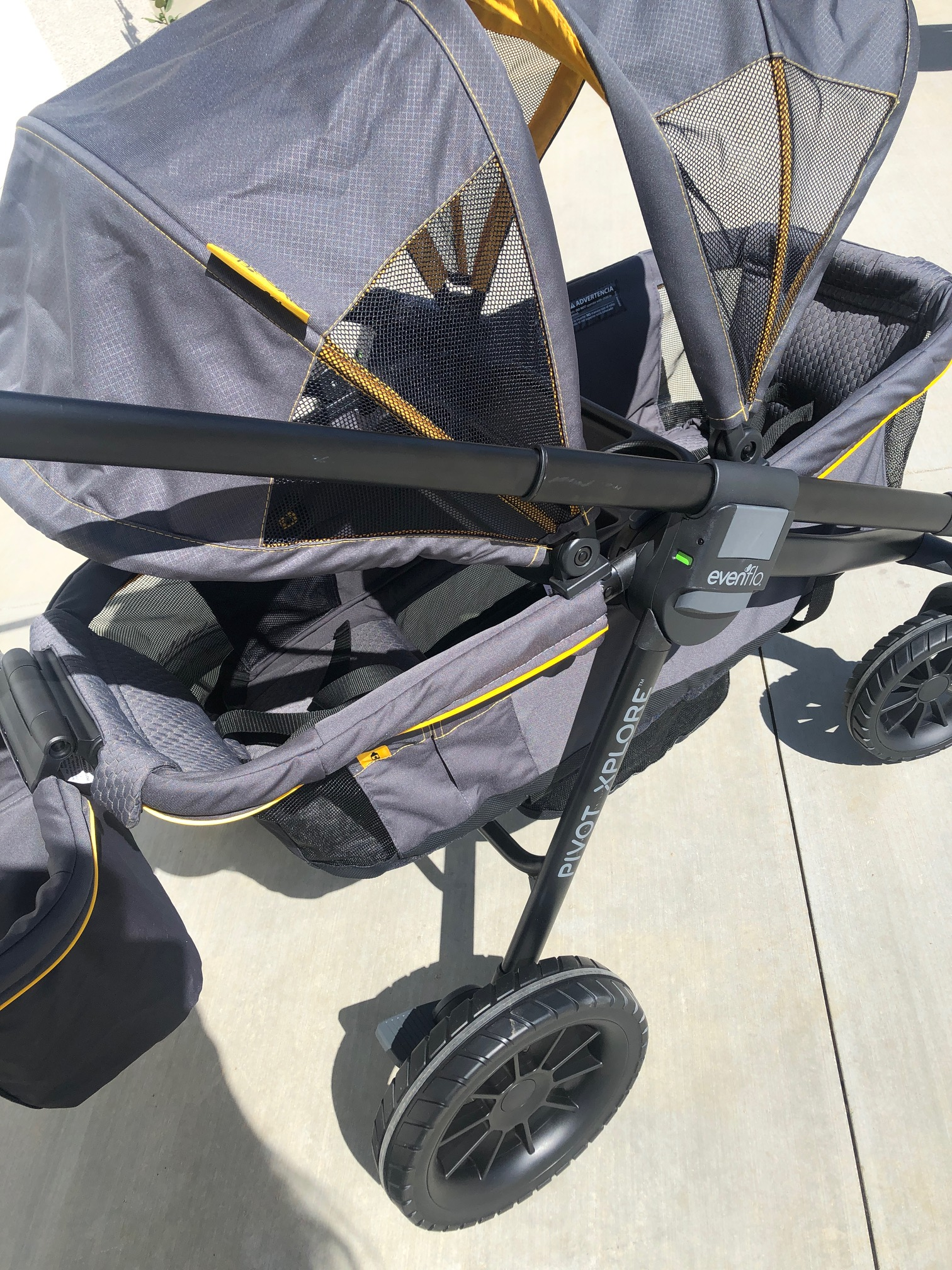 Easy to Use and Drive
I always get nervous when I try strollers, especially double strollers. I'm always worried that they will be impossible to fold and unfold and even more challenging to maneuver around the neighborhood. But I'm proud to say that this Evenflo wagon stroller surpassed my expectations.
Let's start with how easy it is to fold and unfold. I mean, wow. Although this stroller is pretty big, it folds and unfolds in seconds. You simply won't find this kind of convenience on other wagons of similar size and shape!
Second, I have to mention how great it is to maneuver. Again, this is a large and in charge stroller, but it certainly doesn't feel that way. When I drove this stroller around, it felt like I was steering through the clouds – i.e., it was such a smooth experience I didn't want to park it.
Adjustable Handlebar
I can't tell you how disappointing it is to use a stroller with a handlebar that's too low! After about an hour, I end up with a horrendous backache. But I didn't have this problem with the Evenflo Pivot Explore. The adjustable handlebar allowed me to stand comfortably, which was a huge advantage.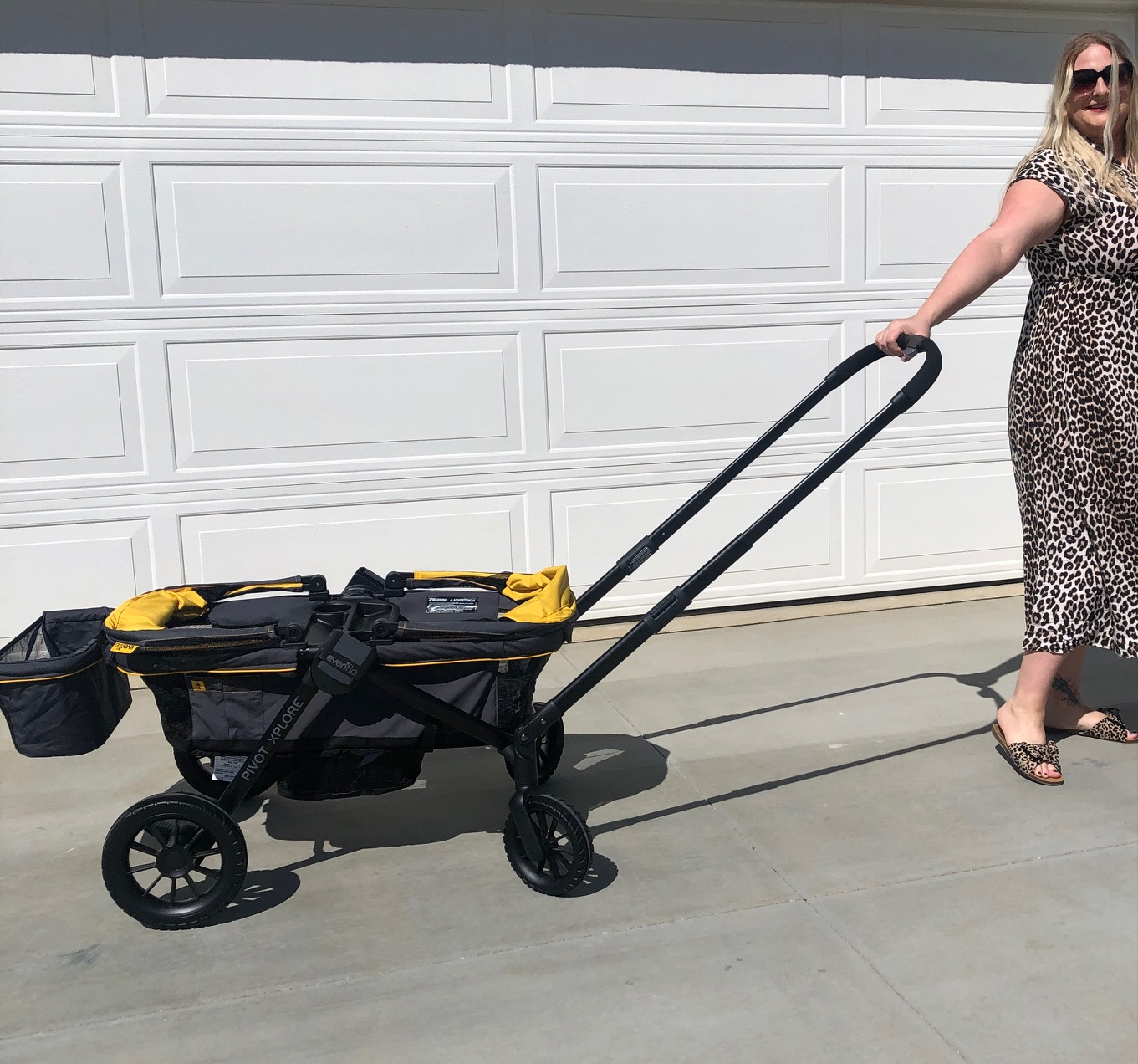 Dual Driving Modes
The Evenflo Pivot Explore is a stroller and wagon all in one. This means you can push or pull, allowing dual driving modes. This is highly beneficial, especially when you struggle through uneven terrain with big bumps. This stroller can easily handle almost anything, and you can switch the driving mode in seconds.
Top-Notch Wheels
I'm going to have to give the all-terrain wheels one more shoutout. They offer an impeccably smooth drive, unlike any double stroller I have ever dealt with. Although, that's not the only reason why I like them.
I like how the stroller is designed with two extra-large front wheels and a smaller set of wheels behind. It creates a smoother drive from start to finish. Plus, the front wheels come with their own brake, so you can rest assured your stroller is locked when you need it to be.
What I Don't Like As Much
As much as I'd like to say this stroller wagon is a unicorn, nothing's perfect. It has its flaws. Let's take a look.
It's BIG
This stroller is really large, folks. I mean, that is somewhat to be expected with a double stroller that's more like a wagon, but this is probably the most oversized stroller I have dealt with so far. The dimensions are 27.0 x 39.0 x 45.0 inches, weighing about 35 pounds. Even the folded dimensions are large at 27.5 x 23 x 37.5 inches, so it can be difficult to find a good spot to store this puppy.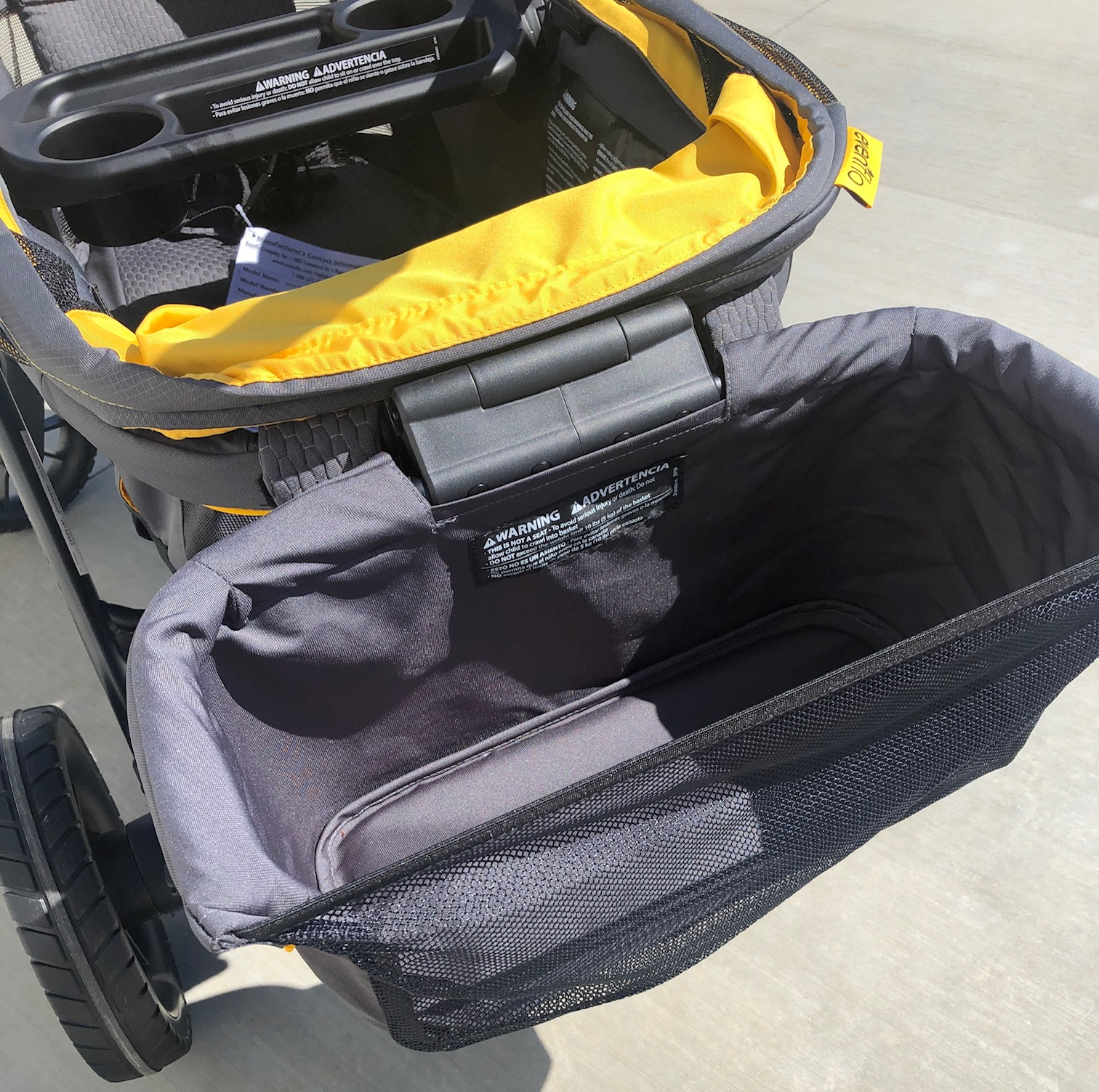 Little Storage Space
Okay, if I'm going to be honest, we are a family that packs light. Personally, I found the storage basket to be just the right size. Yet, I can easily see where some may not be as impressed with the storage space. There is zero storage inside and no storage space underneath, so your options are limited.
Verdict
There's a reason why the Pivot Xplore has made it on our best stroller wagon list. If you're in the market for a wagon stroller, I recommend this one 100%. I love that you can have the stroller mode or pull mode options, and the seats come with their own trays with built-in cup holders and a removable canopy. It can turn into a travel system, if desired, and has an impeccably smooth ride, even though it's a heavy-duty stroller.
Frequently Asked Questions
Got questions? I've got answers. Let's check them out!
Should I get the Evenflo Pivot Xplore or a double stroller?
This is a personal preference. If you're looking for something roomy and easy maneuvering, you can't go wrong with the Evenflo Xplore. However, a different double stroller may be better if you want something more compact and easier to take on the go.
Can you put an infant in a stroller wagon?
Infants can't go in stroller wagons. However, the benefit of this Evenflo wagon is that you can use an adapter to turn it into a travel system, which is safe for your infant to ride in. (Note: the car seat will take over the second seat, so you won't have two seat areas.)
Is the Evenflo pivot Xplore allowed at Disney?
Unfortunately, this wagon is not permitted at Disney.
Can a child sleep in the Evenflo wagon?
This stroller is not designed for sleeping because of the footwell. You can get something, such as a blanket, to cover the footwell and provide a cozier spot for your child. However, since the seats aren't reclining, they still won't be too comfortable.
Comparison to Other Strollers
You might be considering some similar stroller options, and aren't sure which one you should pick. Let me help you out.
Evenflo Pivot Xplore vs. Wonderfold
If you're looking for an authentic "wagon" and not a stroller that can also be used as a wagon, I recommend going with Wonderfold. The Wonderfold Wagon can accommodate up to four kids with lots of foot space, has five-point safety harnesses, and an awesome canopy to keep all kiddos safe and sound. There's also more storage space and a zipper closure.
Evenflo Pivot Xplore vs. Baby Trend Expedition
The Evenflo Pivot Xplore and Baby Trend Expedition are incredibly similar. The most significant difference is that the Baby Trend Expedition has less space, is not as comfortable, and is more challenging to drive. The advantage? It's a lot cheaper, so it may be the right choice for parents on a tight budget.
Evenflo Pivot Xplore vs. Veer Cruiser
The Veer Cruiser is quite expensive. That's because it comes with some perks you won't find on the Xplore. For one, it's very lightweight and compact at just 32 pounds. It can be folded with one hand and is made with military-grade aluminum. Honestly, if you want out-of-this-world constructions and maneuverability, you can spend the money on the Veer Cruiser. But in my opinion, it's not necessary. The Evenflo works just fine!
Evenflo Pivot Xplore vs Jeep Wrangler
The Jeep Wrangler and Evenflo are similar – in price and functionality. I would choose the Evenflo, though. I like the design better overall. However, the Jeep Wrangler comes with a little more storage and a nifty detachable cooler that can hold up to 15 pounds, plus a canopy for fuller coverage.