If you're in the market for a forward-facing car seat, Graco is the way to go. How do I know? Because I bought the Graco Nautilus 65 for my daughter when she outgrew her rear-facing seat five years ago, and we still use it today. I can honestly say it's one of the best purchases I've made for her. This car seat not only looks good, it meets every safety requirement I could ask for, and for those that like to travel, it's airline friendly.
In this article, we're going to talk about the different models, particularly the differences among Graco Nautilus 65 ,the Nautilus 65LX, and the Snuglock LX. We'll also see how Graco compares to similar car seat models like the Graco Atlas and the Britax Frontier and Pioneer. You'll get the information you need to be able to make an informed decision when buying your Graco booster seat.
Quick Stats and Measurements
| | |
| --- | --- |
| Dimensions: | 28 x 18 inches |
| Weight: | 20.92 lbs. |
| Weight limit with harness: | 65 lbs. |
| Weight limit as booster seat: | 100 lbs. |
| Height limit with harness: | 49 inches |
| Height limit as booster seat: | 57 inches |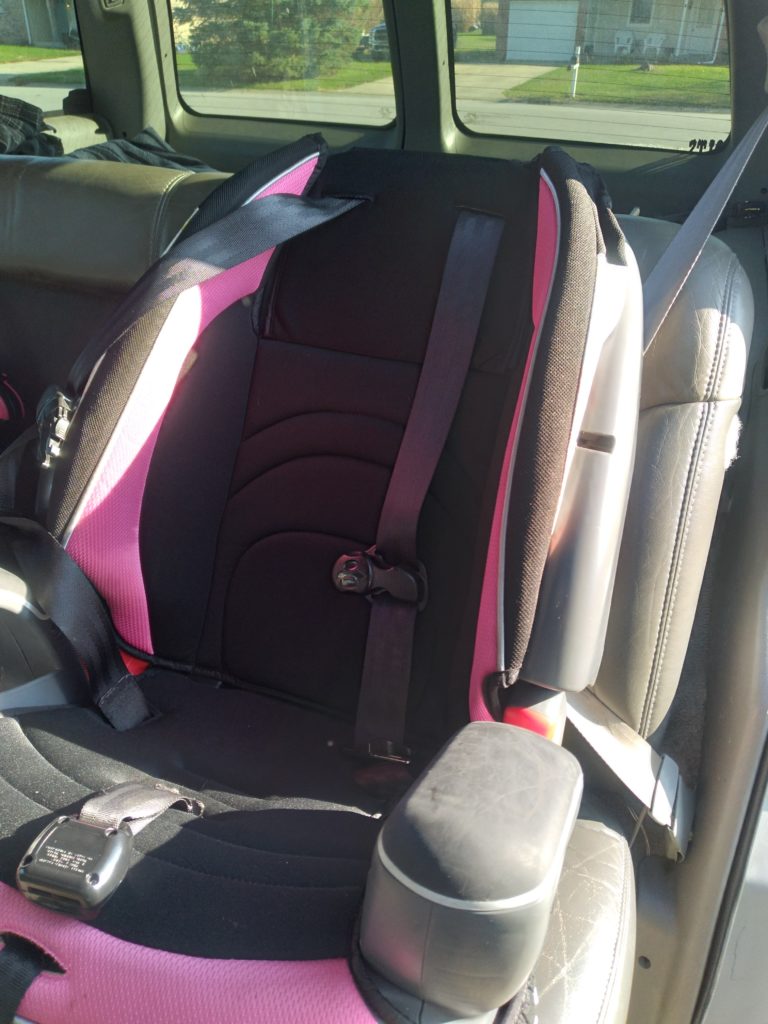 What's in the Box?
In the box, you'll get everything you need to get your kid set up with a new car seat. You'll get the car seat itself with a built-in cup holder and an owner's manual.
There's not even much assembly that needs to be done. Basically, you can pull the car seat out of the box, attach the back and straps to fit your child, and go. Now, admittedly, it's not quite as easy as it sounds. But with an extra five to ten minutes, the instructions in the manufacturer manual, and a bit of patience, you'll have a fully-functional car seat in no time. I had a harder time trying to get the cover on it than actually putting the car seat itself together. Just saying.
Graco Nautilus 65 Vs LX
Have you noticed that the Nautilus 65 3-in-1 car seat also comes in an LX 3-in-1 version? Maybe you're wondering what the differences between these two car seats are. Well, honestly, not much. They're both very similar car seats. There are only a few real differences.
For example, while both can comfortably seat children up to 100 pounds (the Nautilus with harness only goes up to 65 pounds), the Graco Nautilus 65 LX 3-in-1 harness booster car seat can hold an additional 20 pounds. This means that you'll be able to use it a few years longer than the Graco Nautilus 65 3-in-1 harness booster car seat, thus making it a great option for the value.
Are you looking for fuss-free harness storage? Maybe you're not sure what this means. Basically, it means the Simply Safe Adjust Harness makes it easier to get your child in and out of the car seat without fumbling with the straps. If you need this in your life, and we all do, consider checking out the Graco Nautilus 65 LX.
If you're worried about the price tag of a good car seat, don't worry. They both come in at a relatively decent price. However, the Graco Nautilus 65 LX is going to cost you a bit more for the added options, but even this difference won't break the bank.
Now that we've covered the differences, here is a quick breakdown of the similarities:
Both car seats come with a 5-position adjustable headrest to grow with your child.
Both come with 3 adjustable reclining positions to make your child comfortable as they reach growth milestones.
Both models have been side-impact tested in crash tests.
They are both made with steel-reinforced frames and energy-absorbing foam, for the strength needed in case of an accident.
Both of these car seat systems is LATCH equipped, which is efficient for keeping your child safe.
The seat cushions are machine washable. This is great for those children who accidentally spill a drink or are potty-training and have an accident.
The forward-facing SnugLock LX is another great high back booster by Graco. While this car seat is also very much like the Nautilus 65 3-in-1 car seat, there are a few more differences.
The SnugLock LX has a weight limit of 120 lbs. for its slimmer backless booster.
The SnugLock LX harness booster seat comes with its SnugLock technology and InRight LATCH. This technology system allows for a hassle-free installation process using either your vehicle's seat belt or LATCH system. Once the car seat is attached to your vehicle, all you need to do is to lock down the SnugLock arm. While the Nautilus 65 has a LATCH system, it doesn't offer this same technology as the SnugLock LX.
Like the Graco Nautilus 65 LX, the SnugLock LX comes with an integrated harness storage system. However, as we've just read above, the Nautilus 65 doesn't have this option.
How Safe Is the Graco Nautilus 65?
This Graco car seat comes with a steel-reinforced frame and is made with energy-absorbing foam. These features combine to make a safe and reliable car seat.
EPS, which is the energy-absorbing foam, has been proven effective for impact management while the steel-reinforced frame provides strength and durability for years of use.
This product has been rigorously crash-tested to meet and exceed US safety standards. It's also had side-impact testing done using the 5-point harness system. This makes it a great car seat for all of us safety-conscious parents.
How Comfortable Is It?
It's a sturdy car seat, which makes it a bit bulky and heavy, but well worth it. It fits in our car rather nicely (we have an SUV). It doesn't take up a lot of space in our vehicle; our daughter has plenty of room to move her feet, and I can still fit groceries in the empty seats with no problems. Even in our second, smaller car, there is enough room left in the back seat to go shopping without running out of space.
Not only is it made well, but this product also looks good in the back of your car. You won't be ashamed to have this in your vehicle, even without your kid in it.
How Easy Is It to Install?
The seat itself is pretty easy to install. It comes with a LATCH system, so all you need to do is attach the latches to your vehicle's car seat anchors. If your vehicle seat doesn't have these anchors, don't worry; you can safely slide the seatbelt through the same opening.
How Easy Is It to Use?
Straps and buckles
The harness is pretty user-friendly. Like most car seats, it buckles in the center across your child's chest as well as in between their legs. The buckle releases are easy enough for grown-ups to use but aren't as easy for little fingers, so you don't have to worry too much about your kid escaping their car seat while you're driving down the street.
Switching between booster modes
Switching your car seat between the harness and belt-positioning booster mode is so easy. It can be done in two basic steps by folding the back down and then pulling it out. The tabs to do so are in red, making it even easier. Once transitioned into the booster mode, you can use the belt guides when strapping in your child.
Ease of use ratings
The National Highway Traffic Safety Administration, or NHTSA, has come up with ease of use ratings. These ratings break down into four categories:
Evaluation of Instructions – This category ensures the content and clarity of the seat's instruction manual.
Vehicle Installation Features – This category pertains to how easy it is to install the car seat into your vehicle.
Evaluation of Labels – This category is designed to examine the content and clarity of the labels attached to the car seat.
Securing the Child – This category looks at the ease of using the features that secure the child correctly into the car seat.
According to the NHTSA website, this product has a three-star overall rating. It ranks high in the Evaluation of Labels and Vehicle Installation Features, but it scores lower in the Evaluation of Labels and Securing the Child categories. This is basically saying that the labels for vehicle installation are pretty clear, but the label for securing the child may be a bit more difficult to understand.
How Do I Clean It?
Thankfully, the car seat is super simple to clean. The cushion and cover are washing machine approved. My method is to wash them on gentle in cold water and then let them air dry. It's worked out perfectly for me. You can just wipe down the base with a washcloth. However, if your kid is anything like mine, don't forget the little storage compartment inside the contoured armrests. My daughter loves hiding food and toys in there. It's always disgusting, and the first thing I have to wash out when I'm cleaning her car seat.
Where Do I Find Important Information?
It's relatively easy to find any important car seat information you may need right on the seat itself. Whether it's the expiration date or the model number, just look for the sticker on the outside bottom of the seat.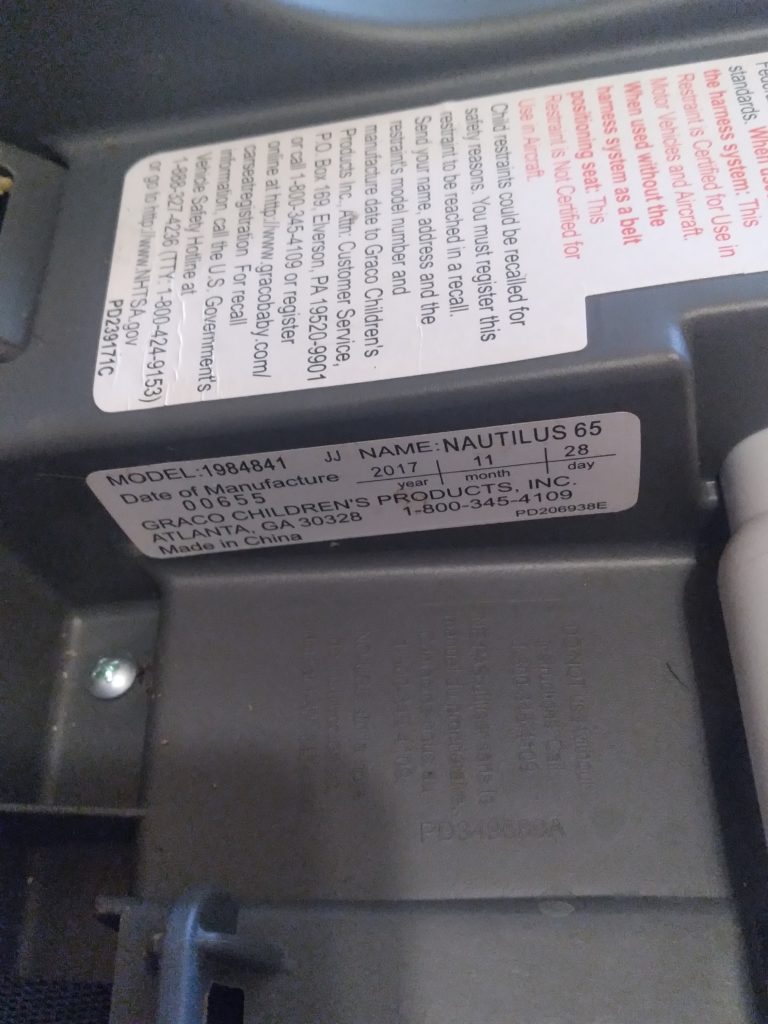 What's the Warranty?
Graco offers a 30-day limited warranty. If you have warranty questions or are in need of replacement parts, contact Customer Service at (800)345-4109, or write to them at:
Graco Consumer Care
4110 Premier Drive
High Point, NC 27265
If you're needing to return your car seat, keep in mind that the company can do returns, they just don't honor returns from any third party, including its retail partners. Your best bet is to contact a Customer Service representative at (800)345-4109 Monday through Friday between the hours of 8:00 a.m. until 5:00 p.m. EST.
How Long Is the Graco Nautilus 65 Good For?
The 3-in-1 harness booster car seat expires 10 years after the manufacturer's date.
Is the Graco Nautilus 65 FAA Approved?
Yes. Located at the bottom of the base of the seat is a sticker. The red lettering on this sticker lets you know it's safe for airline travel when used with the harness system.
Have There Been Any Recalls?
In case you weren't sure if this is a high-quality product worth the money, keep in mind that there have been zero recalls for the Nautilus 65 3-in-1 harness booster seat.
What I Like About It
I've had several other car seats over the years as my children have been growing up. This is by far my favorite. Not only had this seat accommodated my daughter's height and weight milestones since she became old enough to sit in a forward-facing car seat, but she liked it just as much as I did because it was comfortable for her. Even when she fell asleep on road trips, the foam padding kept her comfy. This product comes with coverings for the side straps and bottom strap, so that nothing would rub her while she was sitting in it. She really loved that aspect, as did I. No longer did I have to listen to her complain that the straps were rubbing her neck or pinching her. She also liked that it comes in her favorite color: pink. That made her happy.
Now that she's six and meets the weight requirements, we're transitioning her into the booster mode with the belt-positioning booster seat. She thinks she's a big girl now because she gets to use a shoulder belt. And she still has her cup holder!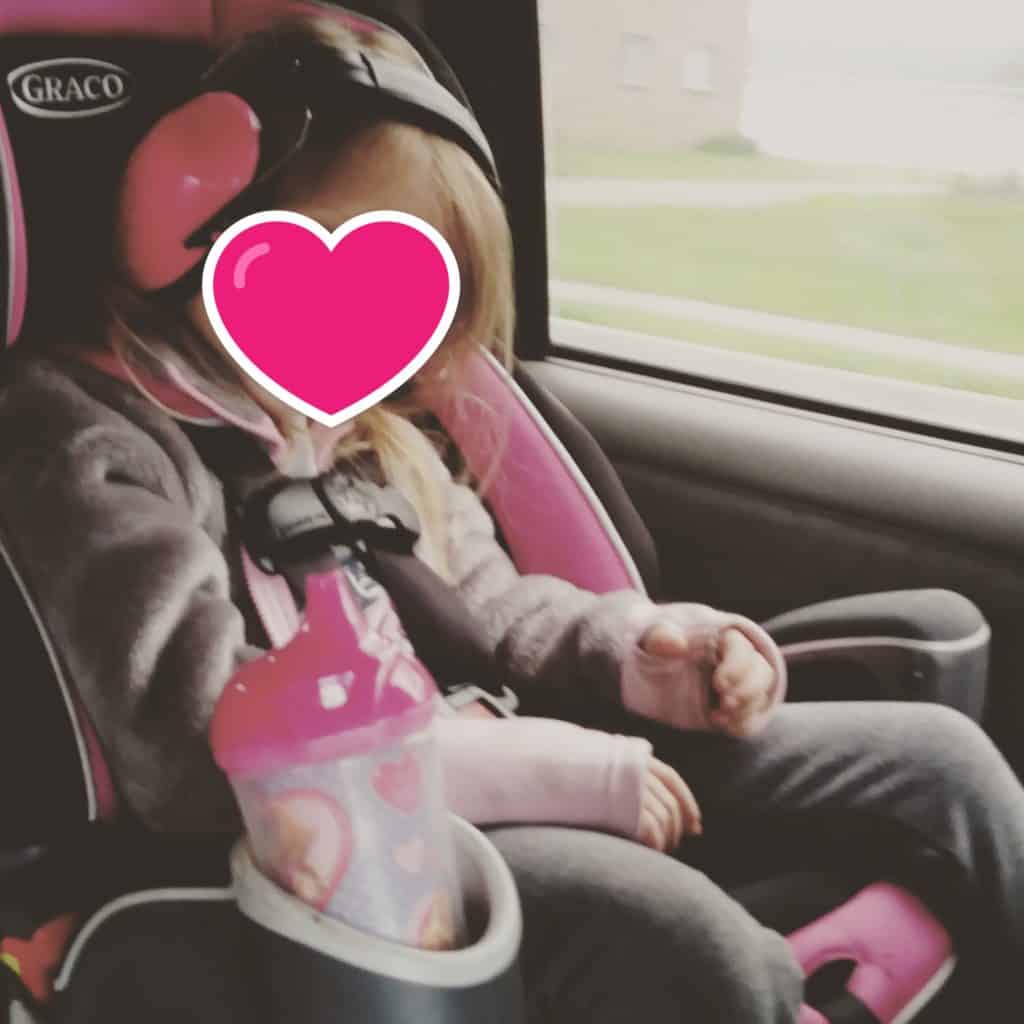 What I Don't Like as Much
The only thing I can honestly say I don't like about this product is the cover and seat padding. The cover and padding itself are perfect; they're in a place to cushion your child. However, putting the padding on and taking it off to clean is frustrating. There are a ton of hooks and loops. Sometimes trying to figure out what goes where can be a real pain. That's the only downside I see to this car seat. But, then again, I may not be very good at being impartial on this part because I absolutely love everything else there is about this safety seat.
As I mentioned above, my daughter is now starting to use the car seat as a booster. With that comes the use of a seat belt. Make sure your kid knows not to play with it. The first time my daughter figured out how to undo the seat belt, it terrified me. She now knows how to buckle and unbuckle herself safely, which is great if we're in a hurry, but I still worry that she'll all of a sudden decide to unbuckle herself while we're driving. She never has, but I still have this fear.
How Does It Compare?
Here's a quick breakdown of how the Graco Nautilus compares to some of the other top brand car seats on the market today.
Graco Nautilus 65 vs Atlas
Graco Atlas is another great car seat, but how does it compare to the Nautilus?
Like the Nautilus, the Atlas will last for about 10 years and fit your kid up to 100 pounds.
The price tag on the Atlas is a bit lower than that of the Nautilus, so if you're needing to save a few extra bucks, this is the way to go.
There are two main drawbacks to the Atlas that I found. While it'll turn into a high back booster, the Atlas doesn't' t transform into a traditional booster seat. However, because it's meant to grow with the child, the Atlas headrest works in 10 different positions.
Another setback for the Atlas is that it also has very minimal padding, so it may not be as comfortable for your kid as the Nautilus.
Both seats are great. Basically, you'll be paying a bit more for the Nautilus for its booster seat function, or you can pay a little less and sacrifice some padding comfort for your kid.
While Britax is a competitor of Graco, they are very similar car seats. That being said, there are a few notable differences between Graco's Nautilus and Britax's Frontier and Pioneer seats.
For example, the Britax Frontier can be both forward and rear-facing, while the Britax Pioneer and Graco Nautilus are only forward-facing. Because of this, the Frontier is going to be the best choice for longevity.
The Frontier also has a weight capacity of 120 pounds, while the Pioneer has a maximum weight of 110 pounds and 100 pounds for the Nautilus. Again, the Frontier is going to last longer for your children than its competition.
However, when it comes to the price tag, the Nautilus is still cheaper than both of these other seats. You're getting a great, high-quality car seat at a fraction of the cost of a Britax car seat.
Verdict
If you're looking for a great 3-in-1 seat that will stand the test of time and grow with your kid without costing you an arm and leg and lung, consider the Nautilus 65. If you want a few extra details and don't mind paying a bit more, the Graco Nautilus 65 LX 3-in-1 is your best choice.