During routine pediatric visits, parents and children frequently ask when it is safe to sit in the front seat of a car. Children may be eager to achieve this milestone in order to keep up with peers or older siblings. Parents are often unaware of their local child passenger safety laws.
So, when can kids sit in the front seat of a car?
13 is the recommended age for sitting in the front seat of a vehicle, according to the American Academy of Pediatrics and other health authorities. This is because a teen-sized body responds differently to the force of impact during a car accident than that of infants and children.
In this article, I'll cover everything you need to know about when kids can sit in the front seat of a car.
The Dangers of riding in the Front Passenger Seat for Young Children
The primary reason that young children should not sit in the front of a car is that fewer injuries and fatalities occur when they sit in the back seat. The middle seat position appears to be the safest. In addition, most cars have air bags. Although they are designed to reduce adult injuries during a car crash, the force with which they deploy can be potentially fatal for a small child. Therefore, seat position matters.
State-Specific Child Passenger Safety Laws
In New Jersey, where I practice, there are specific infant and child passenger safety laws. Under age two, infants and toddlers must ride in rear-facing car seats which are installed in the back seat of a car. Although it is recommended that toddlers remain rear-facing for as long as possible, they may transition to a forward-facing car seat after age two and if over 30 lbs.
Booster seats are appropriate for children who are less than 4 feet 9 inches tall, and have outgrown their car seats. Although there is less head and back support, a booster seat elevates the child so that the seat belt fits properly. This keeps the shoulder strap at chest level, and the lap belt positioned over the child's thighs. Taller children are able to use the car seat belt alone.
Because child safety restraint laws are not passed by the federal government, they differ in each state. Some states base these car seat laws on a child's weight and height, while others only use age criteria. Parents should review the car safety laws for the state in which they reside.
Life Stages and Child Passenger Safety
Birth – 2: Rear Facing Car Seat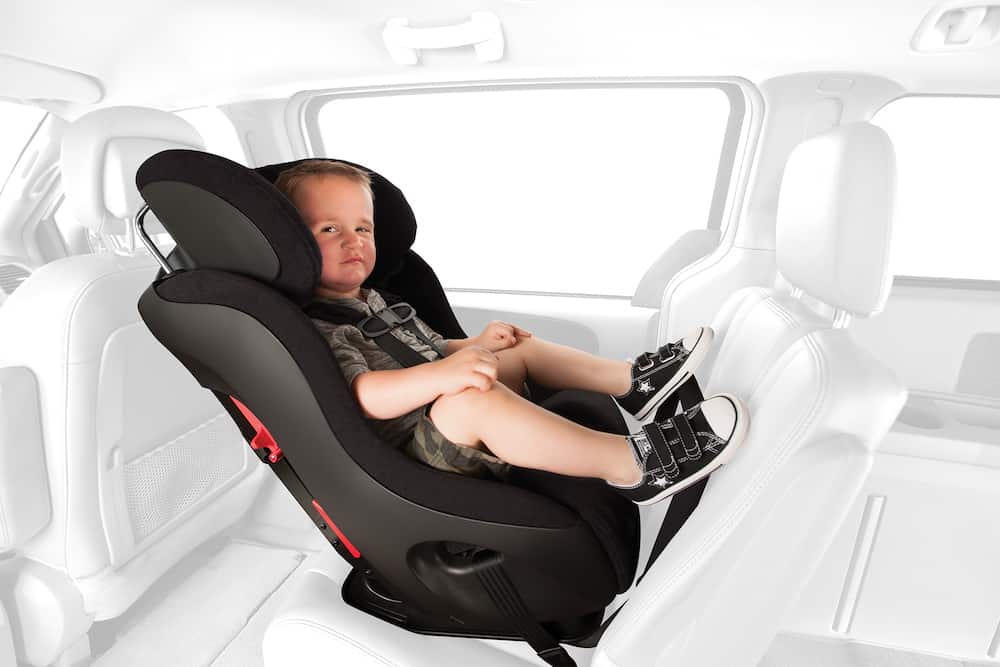 Newborns and young toddlers should be secured in a rear-facing car seat. Although weight and height limits vary, some car seats are designed to accommodate up to 35 lbs and 35 inches. They have a five-point harness to keep the child safely seated, and to prevent sliding.
A rear-facing position is safer because infants and younger children have small necks and a larger head-to-body ratio. During a car accident, the head moves with such force that injuries to the spinal cord can occur if forward-facing. Also, there is less force on the pelvis while sitting in a rear-facing seat, reducing the risk of a fracture or internal organ damage.
Ages 2 – 8: Forward Facing Car Seat
Sweden has the longest rear-facing car seat recommendation, age four. In the United States, two-year-olds may transition to a front-facing car seat. Like an infant car seat, its five-point harness should be secured against the child's chest without any gaps. There are a variety of car seat options, each with weight and height limits. Parents should check the manufacturer's guidelines to be sure the car seat is appropriate for their child. Many accommodate children up to 65 pounds.
Ages 8 – 12: Booster Seat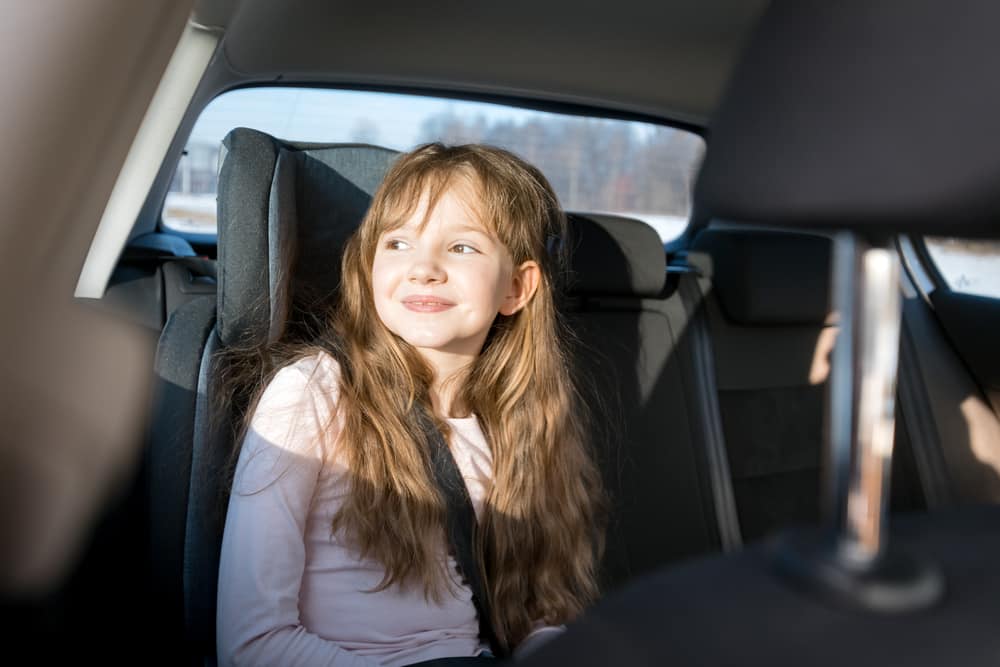 In states that require them, booster seats keep children who are under 57 inches tall safe while riding in vehicles. Without a booster seat, the shoulder portion of a seat belt may lie across the face or neck, increasing the risk of an injury. The lap portion may fit across the pelvis instead of the thighs which could result in a fracture during a car accident. Research shows that injuries and fatalities are less likely when children are restrained in a booster seat.
13 Years and up: Seat Belt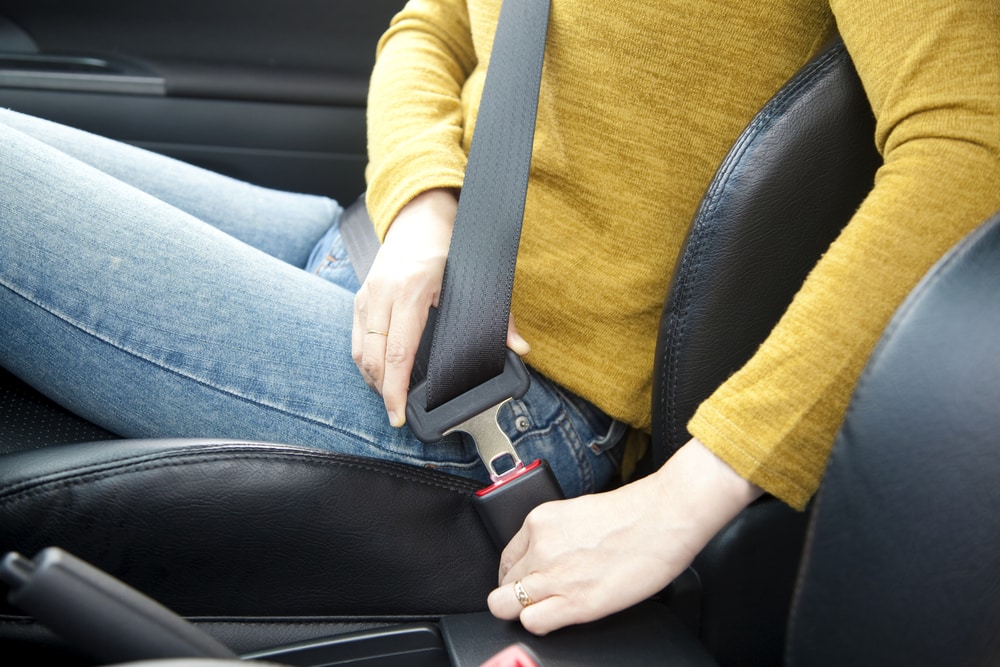 Most adolescents have achieved a height that enables them to only need a seat belt while riding in a motor vehicle. The shoulder belt rests along the middle of the chest, and keeps the teen flush against the seatback. The lap belt lies in the proper position over the upper thighs. Although it is acceptable for teens to sit in the front seat of a car, a rear-seat location is still safer.
Reasons to wait for a child to sit in the front seat
The primary reason to delay sitting in the front seat is for safety. More child fatalities and chest injuries are sustained in accidents while sitting in a front seat position. Air bag deployment may cause injury even to older children. Possible injuries include skin irritation or burns from the chemicals used, hearing loss, eye trauma, and fractures.
General tips for driving with children
Driving with an infant or child in the car can be challenging for parents. It can be difficult to focus on the road while a baby is crying, or a toddler is demanding your attention. If your undivided attention is required, it is best to pull over and address the situation. This prevents car accidents that may occur due to distracted driving.
For newborns and younger infants, having another adult ride in the back to be near the car seat can be helpful. That person can attend to the baby's needs while you are driving. It is important, however, not to remove the infant from the car seat while the car is in motion, even if crying or very upset. An accident may occur during those brief moments with disastrous results.
If possible, it is a good idea to install front-facing car seats or booster seats on the passenger side of the car. Kids with legs long enough to kick the back of a driver's seat can create an unwanted distraction. Positioning the seat away from the driver eliminates this problem.
When placing an infant or child in a car seat, puffy jackets and snowsuits should be removed. These heavier clothing items create gaps between the five-point harness and the chest area. A snug fit is important to keep them safely inside of the car seat. During cold weather months, a blanket can be placed over the child for warmth.
Frequently Asked questions
Are there any exceptions to the rules?
There are some municipalities that don't require a child's car seat, such as those where most people travel via public transportation. It may still be convenient, however, for parents to use an infant carrier on buses or trains so that the baby has an age-appropriate seat.
If going on a vacation with plans to ride in taxis or rental cars, it is best to bring a car seat or booster seat with you. Infant car seats are allowed on airplanes, but not in an exit row seat. A separate ticket for a plane seat will most likely be required as well. Larger car seats and booster seats can be gate-checked.
Do you turn off the air bag if a child is in the front?
Deactivating the air bag while an adolescent sits in the front seat increases the risk of a serious injury if a car accident occurs. Several laws require car manufacturers to install air bags in vehicles because they reduce deaths. A few rare medical situations warrant air bag deactivation such as when the driver uses a wheelchair docking system. If this applies to an adolescent driver, it may make sense to turn the driver's side air bag off.
What happens to the car seat in the accident?
During a car accident, rear-facing car seats remain wedged between the front seat and the rear seat of the car. If properly harnessed, the baby remains inside of the car seat, regardless of where the car is damaged. Because the head is supported, there is less stress on the neck, preventing a whiplash injury. The car seat also absorbs much of the impact which protects the vital organs and prevents fractures. It is dangerous for a rear-facing car seat to be propelled by the force of the air bag. For this reason, it should always be installed in the back seat of the car.
In a forward-facing car seat, the five-point harness prevents the child from being ejected upon impact. This is why removing heavy coats is important; they impair a proper harness fit. Although forward-facing car seats provide less head protection, the cushioned headrest offers some amount of neck support. Booster seats help seat belts to safely restrain the child in the same way they function for those 4'10" and taller.
Final Words
Ultimately, "safety first" is the best policy when riding in motor vehicles. Car seats and booster options are designed to protect infants and small children. Many children are eager to "graduate" to the front seat, but health authorities recommend waiting until age 13. Although adolescents are taller and have a larger core body size, it is best to defer moving to the front seat as long as possible.