Out with the old, in with the new.
As we celebrate a new year, many people—parents specifically—resolve to reduce the clutter in their homes and turn over a new, more organized leaf. This goal is not limited to just New Year's resolutions. Organizing and decluttering needs have birthed a booming year-round industry for individuals and companies offering tips, tools and services to make anyone's life more organized.
Organization is not the only benefit of decluttering, however. Many of the areas of the home which become cluttered can harbor dangers for yourself and your family.
Since we put a big focus on safety here at Parenting Pod, we would like to offer tips for decluttering that will not only make your personal space look and feel more organized, but also create a safer environment for you and your loved ones.
Below are tips to help you declutter for safety in all areas of your home.
Kids' Rooms
Begin with that overflowing toy box!
When toys settle into the bottom of a large toy box and have more items piled on top, they can become damaged, at times chipping or breaking and leaving small, jagged parts in their wake.
Set a schedule, whether it is monthly or quarterly, and rid the toy box of broken or unused toys. Also, check that battery operated toys' batteries are not compromised or leaking.
Give everything a home.
Designate a place for toys, backpacks and clothing so that items are not left in the floor, creating a falling hazard.
Untangle the cords.
Ensure that electric outlets, cords and chargers are properly protected, using outlet covers when in younger children's rooms and concealing cords in all children's rooms.
Bathroom
Clean out your medicine cabinet, properly disposing of expired or unused medications.
The U.S. Food and Drug Administration advises consumers who have unneeded drugs to "dispose of them properly to help reduce harm from accidental exposure or intentional misuse." They advise that the U.S. Drug Enforcement Agency periodically hosts drug take back days, when collection sites are set up around the country to receive these drugs and dispose of them.
Getting these substances out of the house decreases the risk of family members mistakenly using a drug which they weren't prescribed.
Oh and while you're at it, take your medicine cabinet out of the bathroom! Even though most people store their medications in the bathroom cabinet, this is the worse place for them. The heat and moisture from the shower, bath, and sink may damage your medicine.
Store hygiene items away from the toilet.
The phenomenon referred to as "toilet pluming" is the spray from the toilet during a flush that can reach other items nearby. According to a study in the American Journal of Infection Control, if you store your toothbrush or other items that come into contact with your body, the "research suggests that toilet plume could play a contributory role in the transmission of infectious diseases." Storing these items in a drawer creates a cleaner toothbrush and tidy counter space.
Clean out the cleaners.
If you store cleaning supplies in the bathroom, be sure to allow any brushes or sponges to dry completely before storing. Many people tuck away toilet brushes or cleaning sponges in a storage closet before the brush can dry, thereby creating an environment where mold and mildew can flourish.
Remember also that cleaning products should always be stored out of the reach of children, even daily shower sprays should not be left in areas accessible to children. Add a tub or bin to your highest cabinet that will store these products while allowing them to dry.
Kitchen
Pare down the pantry and refrigerator/freezer.
Declutter the pantry two or three times a year.
Remove all food from the shelves, check expiration dates and integrity of less-used items, and clean up any crumbs or spills in the pantry or fridge. Be sure that all food that will be returned to the shelves is properly packaged.
Leaving unpackaged food or crumbs on shelves can promote mold growth, or worse, serve as an invitation for insects or pests. Cleaning out the crumbs and unused items will not only keep your pantry and fridge looking neat, but create a safer, cleaner space for food storage.
Store cleaning products and chemicals properly.
Just like with bathroom cleaners, common kitchen cleaning products can be deadly to children and pets.
Store dishwasher and laundry pods well out of reach of children, as their colorful gel packaging can appear to be candy to younger children. Create a designated place for these items, as well as rags and sponges used for cleaning, to declutter cabinets and protect your family.
Garage
Recycle the random trash.
There are many items that we shouldn't put in the trash, but they end up piled in the garage, waiting for a destination. These items require special treatment because they contain dangerous element or components that shouldn't be accessible to children.
Some of these items include motor oil, electronics, paint, lightbulbs, batteries, smoke detectors and thermometers.
Visit your city or county government website to find out where to dispose of these dangerous items and declutter your garage.
Store sharp implements and tools in high places.
Add a pegboard wall in the garage to hang those trowels, drills and handsaws up high and away from tiny hands. This will create more workspace and protect children from accidents.
Use large bins for chemical storage.
Weed killer, plant food, fertilizer and paints should have homes on high shelves as well. Use large, labeled storage bins to clearly mark their whereabouts and keep out of reach of children.
Clean out the car.
According to a study, "objects inside cars cause hundreds of serious injuries and even deaths during crashes." Any loose objects can cause significant injury in a crash. Take time to clean out all loose items and find a secure place to store car necessities. Ensure that car seats are installed properly, only use safe car seats, and remove car seats that are no longer in use.
Many newer-model cars feature ample closed storage space in glove compartments, consoles and trunks, not to mention the under-seat and seat back storage compartments in SUVs and minivans. Use these areas to keep yourself and your passengers safe from loose objects while enjoying the benefits of a clean, organized vehicle.
Backyard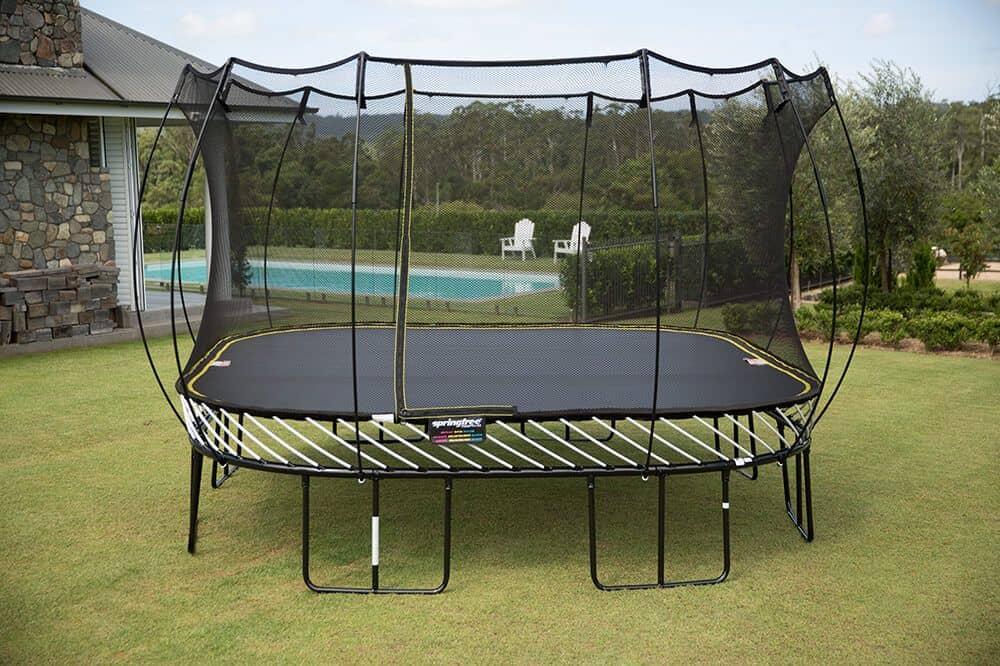 Pick up debris.
Whether it's small, loose toys, gardening tools or fallen branches, for a clean lawn, pick up these items and store them neatly. Small items in the yard can be a tripping hazard if they become concealed by falling leaves or other lawn debris.
Maintain safety equipment on outdoor toys.
Be sure that outdoor toys are in proper working order by checking safety features.
For bicycles and riding toys, be sure tires are properly inflated and brakes are functioning. Store helmets and knee and elbow pads in a covered container for tidiness and to protect from damaging weather.
For trampolines (we are assuming you are using only safe ones), install all safety equipment, including nets, padding and tie-downs according to manufacturers instructions to ensure that the trampoline and its parts are not blown away by strong winds. Trampolines can become dangerous projectiles in high winds.
It is important to be aware of safety in the home.  A little decluttering can make your home a cleaner, more inviting and safer space for yourself and your children. Set aside some time to address these areas in your home, then pencil it in on your calendar every few months to get the ongoing benefits of a safe, decluttered home.