A while ago I had a discussion with the person responsible for buying trampolines in a very large department store. Based on what she told me, I present you with a thorough review of the best trampolines available on the market today.
Trampolines cause about 100,000 injuries per year in the United States alone, and over one million people arrived in emergency rooms across the United States between 2002 and 2011. Worse, 93% of trampoline injuries occur in children under the age of 16, and one injury in every 200 leads to permanent neurological damage.
Many of these injuries could have been prevented if the children had jumped on a safer trampoline. That's why safety is the number one feature you should look for in the best trampoline. Or course, quality, bounce, and the fun factor are important too.
If you want to get all that without having to shell out 4 figures, my top recommendation is the Skywalker trampoline. This trampoline provides just the right value for the money. It is well-built, comes in a variety of sizes, and has innovative safety features. I especially like the patented enclosure design.
BEST VALUE: Skywalker Trampoline
Round trampolines available in 10, 12, 14, and 15 feet. Square and rectangular trampolines also available. Stay-put enclosure net interlocks to the jumping mat by using a patented button-hole feature attaching the enclosure netting to the jumping surface .
The Skywalker meets all safety standards. But if you're still nervous and can afford to invest in the highest quality trampoline designed for extra safe jumping, then I recommend you get a Springfree Trampoline.
BEST OVERALL: Springfree Trampoline
This trampoline has extra safety measures. Flexible net rods remove the need for hard metal poles that can cause injury. The SoftEdge jumping mat is 30x more shock absorbent than pads and eliminates hard edges at the jumping surface. The frame is positioned underneath the jumping surface where it's impossible to fall on. A flexible safety enclosure cushions jumpers and prevents falls to the ground. Includes a 10 Years warranty on all parts.
Keep reading for more information on the Skywalker and Springfree trampolines, and for other options in case you have specific needs. Specifically, I will cover:
safety
quality
price
bounce
size & shape
and warranty
With that information in mind, here are the best and safest trampolines in descending order:
Our Top Picks for the Best and Safest Trampoline of 2023
1. Skywalker Trampoline (Best Value)
Weight capacity: 275 lbs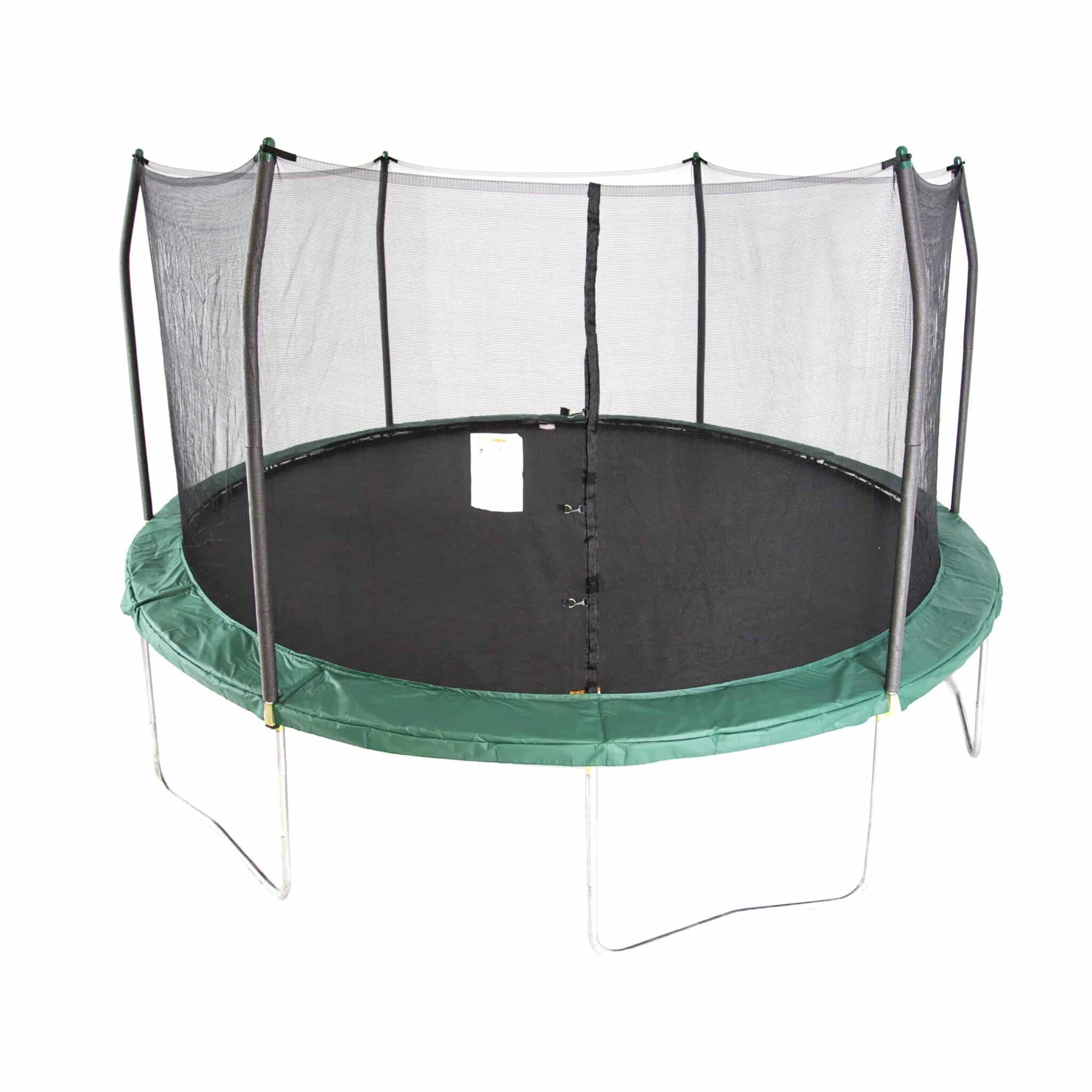 Get the Skywalker Trampoline at Walmart
Skywalker is the most popular trampoline brand and offers great value for a relatively low price.
The good: Skywalker trampolines are sturdy, low-cost, and offer lots of variety.
The not-so-good: You may need to replace the safety net every few months.
The summary: Skywalker trampolines offer good bounce, good quality, and are super-affordable.  Like the other best trampolines listed, Skywalker's net is sewn directly onto the jumping pad, and the springs are outside it. This means that unless the net is decayed, jumpers' limbs can't get caught in the springs (and that's true for every trampoline I've listed so far), which make this trampoline safe to use.
The best part: Skywalker offers a wide variety of accessories, and you'll be able to choose from a wide variety of trampoline shapes and sizes. I've linked to Walmart in this article because the price is lower, but you can also get this trampoline at Amazon. They have an exclusive version of the Skywalker that includes a basketball hoop, so if you're willing to pay extra, get your Skywalker with basketball hoop here.
Should you buy Skywalker? Skywalker trampolines are perfect for parents who are looking for a brand offering variety, safety, and affordability.  We think it's the option that gives the best value for those who can't afford to spend 4 figures on a trampoline.
---
2. Springfree Trampoline (Best Safety and Best Overall)
Weight capacity: 220 lbs
Springfree is pretty much the leader in trampoline safety and quality.
The good: No dangerous springs, no metal near the jumping area, good pole curvature, and a net that's attached to the jumping mat. High-quality powder quoted galvanized steel frame.
The not-so-good: Springfree isn't cheap.
The summary: Springfree trampolines were invented to eliminate the problem areas which make trampolines dangerous.
The Springfree Trampoline patented design features have eliminated 90% of product related trampoline injuries. The key features that make Springfree the world's safest are:
Mat rods provide the safest bounce
SoftEdge™ jumping mat removes hard edges
FlexiNet™ Safety Enclosure keeps the jumper on the trampoline
Frame situated beneath the jump surface out of harm's way
Want to read more? Take a look at our thorough review of Springfree trampolines.
Springfree trampolines are incredibly hard to move, have lots of supportive poles, and have great bounce. (Yes, springless trampolines can still be incredibly bouncy.)
Springfree sells 9 models of trampolines: 3 oval, 4 round trampolines, and 2 square ranging from jumbo sized to small.
The best: It's a great trampoline, and you can go to the bathroom knowing your kid is safe.
Is it for you? Springfree's trampoline is best for safety-conscious parents who can afford to invest in a quality trampoline designed for safe jumping.
There's a big sale happening at Walmart so now is a great time to buy.


---
Weight capacity: 220 lbs
One of America's largest trampoline brands, Bounce Pro's offers are among the most popular trampolines sold.
The good: With its curved poles, low price tag, and longish warranty, this trampoline is sure to please children and parents alike.
The not-so-good: Not all customers found that the trampoline had good bounce and its weight limit is relatively low.
The summary: The Bounce Pro 14' trampoline, manufactured by Sportspower, is a popular and relatively safe backyard trampoline, classic in just about everything – size, shape, and weight limit. In addition to the classics, Bounce Pro also offers several options of junior trampolines, as well as a unique double trampoline.
Is the Bounce Pro 14' trampoline for you? This trampoline is perfect if you're looking a classic trampoline that won't take too big a bite out of your pocket.
Click Here to Check Today's Price on the Bounce Pro
---
4. Airzone Trampoline (Best For Budget)
Weight capacity: 220 lbs
Airzone, a North American brand offering a series of classic and fitness trampolines, is a popular and relatively safe choice for backyard trampolines.
The good: This trampoline has a steel rim around the top, to help keep the net from drooping and sagging.
The not-so-good: A few customers said parts were missing, and one said the padding was relatively thin. It also has a short warranty.
The summary: The Airzone 14' trampoline is a sturdy classic trampoline, complete with a zippered entrance and buckles to ensure the opening stays shut even if the zipper is slightly open. With its rust-resistant high gauge galvanized steel frame, this trampoline doesn't fall behind the others in its class, though it does shave a few dollars off the price.
The best: The Airzone's zipper is reinforced with buckles, adding one more bit of protection while jumping.
Is the Airzone for you? If you're looking for a sturdy, rust-resistant trampoline and don't mind a short warranty, the Airzone trampoline is the one for you.
Click Here to Check Today's Price on the Airzone Trampoline
---
This trampoline doesn't have an enclosure net, but it's small, lightweight, and springless.
The good: It's great for small spaces, affordable, and doesn't require complicated assembly.
The not-so-good: It's small, has no safety net, and there are still spaces between the cords where little fingers and ankles can get stuck.
The summary: The JumpSport Fitness Trampoline uses cords instead of springs, and has arched legs to provide added stability. The Fitness Trampoline provides users with good bounce and relatively good quality.
Also, the trampoline's jump mat covers most of the cords, providing added inches and safety. This trampoline offers a weight limit of 225-275 lbs. (depending on the exact version get ) and a jumping surface of 39″. And JumpSport also offers an accompanying workout DVD.
The best part: The Fitness Trampoline uses adjustable FlexBounce technology, allowing you to choose how bouncy you want it to be – and how high you want to allow the jumps to be.
Is this the trampoline for you? JumpSport's Fitness trampoline is perfect for adults who want a quick workout at home or in the office. It's also great for families who want to provide a low-key, indoor jumping space for their kids. Just make sure to supervise them, and put the trampoline on its least bouncy setting.
Click Here to Get a Reduced Price on the JumpSport Fitness trampoline
---
6. JumpKing Trampoline (Coolest Shapes)
JumpKing's trampoline line offers a variety of shapes and sizes – including a variety of rebounders –  perfect for anyone looking for a trampoline that's a bit unique.
The good: JumpKing's rectangular trampoline comes with an oversize pad over its springs, and provides a larger-than-usual jumping pad perfect for gymnastics practice.
The not-so-good: Though the trampoline comes with all the necessary hardware, you may need a rubber mallet, screwdriver, and drill to complete assembly. Also? JumpKing's warranty is extremely short, considering the price tag on some of its trampolines.
The summary: JumpKing's 10'x14' rectangular trampoline is roomy, with high bounce, rust-resistant galvanized steel, and a zipper seam that goes up only halfway – unlike the seam on many other trampolines.
The best part: Since the seam for the zipper goes up only halfway, meeting a reinforced horizontal seam, the upper half of that panel is "solid," with less chance of ripping than it might otherwise have.
Is JumpKing right for you? If you're looking for a trampoline that's a bit different, and don't mind a shorter-than-usual warranty, one of JumpKing's trampolines is sure to be the one for you.
Click Here to Check Today's Price on the Jumpking Trampoline
---
How were the trampolines evaluated?
Each trampoline was evaluated based on five criteria. These were, in descending order: safety, quality, price, bounce, and variety of size and shape. As you've probably noticed, the biggest factor here was safety – and for good reason, too: Nearly 100,000 American kids are injured each year in trampoline-related accidents. And that's just America – what about everywhere else in the world?
Most trampoline injuries are the result of falling off the trampoline, hitting a pole, or getting a limb or digit caught in the springs, or between the springs and the protective mat.
Most of the trampolines listed – all except for the JumpSport Fitness, in fact – have the safety net sewn into the mat. This is important, since a safety net that isn't sewn into the mat is a safety net that doesn't protect jumpers from digits (or entire limbs) getting caught in the springs.
---
What else do you need to know?
Shapes and sizes
Warranty
Material
Accessories
Springfree
Square 13′ and 11′; oval 8'x11′ and 8'x13′; round 10′
Frame and rods: Basic warranty – 4 years; registered warranty – 8 years
Mat and net: Basic warranty – 1 year; registered warranty – 2 years
Frame is made from galvanized steel, trampoline is UV-protected. No other info available.
Yes, both practical and fun.
Skywalker
Square – 13′, 14′, 15′; rectangle – 8'x14′, 9'x15′, 10'x17′; oval – 16′, 17′; round – 8′, 10′, 12′, 14′, 15′; mini – 36″, 40″, 48″, 55″, 60″.
Net, pad, jumping mat – 90 days. Plastic hardware – 90 days; frame, springs, and other steel parts – 1 year. Does not cover damage due to weather, misuse, or improper assembly, maintenance, or storage.
Frame is made of galvanized rust-resistant steel, UV protected material.
Yes, both practical and fun.
Airzone
Round – 8', 12', 14', 15'; 5" youth trampoline; variety of rebounders.
1 year for the frame, 90 days for all other parts.
Rust-resistant, high gauge galvanized steel frame, rust-resistant gold-zinc springs with tapered ends, UV-resistant, anti-slip polypropylene jump mat, UV resistant, polyethylene safety net.
None.
JumpKing
Round – 7.5', 8', 14', 15'; oval – 8'x12', 8'x11.5', 9'x14'; hexagonal – 7.5'; rectangular – 10'x14', 10'x15', 12'x17', variety of mini trampolines (rebounders).
Trampoline frame, jumping surface – 1 year; trampoline frame pad – 6 months; all other parts and accessories – 90 days.
Galvanized steel frame and springs, polyethylene netting.
Yes, practical only.
JumpSport Fitness Trampoline
Round – 39″, 44″.
Frame – lifetime warranty; hinges and other components – one year.
Jumping mat – 5 years; plastic cords – between 2 and 4 years, but limited to one replacement per set.
No information available.
Yes, both fun and practical. Exercise DVD available.
Bounce Pro
Round – 12', 14', 15', plus 15'x17' oval, 8'x14' double trampoline, and a variety of junior trampolines.
Steel frame – 7 years, jump mat – 3 years, customer must register purchase. Overall product – 1 year without registering.
Galvanized steel frame, UV-resistant polyethylene enclosure, UV resistant TenCate Permatron jump mat.
Practical accessories only.
If you choose to buy a trampoline with enclosure, it's important to note that enclosure nets tend to decay over time, so ask the company how often you should expect to replace the net. (Springfree would probably provide the best nets.)
You may want to buy (or look into buying) a second net at the same time as you're buying your trampoline.
There are two main reasons it's important to have the enclosure net attached to the jumping mat. The first reason is that sometimes the foam pad moves when a jumper falls, and limbs can (and have) get caught in the trampoline's springs.
The second reason is that if the enclosure isn't properly attached, jumpers can fall sideways and fly off the trampoline completely. This happens when a jumper crashes into the safety net and ends up in the space between the net and the jumping pad – and from there, ends up on the floor (or grass, or concrete).
Like we mentioned earlier, you'll need to replace the trampoline's net every few months (or every year, for some brands) due to decay. This decay isn't always apparent, but it's usually there. How does it happen? The same way your pants (or your children's pants) sometimes get torn at the knee. Fabric isn't perfect, and when you put too much pressure on it, and it's exposed to the elements too often for too long, it gets weak. One jump with too much velocity – and it can break. It's happened, and it will happen in the future.
What's important is to know how long your trampoline net will last, how long the warranty is for – and to replace the net *before* it decays enough to become unsafe.
What ages are these trampolines appropriate for?
These trampolines are for older kids and for adults. If you're looking for a kids trampoline that is more appropriate for toddlers and preschoolers, take a look at our article on the best kids trampoline.
What about assembly?
All trampolines come with assembly instructions. Be sure to read them first, and only then attempt to assemble the trampoline. Some of the trampolines are difficult to assemble and require more than one person.
Often, one mistake will mean you have to take the nearly-completed trampoline apart and start again from the beginning. It's not worth it. Read the instructions first.
Also, you can Google your model and see if anyone has put up a video on how to assemble it.
What do I do if it rains or snows? And will too much sun ruin my trampoline?
Some trampolines come with rain covers, so if yours comes with one – buy it. Also, if you've bought from a company which does not sell rain covers, it may be worth looking at other companies' sites to see if they sell a rain cover which will fit your trampoline.
Regardless, it's probably a good idea to bring your trampoline indoors (or take it apart) when it snows. Some trampolines can handle snow, obviously, but the constant moisture may cause joints to rust – and jumping in so many layers isn't that safe, anyways.
And while trampolines are made to withstand the elements for some time, it's probably a good idea to do a check every now and then to make sure nothing needs replacing. If possible, try to keep your trampoline out of direct sunlight (under a tree, for example).
Also check the material: Some trampolines are made of more weather-resistant materials than others. You'll want to research which fabrics will do best in your local climate.
How do I care for my trampoline?
Please check your trampoline's user manual or the manufacturing company's website for care instructions.
The bottom line
 Now that you have this list of the best and safest trampoline brands of 2023, you have all the information to choose the right brand for your family.
Trampolines can provide hundreds of hours of good, healthy fun and exercise, for both children and adults. And each parent should have the right to choose the best trampoline for them.
Have fun, and remember two things:
It's best to opt for a trampoline with enclosure, and…
Only one person jumps at a time. No matter what the weight limit is.
Otherwise, you run the risk of jumpers bumping into or landing on each other – or worse, one jumper accidentally pushing the other into a pole or spring.
Have a question or comment? Is there a best trampoline that should've made the list, but didn't? Have you owned any of these trampolines? Let us know!