If you're looking for the best trampoline for kids, I assume that although you realize trampolines pose a serious safety risk for children, you're prepared to supervise their play times and strictly enforce some basic safety rules. After much consideration, you've determined that investing in a trampoline would be a good move for your family, and now you're ready to buy.
There are loads of trampoline brands and models out there, so here I lay out all the information and specs you need in order to make a sensible, informed decision. I'll start by saying that without a doubt you get the best value for your money when you buy a Skywalker Trampoline. These trampolines are a lot of fun, but I'm particularly attracted to certain safety features that help reduce the risk of injury.
If your child is over 6 years old, the Full Size Skywalker Trampoline is right for you. It is well-built, comes in a variety of sizes, and has innovative safety features. I especially like the patented enclosure design.
Discount: 12%
BEST VALUE For Ages 6+: Skywalker Trampoline
Round trampolines available in 10, 12, 14, and 15 feet. Square and rectangular trampolines also available. Stay-put safety enclosure net interlocks to the jumping mat by using a patented button-hole feature attaching the enclosure netting to the jumping surface .
On the other hand, if your child is under 6, the best value for your family is the Skywalker Mini Trampoline. Again, I love it for being fun and having extra safety features. Keep in mind it's for indoor use only.
Discount: 23%
BEST VALUE For Ages 3-6: Skywalker Mini Trampoline
Can be used up to age 7 or 100 lbs. 360 degree padded handle bar that helps stabilize kids as they jump. Safety enclosure net sewn directly to jumping mat, eliminating gaps. Stretch bands are used in place of springs to protect the joints of your little ones. Fun lily pad jumping mat that encourages number identification and animal recognition. Home indoor use only.
Read on to read more about the Skywalker and view other recommended trampolines.
Like many parents, you probably wish your kids would put down their tech toys and do something physical. You're looking for something fun that will get their hearts pumping, help them blow off energy, increase their endurance and improve their balance and coordination.
What follows is my authoritative list of the best kid-friendly trampolines.
The information you find here will enable you to purchase the trampoline that best suits your family's specific needs. If you buy the right trampoline, you'll gift your kids with a fun physical outlet that could last for years. A poor choice, by comparison, could leave you frustrated, disappointed and concerned about your kids' safety.
What You'll Find Below
To make things super easy, I've divided the article into three sections. The first section is a list of the best trampolines for younger kids. These are "mini" trampolines that have a particularly smaller diameter, usually between 36 and 48 inches. Mini trampolines are generally appropriate for kids as young as 3 years old.
If you're looking for a bigger jump surface and aren't trying to accommodate kids under 6, skip straight to our section on trampolines for older kids. The trampolines I've included in the second section have larger diameters and are generally suitable for children 6 years old and up.
Finally, if you're looking for important tips for safe jumping, take a look at our tips and advice for how to make the most of your kids' jump time and minimize injury risk.
Let's start with our list of the Best Trampolines for Little Kids!
Trampolines for Younger Kids: 3-6 years old
For the younger set, which includes children ages 3 to 6 years old, I've compiled a list of the best mini trampolines, or trampolines with a 36- to 48-inch diameter. None of the trampolines included in this list are recommended for children under the age of 3 years old, and all of them are for use indoors.
A highly popular option, the Skywalker mini trampoline features a mesh enclosure, which is designed to prevent your child from falling off the jumping surface.
Size: Options for 40 inches, 48 inches, and 60 inches
Recommended age minimum: 3 years
Maximum weight allowance: 100 pounds
Warranty: The steel frame is covered by warranty for one year after the original date of purchase. All other parts are covered for 90 days after the original date of purchase.
What I like: This mini trampoline gets its bounce from a system of 25 durable stretch cords, not from metal springs, which can pinch toddler feet and toes. There is a grip bar that encircles the mesh enclosure, so kids can grab on if they need help maintaining their balance. An enhanced safety net around the lower area can help prevent small children (and pets!) from crawling under the jumping mat when others are jumping.
Take note: The safety mesh and protective foam covering on the safety bar can tear over time, leaving children at increased risk of injury. Consumers find assembly to be a bit tricky and time-consuming.
Bottom line: If you're looking for a mini trampoline with extra safety features, including a non-spring bungee-cord system, a mesh enclosure to help keep children stay on the jumping mat, and a padded bar to help with balance, the Skywalker fits the bill.

Click here to see today's price for the Skywalker Mini Trampoline on Amazon
---
Get Bounce Pro My First Trampoline at Walmart
Built low to the ground for easy entrance and exit, the Bounce Pro My First Trampoline is sturdy and meets or exceeds all ASTM safety standards.
This is the only mini trampoline on our list of top picks that is suitable for use outdoors and is also recommended for children under the age of 6.
Size: 7 feet
Recommended age: 3-10 years
Maximum weight allowance: 220 pounds
Warranty: 1 Year on frame and jumping mat
What I like: Measuring 84" in diameter, this trampoline offers considerably more jumping space than the other trampolines I featured for little kids. Many consumers have reported positive experiences with assembly and good results from storage and use outdoors. Padded poles and a zippered closure boost the level of safety.
Take note: Instructions for set-up are pretty poor, and some consumers were disappointed to discover the holes did not line up properly during assembly.
Bottom line: The price is reasonable for an outdoor trampoline, and if you've got room for it on your porch, deck or lawn, the added jump space is wonderful for active little kids ages 3 and up.
Click Here to See Today's Price of the Bounce Pro My First Trampoline
---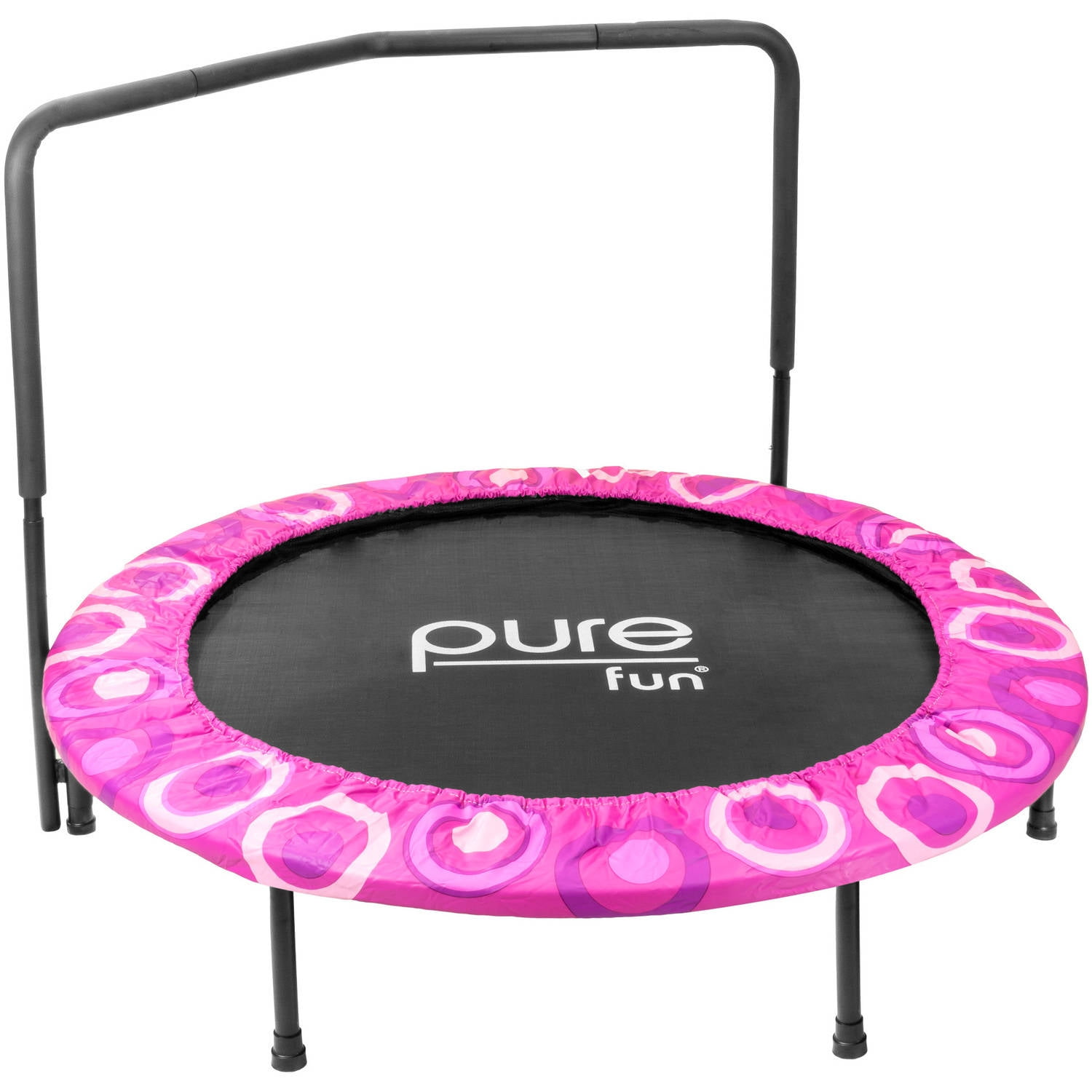 Available with a blue or pink padded cover, the Pure Fun Super Jumper is a spring-style mini trampoline. It features a padded handle, which offers good grip.
Size: 48 inches
Recommended age minimum: 3 years
Maximum weight allowance: 100 pounds
Warranty: Limited warranty for the period of 90 days from the date of original purchase.
What I like: The ergonomic safety bar has a slight bend for increased stability. Trampoline traditionalists will appreciate the classic galvanized steel springs that attach the mat to the frame, giving the mat a good amount of bounce.
Take note: You'll likely need two people to put this trampoline together.
Bottom line: If you're looking to buy a traditional spring-style mini trampoline but don't want to pay top dollar, the Pure Fun mini tramp is a fun, affordable option.
Click Here to See Today's Price of the Pure Fun Super Jumper
---
Priced a little higher than some other mini trampolines, the Original Toy Company Fold & Go Trampoline has a higher weight limit than many mini models and is for folks who want to spend less time on assembly.
Size: 36 inches
Recommended age minimum: 3 years
Maximum weight allowance: 150 pounds
Warranty: Limited 1-year warranty.
What I like: This 18-pound mini trampoline comes with a pre-assembled mat, so you won't have to struggle to attach tight springs or stretch cords. It features six legs, which can increase stability if the legs are properly attached and the trampoline is on level ground.
Take note: Some customers report a strong chemical smell upon opening the box and setting up the trampoline. Putting weight on the handlebar while jumping aggressively can cause the back of the trampoline to flip upward.
Also, despite the name of this item, folding for storage or travel is not particularly convenient. For disassembly, you need tools to remove the legs and handlebar. It also takes two people to safely fold the mat.
Bottom line: This trampoline's pre-assembled mat is a big plus. If you're in the market for a mini tramp with quick and relatively easy assembly and a higher-than-typical weight allowance, the Original Toy Company Fold & Go is a great choice.
Click here to see today's price for the Original Toy Company Fold & Go Trampoline on Amazon
---
Trampolines for Older Kids: 6 years and up
The trampolines in this section are designed for use by children 6 years and up. All of the trampolines listed below are designed for outdoor use. Consider the weight limit of each model if you plan to allow older teens and adults to jump.
Skywalker trampolines are a lot of fun, but I'm particularly attracted to certain safety features that help reduce the risk of injury.
Size: multiple options including 8 feet, 10 feet, 15 feet, or 16 feet
Recommended age minimum: 6 years
Maximum weight allowance: 175 pounds
Warranty: Frame has 1-year limited warranty. Other materials have a 90-day limited warranty.
What I like: I'm a fan of this Skywalker's patented enclosure design. The netting is attached directly to the jumping mat, so there are no dangerous gaps between the enclosure and the edge of the mat.
Take note: Customers have noted that the netting arrives inside out and that the instructions for assembly could be better. The Velcro attachment isn't sufficient to hold the basketball hoop in place. You'll need to find a way to anchor this basketball hoop if you plan to use it long-term.
Bottom line: If you're looking for a well-built, relatively compact outdoor trampoline with innovative safety features, I think this one's a real winner. It's great for smaller outdoor spaces.
Click Here to See Today's Price of the Skywalker Trampoline
---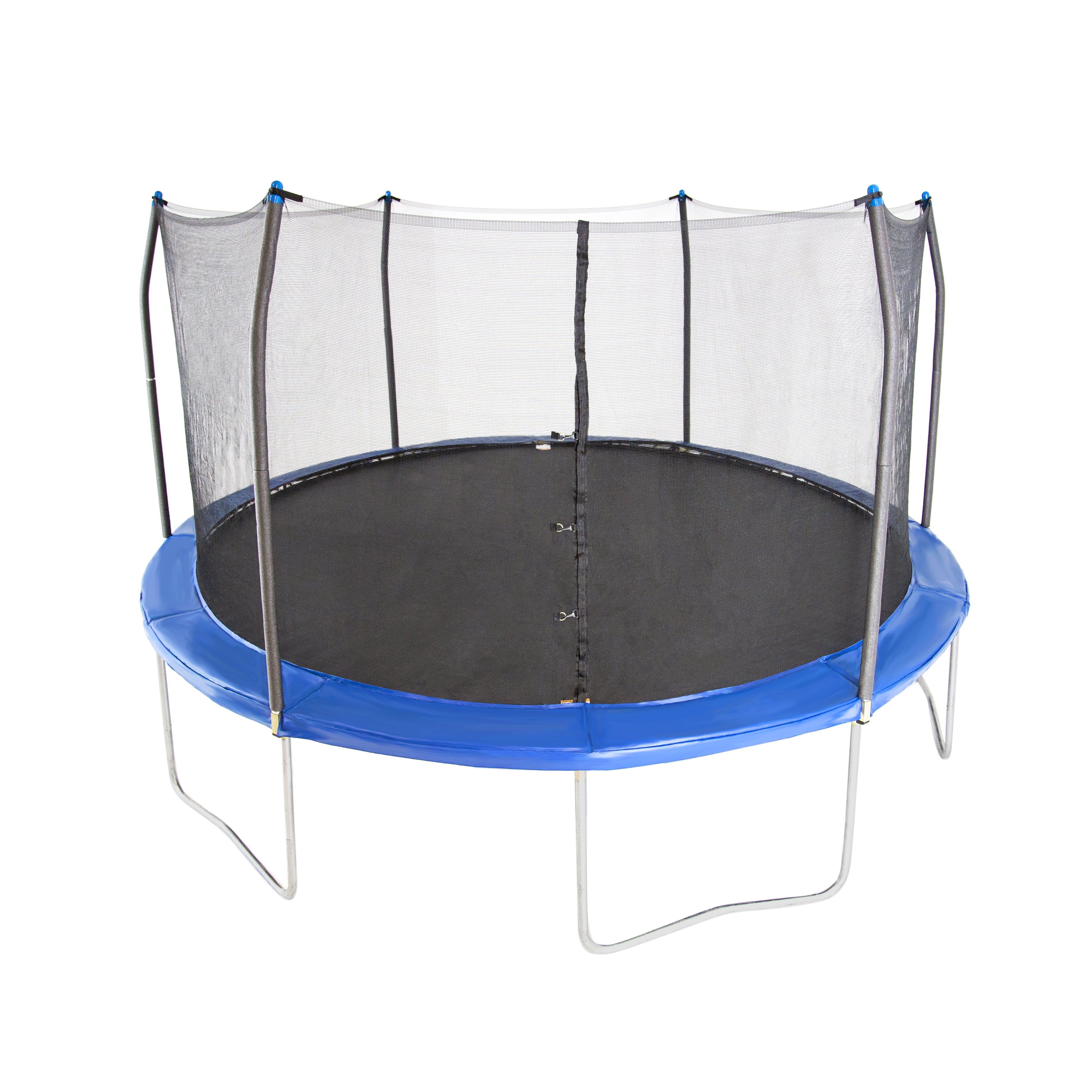 I couldn't resist adding another Skywalker product to our list. This one's for folks with a bigger outdoor space who want to benefit from Skywalker's quality and commitment to safety.
Size: 15 feet
Recommended age minimum: 6 years
Maximum weight allowance: 200 pounds
Warranty: Frame has 1-year limited warranty. Other materials have a 90-day limited warranty.
What I like: Again, I'm, drawn to Skywalker's materials and innovative safety solutions. Like other Skywalker products, this one is made with rust-resistant galvanized steel for extra durability and weather-resistance.
The company uses a button-hole approach to attach the protective netting to the jumping mat, eliminating a dangerous gap at the mat's edge.
Take note: Assembly can be tricky and time-consuming (expect it to take up to 3 hours), and the instructions and installation tool aren't great. I suggest you read through reviews for suggestions for installation, and plan to use your own screwdriver. The foam pads can disintegrate as a result of repeated exposure to the sun.
Bottom line: If you want to pay a decent price for a durable, generously sized outdoor trampoline, I recommend the 15-foot Round Skywalker.
Click Here to See Today's Price of the Skywalker 15-Foot Round Trampoline
---
Size: 15 feet
Recommended age minimum: 6 years
Maximum weight allowance: 375 pounds
Warranty: Comes with a limited 10-year warranty on the frame and a limited 2-year warranty for the jumping mat, safety pad, enclosure net, and springs
The Zupapa has been revamped to make it sturdier and protect kids from dangerous pinch points and gaps. This one comes equipped with lots of extras, including a safety net, ladder, rain cover, and various accessories for installation.
What I like: I'm happy to see Zupapa has developed new technologies to improve both durability and safety. This model is sturdy and offers good bounce.
Take note: For some, the higher price point will be a concern. Assembly itself is fairly easy, but the enclosed instructions aren't great. There have been complaints that the straps that hold the padding in place can come unhooked.
Bottom line: If you're willing to pay more for a really sturdy frame, innovative safety measures, some extra accessories and a favorable warranty, you'll like the upgraded Zupapa. It's got a high weight capacity (375 pounds), so heavier adults can use it, too. This one is meant to last, so the extra money may well be worth it.
---
How I Evaluated the Trampolines
In deciding which trampolines are the best for kids, I considered the following criteria:
Size: Whether you're buying an indoor or outdoor trampoline, you've likely got some space constraints. I'll share size information with you to help you find a trampoline that fits in your allotted space, leaving room on all sides for safe mounting and dismounting.
Age Appropriateness: I'll help you make a smart decision based on your children's ages. You might be looking for a trampoline that suits your 3-year-old son or daughter today, but you also hope it will serve your family as that child grows.
Ease of Assembly: I think this is an important consideration for people who are turned off by time-consuming or complex set-ups. All the trampolines I looked at require some assembly, and most, if not all, require more than one adult and a healthy dose of strength to get the job done. That being said, some models are less of a headache than others.
Safety Features: I point out special features that can help reduce the risk of injury. When kids jump, there is no substitute for proper adult supervision and adherence to strict safety rules. However, certain trampoline features might help your kids stay safe.
Durability: You want some assurance that your trampoline will withstand the challenge of regular and frequent use by active, enthusiastic kids.
Price: Who doesn't want more for less? I realize price can be a serious factor when choosing the "best" trampoline for your family.
Warranty: What happens when things don't go as planned? I hope you won't have problems with your trampoline, but I've included information about warranties.
Trampolines and Child Safety: Important Tips and Advice
In this section, I offer some vital tips and advice for safe and effective use of trampolines. Your trampoline's special safety features are no substitute for safe jumping practices, proper assembly and appropriate upkeep of your trampoline.
Trampolines and Injuries: Consider Some Facts
Multiple jumpers: According to the American Academy of Pediatrics (AAP), allowing two or more children to jump simultaneously increases the risk of injury significantly. In fact, several studies have indicated that up to three-quarters of trampoline injuries occur when multiple people jump at the same time.
Size and weight: Studies have shown that smaller, slighter children are up to 14 times more likely to be injured than their larger, heavier playmates.
Major injuries: Falling from the trampoline, somersaults and flips are all frequent causes of major cervical spine injuries. Falling from a trampoline that is on an uneven or raised surface, such as a deck, increases the risk of serious injury.
Wear and tear: Protective pads and safety netting can deteriorate over time, leaving children at greater risk of injury.
Assembly: Many people do not take the time to assembly their trampolines and protective accessories correctly. The AAP warns that this creates a false sense of security.
What You Can Do: Take Steps to Minimize Risk
One at a time: Allow only one child to be on the jumping surface at a time.
Age and weight: Be strict about who's allowed to jump. Children who don't meet the age or weight minimum or who exceed the age or weight maximum should not be permitted to jump.
Tricks, special maneuvers and horseplay: Say no to somersaults, flips or other tricks. Don't allow kids to climb on or hang from the safety netting.
Quality checks: Check all safety pads and enclosure netting regularly for signs of wear and tear. Make necessary repairs or replace worn parts immediately. Pads should completely cover the frame, metal springs and hooks. The frame and legs should show no signs of bending or distortion, and all springs should always be securely attached at both ends.
Location: Choose your trampoline location carefully. Install outdoor trampolines on a soft, even surface at ground level. Be sure the trampoline is set up at a safe distance from trees, fences, patio furniture, storage sheds and other outdoor hazards. Similarly, when you set up an indoor trampoline, check that the surrounding area is clear of furniture and other potential hazards.
Assembly: Make sure the trampoline is assembled correctly. Don't take short cuts. Make sure parts line up properly and are installed according to the instructions.
Follow-up: Check periodically for recalls of your trampoline. You can look for recall information about your particular make and model at the U.S. Consumer Product Safety Commission's official website.
Supervision: Vigilance Is Key to Reducing Injury Risk
Even if you take all the above safety precautions to protect your child, failure to properly supervise him when he jumps can significantly up his risk of injury.
When your child is jumping, you or some other responsible adult must be entirely focused on him, and you must be ready to immediately intervene to prevent or stop risky, dangerous behavior.
Put your phone away, close your book, take a break from flipping those steaks. Be focused on one thing only – ensuring that your child plays safely.
Which Trampoline Is Right for Your Kids?
If you're looking for special safety features, opt for the Skywalker Mini Bouncer Trampoline (age 3-6) or the regular Skywalker (age 6+). Both offer extra protection for your kids.
If you're looking for the best value for your dollar, opt for the Pure Fun Super Jumper (age 3-6) or the Skywalker 15-Feet Round Trampoline (age 6+). In both cases, you'll pay a reasonable price for a good quality product.
If you want a great outdoor trampoline for little ones, go with the Sportspower My First Trampoline.
And if durability is your primary concern, go with the Zupapa 15-Foot TUV-Certified Trampoline. You'll pay more, but you'll be happy with the superior quality, sturdy construction, and generous warranty.