If you're looking for an all-in-one car seat that is extremely easy to install using LATCH, the Evenflo Symphony DLX (also known as the Evenflo Symphony Elite) is a great bet.
This car seat is thoughtfully-made, comes with many handy features, and is extremely user-friendly, despite the fact that it is on the larger side.
Plus the premium Sure LATCH connectors making installing this car seat a breeze.
Click Here to Check Today's Best Price on Amazon for the Evenflo Symphony DLX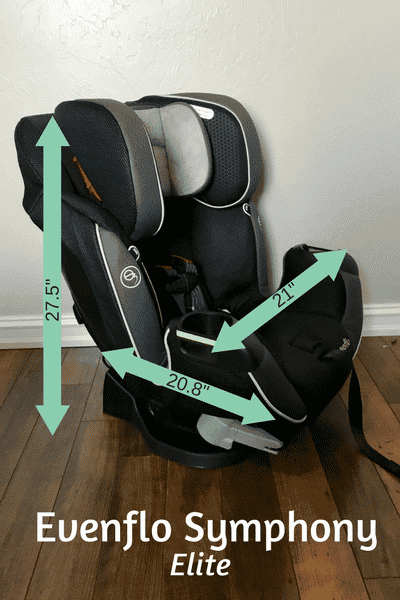 Usage basics:
Rear-facing: 5-40 pounds; 19-40 inches tall
Forward-facing: 22-65 pounds; 28-50 inches tall
Booster: 40-110 pounds; 44-57" tall
LATCH limit: 45 pounds
3 recline positions
Expiration: 8 years from manufacture date
FAA approved (except for booster mode)
Unique features:
Infinite Slide harness (no-rethread)
SureLATCH connectors (no pulling!)
Age limits (must be 2+ to forward face; must be 4+ for booster use)
3 zone Side Impact protection
Buckle pockets
Headrest adjusts separately from harness
Dimensions:
27.5″ High x 21″ Wide x 20.8″ Deep
Weight: 21 pounds
Seat pan: 10" Wide x 12" Deep
Base: 15.25" Wide x 14.5" Deep (10.5" Wide at narrowest point)
What is The Evenflo Symphony DLX (Elite)?
The Evenflo Symphony Elite is a multi-mode seat that ideally can be used from birth to booster age. It can be used rear-facing, forward-facing, and as a high-back booster.
I found this seat to be very user-friendly.
The manual for this seat is especially helpful. Everything is explained very clearly in a way that is easy to understand. The manual includes appropriate pictures and diagrams, but also goes above and beyond with extra tips to set the caregiver up for success. The manual even includes detailed instructions for installing this car seat on an airplane.
There are many pros, and a few cons, to this particular seat.
Pros:
Installing the Symphony with SureLATCH is one of the easiest and fastest installations I've ever seen.
The cover is pretty simple to take off and put back on.
It comes with head and body pillows which are removable. The guidance they give for this is just to simply remove them if it seems to alter the infant's airway position and interferes with breathing.
Installing the Symphony with the seatbelt is a little trickier, but definitely doable if one follows the instructions in the manual.
There are three reclines that must be used for specific circumstances: Recline 1 is for Rear-facing only, Recline 2 is for forward-facing and under 40 pounds, and Recline 3 is for forward-facing or booster mode.
Cons:
The Symphony is rather wide and heavy. This may or may not be a deal breaker for some families.
If you need to fit three across in your vehicle or have narrow seats, the Symphony may not work for you. But other than that, I would highly recommend this car seat.
Rear-Facing Use
Takes up ~28.5" front-to-back when installed rear-facing
Use any of the three lowest headrest positions
The top of your child's head must be at least 1" below the top of the headrest
The most reclined setting (Recline 1) is used for rear-facing. Depending on the shape and angle of your vehicle seat, this recline setting may or may not be adequate for you to obtain the correct rear facing angle. The Symphony has an arrow that must be parallel to the ground to assist you in obtaining the correct angle (this is especially important for newborns who may encounter breathing problems if the seat is not reclined enough).
However, the manual states that a rolled towel can be used to prop up the base to help the Symphony recline further (if needed). You simply place the rolled towel underneath the edge of the base closest to the seat bight (the seat crack) and then follow the installation instructions normally. I found this method to work really well in my vehicle.
I noticed that when I installed the Symphony in my Sienna, it did not take up an excessive amount of space front-to-back. It's not the smallest on the market but it still fit just fine in my size of vehicle. It is rather wide, but because I have captain's chairs that doesn't matter in my vehicle. If you need two car seats side by side or a passenger next to the Symphony, there may not be adequate room.
SureLATCH Installation
I'm in love with SureLATCH!
I have seen dozens of car seats, but I have never seen lower anchors that install this way before. Basically, they tighten themselves. Once you've positioned your Symphony at the correct recline, hook each of your SureLATCH connectors into your vehicle's lower anchors. Then you simply place your hands where your child would sit and push downwards with your weight behind it.
You don't have to use very much pressure before you hear the SureLATCH auto-retracting. After a few seconds, test the installation tightness by placing your hands near the rear-facing belt path and moving the seat side-to-side and front-to-back with moderate force. If the seat moves less than one inch, you're done! If it's still too loose, place your hands back in the seat and put more weight into it, and test again.
Watch our installation demonstration here:
https://www.youtube.com/watch?v=0keIlRwJ0Jc
Seat Belt Installation
Installing with the seatbelt took a little more finesse, but did not take too long. The Symphony does not have lockoffs for the seatbelt, so you'll need to lock your vehicle seat belt and pull it tight after you thread it through the belt path. The rear-facing belt path is kind of hard to access when you try to reach through from one side to the other. You'll need to make sure that the SureLATCH strap is moved to forward facing mode so it is out of the way.
Tip: Make your life a lot easier by pulling back the seat cover. Do this before you attempt to put the seat in the car. You have to pull out the fabric from underneath the cup holders and unhook a few of the plastic hooks. Pulling back the seat cover makes it a lot easier to see what you are doing and keeps both of your hands free.
Once you have successfully threaded the vehicle seat belt through the belt path, lock the seat belt and then press into the seat with one hand (placing weight in the center so it stays anchored) while pulling the seat belt tight in the middle of the belt path so you can get the most leverage.
Once you feel you have adequately tightened the seatbelt, feed the rest of the belt back into the retractor. Then test your installation tightness with the inch test, ensuring that your seat doesn't move more than one inch in any direction.
Watch our installation demonstration here:
https://www.youtube.com/watch?v=fkpRmHaS0yA
Forward-Facing Use
Child must be at least 2 years old. This is a requirement from the manufacturer.
The child's ears must be below the top of the headrest
You can use either Recline 2 (if the child is less than 40 pounds) or Recline 3 when forward-facing. When used as a forward-facing seat, you may need to adjust your headrest so it doesn't interfere with the positioning of the seat. I had to remove the headrest in my Sienna so the back of the Symphony could be flat against the vehicle seat. You also may need to adjust the headrest so you can attach the tether anchor. Check your vehicle manual to see what the manufacturer advises in these situations. The Symphony fit well in my vehicle and was comfortable for my child.
Headrest removed for positioning. Tether anchor shown.
SureLATCH Installation
If you want to use LATCH for your installation, you'll need to switch the lower anchor connectors from the rear-facing belt path to the forward-facing belt path. There are instructions in the manual which show how to do this and it is pretty straightforward. The hardest part is being able to see what you are doing, so I recommend pulling back the seat cover to give yourself a clear view. The straps are labeled clearly so you can tell when you have routed it correctly.
Here is a quick demonstration of how do this:
https://www.youtube.com/watch?v=L74t40W07M4
Remember that the Symphony has a LATCH limit of 45 pounds. Weigh your child regularly so you know when they are approaching that weight limit and prepare to install the seat with the seatbelt instead from that point on.
Once again, installing the seat with SureLATCH was very easy. Once the seat was in place, I simply attached the SureLATCH connectors to the lower anchors, placed my hand in the middle of the seat and pushed downward. The SureLATCH self-adjusted giving a very tight fit easily. Then you attach the tether and tighten. Consult your vehicle manual if you don't know where your tether anchor is. Always use the tether!
Seat Belt Installation
Installing the Symphony with a seat belt while forward-facing was fairly easy. Locating the forward-facing belt path was easier than finding the rear facing belt path. You can simply lift up the fabric on the back of the seat to see where the seat belt should go. You will need to move the SureLATCH strap to the rear facing belt path so it is out of the way.
Pulling the seatbelt tight
Once you have threaded the seatbelt through the forward-facing belt path, buckled it, and locked the seat belt, you press down on the seat firmly with one hand while pulling out the slack from the seat belt with the other hand. Feed the slack back into the seat belt retractor and then test it for tightness, ensuring that the Symphony doesn't move side to side or front to back more than one inch.
Testing for tightness
I had to go back and tighten my seat belt a little more. I added additional weight by placing my knee in the seat while pulling the belt tighter. That worked great!
Completed installation
Completed installation
Belt-Positioning Booster Use
Child must be at least 4 years old. This is a requirement from the manufacturer.
The child's ears must be below the top of the headrest
Converting the Symphony from a harnessed forward-facing seat to a booster seat was easy and did not take long. You don't have to remove the harness, which is great. You simply loosen the harness all the way, put the buckles and chest clip through the forward-facing belt path, and buckle the chest clip behind the seat to keep things tidy. Then you remove the crotch buckle and put it back upside down so it is not in the way. I like that everything stays where it is supposed to be so nothing is loose and no parts get lost.
Harness buckled behind the seat for booster mode
My 7-year-old though the booster seat was very comfy! It gave him a good belt fit with the headrest at the second highest position. He has a few more inches until he outgrows this booster seat. Realistically, this means that it probably would not last him until he was ready to go without a booster seat, since most children need boosters until age 10-12. The Symphony fit well in our captain's chair, but may not be narrow enough for other seating positions.
It was a little more difficult for my son to buckle the seatbelt by himself when compared to his usual booster seat. The shoulder belt guides were covered in fabric so they might seem a little hidden if you don't know where to look for them. But one nice feature for the lap belt is that there is no mistaking where the belt path is. You don't have to route them underneath armrests or anything. There is a u-shaped dip on each side for the seat belt to rest. Very easy to route correctly with this design!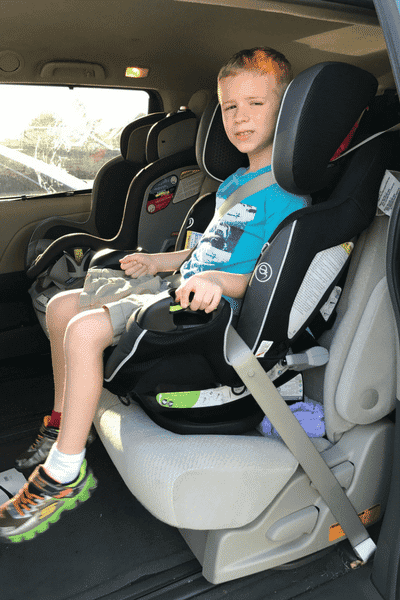 Harnessing Your Child
I really liked the Infinite Slide feature that comes with this harness.
It slides up and down as you pull it with your hands. It has a little bit of wiggle room to self-adjust after you move it with your hands and then harness your child. The harness tightens easily, and as you do so, the red tabs on the Infinite Slide harness slightly adjust to give your child the perfect fit. If the fit is not correct, that will be obvious once you tighten the harness and look again where the red tabs are positioned (rear facing should be at or below the shoulders, forward facing should be at or above the shoulders).
When you pull the tightening strap, the harness tightens and loosens from the hips, instead of the shoulders like many other car seats. It was still easy to use, so this is not an issue. Additionally, the headrest moves independently from the harness, unlike the majority of no-rethread harnesses. This means that you have a greater ability to customize the Symphony for your child's proportions.
Watch our harnessing demonstration here:
https://www.youtube.com/watch?v=H4g-sV8m8RE
Overall advantages
Very easy installation with SureLATCH
Infinite Slide harness is easy to use
Decent longevity for a good price point
Simple/easy to understand instructions
Maintenance and removal of cover is fairly simple
Buckle pockets
Overall disadvantages
Wide and bulky
Only one recline option for rear-facing
No seatbelt lockoff for easier seatbelt installation
A little labor intensive when you need to access the rear-facing belt path due to limited visibility and needing to pull back the cover
Doesn't have a very high height limit- may not be ideal for tall children
Overall I really like this convertible car seat.
Quick Guide for Evenflo Symphony Elite
Recline Settings by Weight and mode
Height
Mandatory Age
Fit
Installation
LATCH or seatbelt
Seatbelt only 45+ lbs
Weight
5-22lbs
22-40lbs
40-65lbs
66-110lbs
Rear-Facing
1
1
X
X
19-40"
Birth until limits outgrown
Top of child's head 1 in. below the top of the headrest
Forward-Facing
X
2 or 3
3
X
28-50"
Age 2 until limits outgrown
The tops of child's ears are below the top of the headrest
Booster
X
X
3
3
44-57"
Age 4 until limits outgrown
The tops of child's ears are below the top of the headrest
Comparisons
Many parents get confused when they see so many different variations or models of the same seat. Try not to get too overwhelmed, since many of these variations are minor, such as exclusive colors or extra padding. Here are a few variations you may see of the Evenflo Symphony.
Evenflo Symphony Models
Symphony DLX
Has premium SureLATCH connectors and buckle pockets
Symphony Elite
Same as the DLX but sold by Amazon
Symphony LX
Differently shaped headrest than the DLX and push-on lower anchor connectors instead of SureLATCH

ProComfort Symphony DLX

Target exclusive. Extra comfort features with a gel material padding.
Platinum Symphony DLX
Babies R Us exclusive that offers temperature-regulating fabric
The number of car seats on the market can seem overwhelming. Choosing what is best for your child and your vehicle can be difficult. Here are a few key differences between the Evenflo Symphony Elite and other comparable seats that you may be looking at.
Evenflo Symphony vs. Other Convertible/Multimode Seats
Seat to Compare
Pros
Cons
Evenflo SureRide
Narrower and lighter. Taller FF height limit.
Can't use as a booster. No premium anchors/harness.
Evenflo Momentum
Lower price point
Can't use as a booster. Shorter height limit RF.
Evenflo Triumph LX
Tension Right Harness Adjuster
Can't use as a booster. Shorter height limit RF.
Chicco Nextfit
Has lockoffs for seatbelt installation and 9 recline angles
Can't use as a booster. Higher price.
Diono Radian
Higher weight limits on the R120/RXT versions. Very narrow.
Must rethread harness manually. Booster outgrown quickly.
Graco Size4Me/MySize/Fit4Me
Taller, no specific height limit for rear facing. Lighter seat.
Can't use as a booster.
Graco Milestone
Longer expiration. Three buckle positions. Lighter & more compact.
Lower weight limit for booster. Higher price.
Graco MyRide65
Small base. Low price. Very light.
Can't use as booster. No premium lower anchors or harness.
Graco 4Ever
Can use as a backless booster in addition to the other modes. Hideaway harness feature. More compact.
Higher price.
Graco Nautilus
Can be used as a backless booster. No premium lower anchors. DLX version has a lockoff.
CANNOT be used rear-facing. Lower weight limit for booster.
Britax Marathon
Has seatbelt lockoff. Narrower.
Can't be used as a booster. Higher price.
Britax Advocate & Boulevard ClickTight
ClickTight for very easy seatbelt installation. 7 recline settings. Premium chest pads.
Can't use as a booster. No premium lower anchors. Boulevard lacks additional padding. Higher price.
Conclusion
The Evenflo Symphony Elite is a comfortable and easy-to-use seat. You get many convenient features for a great price. I have no hesitations in recommending this car seat. It's always a great idea to look at car seats in person before you purchase them if possible. That way, you can see if it really does fit in your vehicle and if it's easy enough for you to use it correctly every time, so that your child can always ride safely! Here is a quick guide of how to adjust and use your Evenflo Symphony Elite when you are setting it up for the first time (as well as adjusting as your child grows!).
Click Here to Check Today's Best Price on Amazon for the Evenflo Symphony DLX